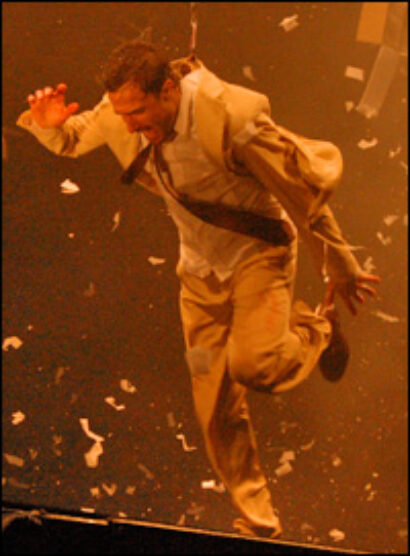 Tickets will be distributed at the Daryl Roth Theatre beginning at 5 PM on Oct. 24. The first 100 people in line will receive one ticket each to attend the production and a special gift from Fuerza Bruta.
In addition, Fuerza Bruta is also offering fans $5 tickets to see the production on Oct. 24. The $5 advance ticket offer is currently available, cash only, at the Daryl Roth Theatre box office.
The Oct. 24 performance will include drink specials in the D Lounge and a post-show dance party with the cast.
De La Guarda's Diqui James (co-founder/co-creator) and Gaby Kerpel (composer/musical director) created Fuerza Bruta, which began performances Oct. 11, 2007, and opened Oct. 24 at the former home of De La Guarda. It will end its run Nov. 10 after more than 1,500 performances.
Fuerza Bruta first played in Buenos Aires in 2005. The production has also been seen in 20 cities worldwide, including Cordoba, Sao Paulo, Rosario, Puerto Rico, Venezuela, Queretaro, Antwerp, Bilbao, Knokke Heist, Madrid, Berlin, Tel Aviv and many others. An Asian tour launched in Manila in February 2012, with plans to spend the year playing the major East Asian cities. According to producers, "Breaking free from the confines of spoken language and theatrical convention, Fuerza Bruta is an event where worlds collide and reality takes a back seat. At show time, audiences are ushered onto the main stage where they are engulfed in a 360 degree spectacle featuring mind-blowing visual effects just inches above the audience that must be seen to be believed - a man running full throttle on a giant treadmill, bursting through a series of moving walls; performers suspended in mid-air surrounded by a vast sea of mylar; and gorgeous women twisting ethereally in a lucite pool above the audience."
The current cast includes Alvaro Colom, Dusty Giamanco, Christina Glur, Khadija Griffith, Holly Shunkey, Kaiti Pasualotto "Dangerkat", Ben Hobbs, Michele Jongeneel, Liam Lane, Tamara Levinson, Jessica Osborne, Darrio Vacarro, John Hartzell, Angelica Kushi and Brooke Miyasaki.
S2BN Entertainment, Stephen Howard and Stephen Shaw produce the New York run.
Tickets to Fuerza Bruta: Look Up at the Daryl Roth Theatre, 20 Union Square East (at 15th Street), can be purchased by calling (212) 239-6200 or at the box office. A limited number of $30 (cash-only) rush tickets will be made available two hours prior to curtain.
For more information visit fuerzabrutanyc.com.