Galt MacDermot, the Grammy-winning composer who gave the world Hair and Two Gentlemen of Verona, among many others, died December 17, a day before his 90th birthday. His death was confirmed by his granddaughter.
MacDermot achieved international acclaim with Hair, a cultural phenomenon that spawned multiple hit singles, saw its title song hit No. 1 on the Billboard charts, earned a Grammy Award for its cast album, was adapted into a 1979 Milos Forman film, and found success again in 2009 with a Tony-winning revival. And in spring 2019, Hair will makes its live television debut when Hair Live! premieres as part of NBC's annual live musical event.
Featuring a book and lyrics by James Rado and Gerome Ragni, and score by MacDermot, Hair was initially turned down by almost every major Broadway producer, eventually finding a home at Joe Papp's Public Theatre downtown, where it ran for six weeks. In the time between the Off-Broadway premiere and its Broadway debut the show underwent major work at the behest of director Tom O'Horgan—including the inclusion of nudity at the end of Act I. The show finally premiered on Broadway at the Biltmore Theatre April 28, 1968, and ran for 1,750 performances.

But MacDermot wasn't an obvious choice as composer for Rado and Ragni, the show's writers. "I never even heard of a hippie when I met them," MacDermot told Playbill. "What I got on to was the music of the times. I had just moved back from South Africa, so I was very into African music, and the rock 'n' roll that was happening in the '60s was that, so when they said, 'We want to do a rock 'n' roll show,' I said to them, 'That's exactly what I want to do.'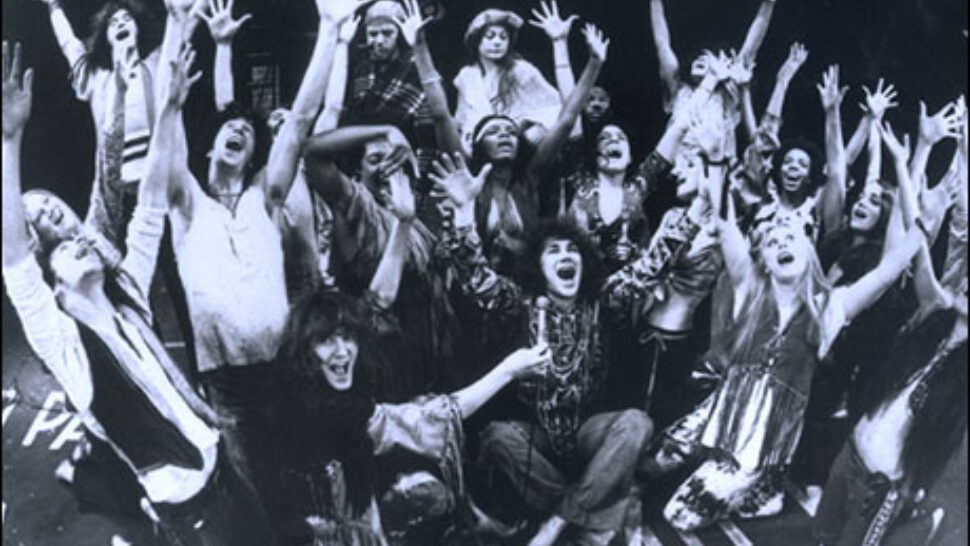 "When you say you want a rock 'n' roll show, you're talking about two hours of music. It can't all be the same. You've got to get different styles. I never counted them, but I like to think they're all a little different. 'Aquarius' has a bit of a West India feel. I was trying to make it spacey—like outer-spacey—and got too spacey. Jim said, 'The kids'll never sing a song like that.' I agreed. It was the only song I rewrote."
Raised in Montreal, MacDermot graduated from Cape Town University in South Africa, specializing in the study of African music. His first Grammy Award came in 1960, for his song "African Waltz." After the success of Hair, MacDermot continued to pursue musical theatre; his score for Two Gentlemen of Verona, the musical adaptation of the William Shakespeare comedy, featured a book and lyrics by John Guare and a Tony-nominated performance from Raúl Julia. MacDermot took home a Drama Desk award for his score; the show itself took home the Tony Award for best musical, besting the competition that included Grease and Follies.
The rest of his résumé was just as eclectic. In between Hair and Two Gentlemen of Verona, MacDermot ushered Isabel's a Jezebel (inspired by the Brothers Grimm fairy tales) to the West End, then took on space with Via Galactica, wrote the songs for the allegorical Dude, and recreated small-town 1940s America with The Human Comedy. An intimate adaptation of William Saroyan's novel, the latter received glowing reviews Off-Broadway with a book and lyrics by William Dumaresq (MacDermot's co-writer on Isabel's a Jezebel, as well), but the small show seemed dwarfed when it transferred to Broadway, running for just 13 performances. The score, which has been likened to that of Porgy and Bess as an example of a folk opera, has been preserved on a two-disc album and earned MacDermot another Drama Desk nomination. That was the last of MacDermot's shows to reach Broadway, though he continued composing for the theatre, including the Off-Broadway revue Time and the Wind.
In 1979, the same year that MacDermot adapted his score for the film version of Hair, he formed the New Pulse Jazz Band to perform and record his original music. New Pulse went on to serve as the onstage band for 2009's Hair revival.
In 2009, MacDermot was inducted into the Songwriters Hall of Fame and the next year was awarded the Society of Composers, Authors and Music Publishers of Canada's Lifetime Achievement Award.