"Whenever I shower—sometimes twice, sometimes three times a day—I use a honey-almond wash on my ripped body and an exfoliating spearmint gel on my face. I apply Clinique moisturizer and anti-aging eye balm before I shave—with a razor and cream by Pour Hommes. No cologne on the face—ever—as the high-alcohol content dries out your skin and makes you look older. My suit today is an '80s drape from Alan Flusser, with a bladed back to accommodate my impressive physique. My tie is by Valentino Couture. My shoes are by A. Testoni. Underwear by Ralph Lauren. Polished, hardwood floors run throughout my apartment. The painting? A David Onica. My television? Thirty inches, digital, Toshiba. High contrast, highly defined—plus, it has picture-in-picture capabilities—plus… My Walkman, with auto-reverse continuous play, is by Sony. I am 26 years old, living in New York City at the end of the century, and this is what being Patrick Bateman means to me."
Welcome to the wild world of Patrick Bateman, the ego-fueled investment banker at the center of the new musical American Psycho. Bateman is not entirely above a little interoffice backstabbing to grease the wheels of his corporate ascent—in fact, Bateman takes a harder, more literal line about making a killing on Wall Street. With him, it's serial killing.
In his 1991 novel, Bret Easton Ellis intended such savage deportment as a stiletto-tipped satire of the avarice and amorality that pervaded the 1980s economy. The cult film that followed nine years later became the classiest of slasher flicks, with Christian Bale cast as the clean-cut broker who stockpiles cadavers.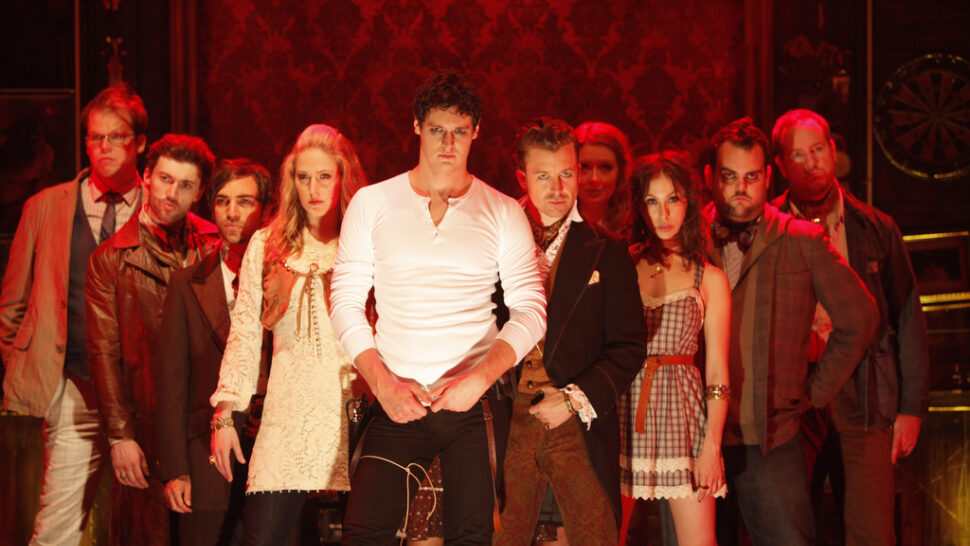 For his Broadway turn, Bateman is materialized by Benjamin Walker, 33, no stranger to playing men with a savage side. Bateman seems a logical progression from Walker's starring turn in the 2010 musical Bloody Bloody Andrew Jackson and the 2012 horror mash-up film Abraham Lincoln: Vampire Hunter. Even his mother sees it. "She asked me the other day, 'Are you going to do a show where you don't get naked and blood-splattered?'"
Not anytime soon, it would seem. "As an actor," Walker hastens to point out, "Patrick Bateman is a dense, complicated, heart-wrenching character, and you get to ride the waves of his rise and fall. In rehearsal, we used the metaphor that he's an alien on another planet, trying to understand what's going on around him. That was helpful to me because the struggle with Patrick Bateman is trying to find humanity in him.
"People are scared to admit it, but there's a bit of Bateman in everybody. When we are stuck in traffic or in a line at Fairway, we want everyone to just go, but we don't act on that because we have a filter. There's something cathartic and funny about seeing someone who doesn't have that filter. Now granted, he does take it a bit far," Walker adds.
Director Rupert Goold—whose previous brush with American big business, Enron, fared better in Britain than here—first staged American Psycho at London's Almeida Theatre, where he serves as artistic director. His other transfer this season, the critically acclaimed King Charles III, came stateside with very little augmentation. For American Psycho, though, Goold, alongside bookwriter Roberto Aguirre-Sacasa (Spider-Man: Turn Off the Dark and the upcoming Magic Mike musical) and composer Duncan Sheik, opted to do a sizeable revamp for Broadway.
"The biggest difference," Goold says, "is we're using American actors in an American style. Maybe there's a skill set, but it's sort of more developed here than in London. I think that maybe American actors are technically more ahead in straight drama."
Sheik, a two-time Tony winner for his previous accent-on-youth musical, Spring Awakening, sees himself as something of an expert on the sounds of the late '80s. He and his Brown University classmates drove "almost every weekend, it felt like" three hours from Providence to Manhattan to club-crawl the swanky nightlife meccas of their day: Mars, Area and Tunnel. "I knew the scene. We were [kind of] at the end of the Reagan era, and there's this sense that we were about to pull the trigger on late capitalism and let it just do what it's going to do," says Sheik. "There was a kind of psychopathology of this, and I think Patrick is an avatar for it.
"I'm a Buddhist, so I'm against all forms of violence, but I think Patrick's [form] is a metaphor for what happens to people's minds when they're in a world completely consumed by the surface of things. You have almost no inner life—or no way to connect with it."
Consequently, the '80s pastiche tunes he wrote to blend in with songs from Genesis, Tears for Fears and Huey Lewis and the News, have lyrics that exalt the virtues of brand names and business cards. The show aptly opens with a Sheik tune called "Selling Out."