"The Last Five Years," documenting a five-year relationship of a couple falling in and out of love, will hit theatres and Video On Demand Feb. 13, just in time for Valentine's Day weekend.
In anticipation of the film (and V-day), Playbill.com met with its star and director to talk about their own relationships with their wives. Jordan married Rock of Ages actress Ashley Spencer in 2012, and LaGravenese is married to Ann Weiss.
Michael Gioia: Let's start by each of you telling me about your first date with your wife!
Jeremy Jordan: My first date was sort of a blind date with Ashley. We technically met on Facebook. I had seen a couple pictures of her, but I never met her, and it was after a show. I was in a show, and she met me outside my theatre. I was on the street, and she was up on the curb, and she walked up behind me, and she said, "Are you Jeremy?" I turned around, and she was in like ten-inch heels, and I look up, and she's like this Amazonian, blonde, gorgeous princess, and I was like, "Guhh!" We went to dinner, and we started to get drinks — I wasn't much of a drinker, but I needed a little bit of liquid courage that night. She always tells people that there was a point about half an hour in, where she was like, "I'm going to give this kid like ten more minutes, and then we're going to call it a night." Right about then was when the alcohol kicked in, and I opened up and stopped being shy. Then, after that, we went and had margaritas, and then we went and did karaoke. We did [one of] those little Japanese karaoke booths, where you can go in… There's one right in midtown, and so we rented a little room, and we sang karaoke for like two hours, and then we made out. And, that was that! That was our first date.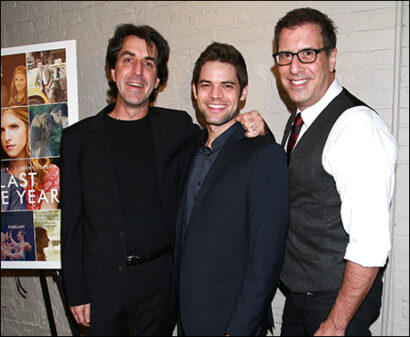 Richard LaGravenese: Well, we met with a group of people and made a connection — sort of [with] a party of people. That was in January, and she wanted me to call her, and I waited two months to call her, which pissed her off. Then when I invited her out, it was to see me in a one-act play that I had written that I was performing in as an actor called Idol Worship at the Lion Theatre. I had a comedy act with another guy named Richard, and he and I were in this two-character play that I wrote. So she saw it and after said to me, "My God, your writing is really good." I went, "Yeah, is it really?" And, she said, "You should really continue to write." I said, "I don't know. I'm in acting, and I really love theatre." And, she kind of made me write a movie. That's how it started. That was our first date.
MG: "The Last Five Years" is about the ups and downs in a relationship. What do you feel is a big relationship challenge?
JJ: Well, I'll take Jamie and Cathy. I think they — and this is [a] problem I've had in my relationship, certainly… I think it's something that everybody has in their relationships, which makes this show so relatable — people not listening to each other. One of the things that makes the Off-Broadway show work so well is that you have one person on stage singing to no one, and so there's a sense of a one-sided argument, and that is often what happens. What I was interested in, and I think we created with a lot of our scenes, is the sense of that one-sided arguing, even though the other person's there — they're not being affected, or they're not really listening, or they're not being present. If you really watch the movie, there are only a handful of moments where they're really connected to each other, and so it's important to find moments of connection and real presence and listening to the other person. And, I think if you stop doing that, you're going to run into a lot of trouble in your relationship.
RL: I think one of the biggest issues — and this movie and this story tells it — is how to be a couple and also maintain your own identity and individuality. Those conflicts sometimes get in the way of listening, of love, of sacrifice because you get into power struggles and identity struggles. I really wanted people to understand that everybody has their reasons. I didn't want to say, "It's his fault" or "It's her fault." Relationships are ambiguous, love is sometimes temporary — necessary, but temporary. Love sometimes is just for personal evolution. I think they were brought into each other's lives to love each other and to move on because the older you get, the more you realize it happens more than once sometimes, and you have to leave someone to learn that. Love sometimes isn't meant to be forever… I don't believe love is always about forever. Sometimes, it's about personal evolution, and you need it now, and then you have to leave it to grow.
MG: Wow. Deep.
JJ: That was deep.
RL: Well, I'm old!
MG: Valentine's Day plans?
RL: Flying.
JJ: Well, I'm in rehearsal all day, but then we're going to go to dinner at one of our favorite restaurants in Hobokz [Hoboken, NJ].
MG: Tell me about your wedding day. Did it turn out to be everything that you dreamed it would be?
JJ: Mine was, yeah. It was more than I'd anticipated it to be. I was kind of preparing for the worst — not in like, "She's going to leave me at the altar" kind of worst — but like, "There's going to be some kind of drama. Family is getting together. It's supposed to rain. There's going to be all those things." Some of those things happened, but it was still the best day ever. There's so much stress and drama going into planning a wedding — the worst thing ever — but it was totally all worth it for me.
RL: I never dreamt of a wedding, so my biggest worry was that my Brooklyn, working-class family was meeting this wealthy, Scarsdale, entertainment family and what was going to happen when the worlds collided… Like my Aunt Margie calling Rita Moreno Chita Rivera. She did: "I love your movies Ms. Rivera!" I was like, "Oh my God. That's Rita Moreno." I could have killed her! … You're not really present in your own wedding. There's always that moment where no one is talking to you. You know everybody is there for you, and then all of a sudden you realize, "Wait. No one is talking to me."
JJ: In that moment, I was losing control of my body on the dance floor, so I didn't really care!
(Playbill.com staff writer Michael Gioia's work appears in the news, feature and video sections of Playbill.com as well as in the pages of Playbill magazine. Follow him on Twitter at @PlaybillMichael.)