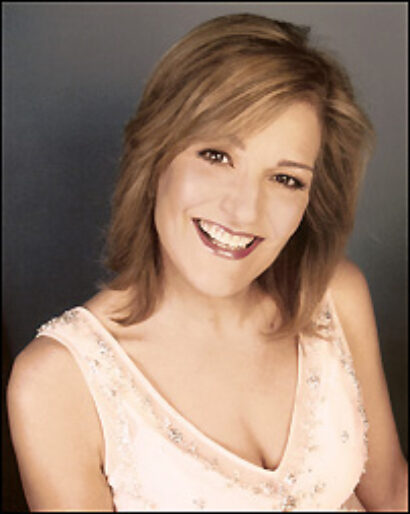 The Aug. 4 concert, which will feature songs from Mason's new recording, is scheduled for 7 PM. Mason will be backed by musical director Chris Denny on piano; Barry Kleinbort directs. Song titles on the new CD (on the Zevely Records label) include "All That Jazz," "Secret Love," "Like the Heavens Hold the Stars," "Diamonds Are a Girl's Best Friend," "Help"/"Being Alive," "Hurry! It's Lovely Here," "Make Someone Happy," "Right Here, Right Now," "Get Happy," "As If We Never Said Goodbye," "Everything Old Is New Again" and "Look for the Silver Lining."
Karen Mason has appeared on Broadway in Mamma Mia!, Sunset Boulevard, Jerome Robbins' Broadway and Torch Song Trilogy. Her Off-Broadway credits include And the World Goes 'Round and Carnival, and she has also been seen on the small screen in "Law & Order" and "As the World Turns." A seven-time MAC Award-winning performer, Mason has charmed audiences at Carnegie Hall, Rainbow & Stars, Davenport's and L.A.'s The Cinegrill. Her solo recordings include "The Sweetest of Nights," "When the Sun Comes Out," "Better Days," "Not So Simply Broadway" and "Christmas! Christmas! Christmas!"
Birdland is located in Manhattan at 315 West 44th Street, between Eighth and Ninth Avenues. There is a $35 cover charge and a $10 food-drink minimum. Call (212) 581-3080 for reservations or visit www.birdlandjazz.com.