The album also debuted at #1 on the Cast Album chart, #5 on Digital Albums and #9 on Top Album Sales.
The magazine called the feat "eye-popping" and "historic."
A fusion of hip-hop, pop and musical theatre, the album was released digitally Sept. 25.
The last cast album to debut in a higher position on Billboard 200 was Camelot at #4 the week of Jan. 23, 1961. Other cast albums have risen higher in the weeks following release, including Hair, which spent 13 weeks at #1 in 1969.
Other albums have also sold more copies in a week. The Hamilton feat is based on sales of 30,000 units its first week. However, for example, Rent sold 43,000 copies its first week, which earned it only #19 on Sept. 14, 1996, at a time when album sales were higher overall.
In the last 50 years, only six cast albums have landed in the Top 20 on Billboard's 200 chart: If/Then (topped out at #19 in 2014), The Book of Mormon (#3), Rent (#19), Dreamgirls (#11 in 1982), Hair (#1 in 1969), and now Hamilton, which could go higher than #12 in the coming weeks.
The physical in-store version, which will include a booklet and full packaging, hits stores Oct. 16. The digital album retails for $19.99. Click here to download the album now.
The new musical by Tony Award-winning In the Heights star and creator Lin-Manuel Miranda explores the life of American Founding Father Alexander Hamilton. Inspired by the book "Alexander Hamilton" by Ron Chernow, the musical incorporates historical figures such as George Washington, Aaron Burr, James Madison and Thomas Jefferson.
The album was produced by Ahmir "Questlove" Thompson and Tariq "Black Thought" Trotter, founding members of the Grammy-winning hip-hop band, The Roots.
"Ten minutes into Hamilton, though, I was just so stunned. It was such a sucker punch," Thompson said. Trotter added that the musical and its varied, contemporary score "can be your introduction to hip-hop — on Broadway. And it's a valid one. It's a credible one."
From Last Five Years to The Notorious B.I.G. – Hamilton Shout-Outs and References You Need to Know
Hamilton began performances July 13. It opened to critical raves Aug. 6.
The track listing follows:
Act I
"Alexander Hamilton"
"Aaron Burr, Sir"
"My Shot"
"The Story Of Tonight"
"The Schuyler Sisters"
"Farmer Refuted"
"You'll Be Back"
"Right Hand Man"
"A Winter's Ball"
"Helpless"
"Satisfied"
"The Story of Tonight (Reprise)"
"Wait For It"
"Stay Alive"
"Ten Duel Commandments"
"Meet Me Inside"
"That Would Be Enough"
"Guns and Ships"
"History Has Its Eyes On You"
"Yorktown (The World Turned Upside Down)"
"What Comes Next"
"Dear Theodosia"
"Non-Stop"
Act II
"What'd I Miss"
"Cabinet Battle #1"
"Take A Break"
"Say No To This"
"The Room Where It Happens"
"Schuyler Defeated"
"Cabinet Battle #2"
"Washington On Your Side"
"One Last Time"
"I Know Him"
"The Adams Administration"
"We Know"
"Hurricane"
"The Reynolds Pamphlet"
"Burn"
"Blow Us All Away"
"Stay Alive (Reprise)"
"It's Quiet Uptown"
"Election of 1800"
"Your Obedient Servant"
"Best of Wives and Best of Women"
"The World Was Wide Enough"
"Who Lives, Who Dies, Who Tells Your Story"
In addition to Miranda, the company includes Jonathan Groff (Spring Awakening) as King George, Phillipa Soo (Natasha, Pierre and the Great Comet of 1812) as Eliza Hamilton, Christopher Jackson (In the Heights) as George Washington, Leslie Odom Jr. ("Smash") as Aaron Burr, Renée Elise Goldsberry (The Color Purple) as Angelica Schuyler, Daveed Diggs (In the Red and Brown Water) as Marquis De Lafayette/Thomas Jefferson, Anthony Ramos (Sideways Stories from Wayside School) as John Laurens/Phillip Hamilton, Jasmine Cephas Jones as Peggy Schuyler/Maria Reynolds, Javier Muñoz as Hamilton alternate and Okieriete Onaodowan as Hercules Mulligan/James Madison.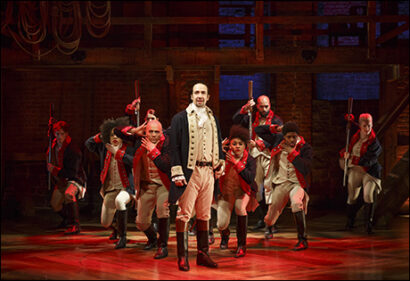 Also featured are Carleigh Bettiol, Andrew Chappelle, Ariana Debose, Alysha Deslorieux, Sydney James Harcourt, Neil Haskell, Sasha Hutchings, Thayne Jasperson, Stephanie Klemons, Morgan Marcell, Emmy Raver-Lampman, Jon Rua, Austin Smith, Seth Stewart, Betsy Struxness, Ephraim Sykes and Voltaire Wade-Greene.
Read: Lin-Manuel Miranda and Leslie Odom, Jr. Reveal How Rent Shaped History and Hamilton
The musical has scenic design by David Korins, costume design by Paul Tazewell, lighting design by Howell Binkley and sound design by Nevin Steinberg.
Miranda is the Tony and Grammy Award-winning composer-lyricist of In the Heights. The musical earned four 2008 Tony Awards, including Best Score and Best Musical. Miranda also earned a Best Actor Tony nomination for his performance as Usnavi. In the Heights was also recognized as a Finalist for the 2009 Pulitzer Prize in Drama. Miranda is the co-composer (with Tom Kitt) and co-lyricist (with Amanda Green) of the Tony-nominated Bring it On: The Musical. In addition, Miranda translated some of Stephen Sondheim's original lyrics into Spanish for the 2009 Broadway revival of West Side Story and wrote additional songs for the Off-Broadway revival of Stephen Schwartz's Working.
Take a look back at the show's road to its own historical opening by clicking here for the Hamilton timeline.
Visit HamiltonBroadway.com.