Tony season officially kicked off May 2 with Tony winner Myles Frost (MJ) and Lea Michele (Funny Girl) announcing this year's Tony nominations. Read on below about how this year's nominees heard the news, and what it's like to have their work this season recognized by The Tony Awards. Keep checking this page for further updates as they come in!
Wendell Pierce, Best Performance by an Actor in a Leading Role in a Play, Death of a Salesman
"I am crying. It's overwhelming and humbling, I'm profoundly grateful. It's a combination of hard work and years of study, and actually building a body of work. It's a moment of self-reflection that just really celebrates everything that is great about being an artist, that you can make an impact on people's lives and come together with a group of people to really make something special, and then people recognize it. That's a very prophetic and cathartic thing. The thing I have learned is my best days are not behind me. Now, I have even more courage than I had before. I will see where this day takes me. I think it's gonna be a wonderful day."
Victoria Clark, Best Performance by an Actress in a Leading Role in a Musical, Kimberly Akimbo
"I put my phone on airplane mode last night when I went to bed. I thought, 'If it comes my way, that's great. But if it doesn't, I'm totally fine with that. And I'll get a lot more rest.' My husband woke me up at nine, he told me, he gave me a big hug. That's how I found out. It never gets old. It's so great and very humbling, and sweet to be recognized for something that you really worked so hard on, as we all do. We just put our heart and soul into these projects.I know that it's a hard time for people that that don't get the nomination, too. So I'm very aware of my colleagues who also worked months and years on roles, and that's very hard.
[Kimberly Akimbo] has made me a better person. It's made me more aware of every passing day, the beauty of every day and the possibility that's inside every moment."

Crystal Lucas-Perry, Best Performance by an Actress in a Featured Role in a Play, Ain't No Mo'
"I don't think there's words, yet. I don't think it's hit me, yet. I just feel completely overwhelmed and so excited, because to be seen and acknowledged by our community in this way, it's just completely overwhelming...Since I was young, I've always wanted to know what it would be like. I was the kid growing up, who was in the living room putting on the plays, making her own award speeches. The beauty of my Broadway debuts this season is that I was able to be a part of two very powerful, provocative shows that dealt with history and that dealt with my Black body being out in the open. It was a real pleasure and a privilege to be able to do two pieces that I really cared about, and that I really think their stories needed to be told. I did a group call with my family who are all tuning in. I wouldn't be doing any of this if I didn't have them. They're such a huge part of my support system. It's a lot of gratitude today. It's a lot of just being in the moment, trying to be present. I'm gonna go and celebrate with my cast over Zoom. That's my family. Those people are my family."

Ben Platt, Best Performance by an Actor in a Leading Role in a Musical, Parade
"I'm feeling so happy and grateful and proud of our company, so thrilled for our show. I get to share this with my fiancé, Noah, and that makes it feel special in a whole new way. I also just get to beam with pride for my partner-in-crime, Micaela, which, which adds a level of real specialness. Of course, given the particular subject matter of the show, and being a Jewish person, bringing this particular story to life, that's already so deeply fulfilling and rewarding. So, it just feels like a little cherry on top of that."
Stephen McKinley Henderson, Best Performance by an Actor in a Leading Role in a Play, Between Riverside and Crazy
"I'm in Toronto, working tomorrow with the wonderful Colman Domingo. We'll be filming something. Because I'm in Toronto, I'll have to call Kansas City. I got some people I've known for years and years, high school friends who've always known that I had this bug for acting. I'll talk to my wife in Buffalo. I might have a beer or two. It is my second time, but it's no less special because of that—in fact, probably more so. This time, again, it's a playwright that I've known for many years and who literally saw me when I was walking with a cane after I'd had a hip surgery, and I told him, 'Well, I'm slowing down now.' He said, 'Oh, no, you're not. I got something for you.' We started in 2014 working on the piece. It's been a few years. Then to do it with a company of actors staying together for that long—there's no way I would be getting this nomination if I didn't have that cast supporting me. I thank them all so much. You don't ever arrive at a place like this without the help of a lot of people."
Jennifer Weber, Best Choreography, KPOP and & Juliet
"I was watching the livestream on YouTube with my girlfriend, which is what you do. When I first heard my name, I did like a big cheer. Then I heard my name a second time, and then it was just shock. Because it's just such a crazy feeling to have even to have had two shows on Broadway. It's my first time being on Broadway, and then to have this recognition, it's wild. I'm so proud of everybody I've worked with on these shows to bring the dance to life."
Brian d'Arcy James, Best Performance by an Actor in a Leading Role in a Musical, Into the Woods
"I was sound asleep. I thought they started at nine, and my publicist called, so I found out waking up from a deep sleep. It did seem like a bit of a dream. I was very surprised and excited. I think the longer you go down the road, these kinds of moments take on a more special meaning in a way, just because there's a lot of water under the bridge, and perhaps you know a little bit more about how hard it is to thread the needle like this. I think what I learned from doing the show is to not allow yourself to add anything extra to it, because that kind of dilutes the material. Sondheim has it all baked in there, every emotion. The material is so rich, and the words and the music together are saying something so profound. To get that chance, and to be in this position is, I'm very moved and I'm very honored. And I don't take it for granted at all."
Josh Groban, Best Performance by an Actor in a Leading Role in a Musical, Sweeney Todd: The Demon Barber of Fleet Street
"I watched it on TV and couldn't believe it. It's such an amazing feeling. This is a show that's meant a lot to me for so long, and a role that's been something I've wanted to tackle for so many years. There's the pressure of wanting to get it right, wanting to do right by Sondheim, and wanting to have made him proud. And also the fact that you're holding the torch for this moment in time, that torch has been held by so many brilliant actors and will be held by so many brilliant actors after me. You want to give a fresh breath of air to people who've never seen it. You want them to gasp and feel all the things that I felt when I was 15 with this show. It's been just such an incredibly wild and rewarding ride so far, and anything at this point is just a complete bonus. So, I'm full of gratitude this morning."
Marc Shaiman & Scott Wittman, Best Original Score (Music and/or Lyrics) Written for the Theatre, Some Like It Hot
"We love our show, we love our collaborators, we love our cast. We are thrilled and honored to be the most nominated musical of the season. In fact, we are joyous and celebrating…eight shows a week at the Shubert Theatre!"
Patrick Marber, Best Direction of a Play, Leopoldstadt
"I've been directing Tom's Leopoldstadt for the last four years. This is a thrilling acknowledgement for the play and for all of us who have sailed in it."
Matthew López & Amber Ruffin, Best Book of a Musical, Some Like It Hot
"We are thrilled to be nominated alongside so many from our Some Like It Hot family. Our show has always been to us about the power of the community to uplift individuals. That it has been received by audiences and by the Tony nominators with that same spirit makes this all feel full circle. We hope these nominations help bring the show and its message of self-acceptance and self-fulfillment to an even wider audience than before."
Casey Nicholaw, Best Direction of a Musical and Best Choreography, Some Like It Hot
"This morning was absolutely incredible! It's the first time I got to experience hearing the nominations with one of my casts instead of at home. And to add to it, we were performing on the Today Show and we couldn't make any noise—so there were just real tears and fake clapping! And then when we were done with the segment, there was so much screaming and camaraderie! I will never forget it! Childhood dreams come true!"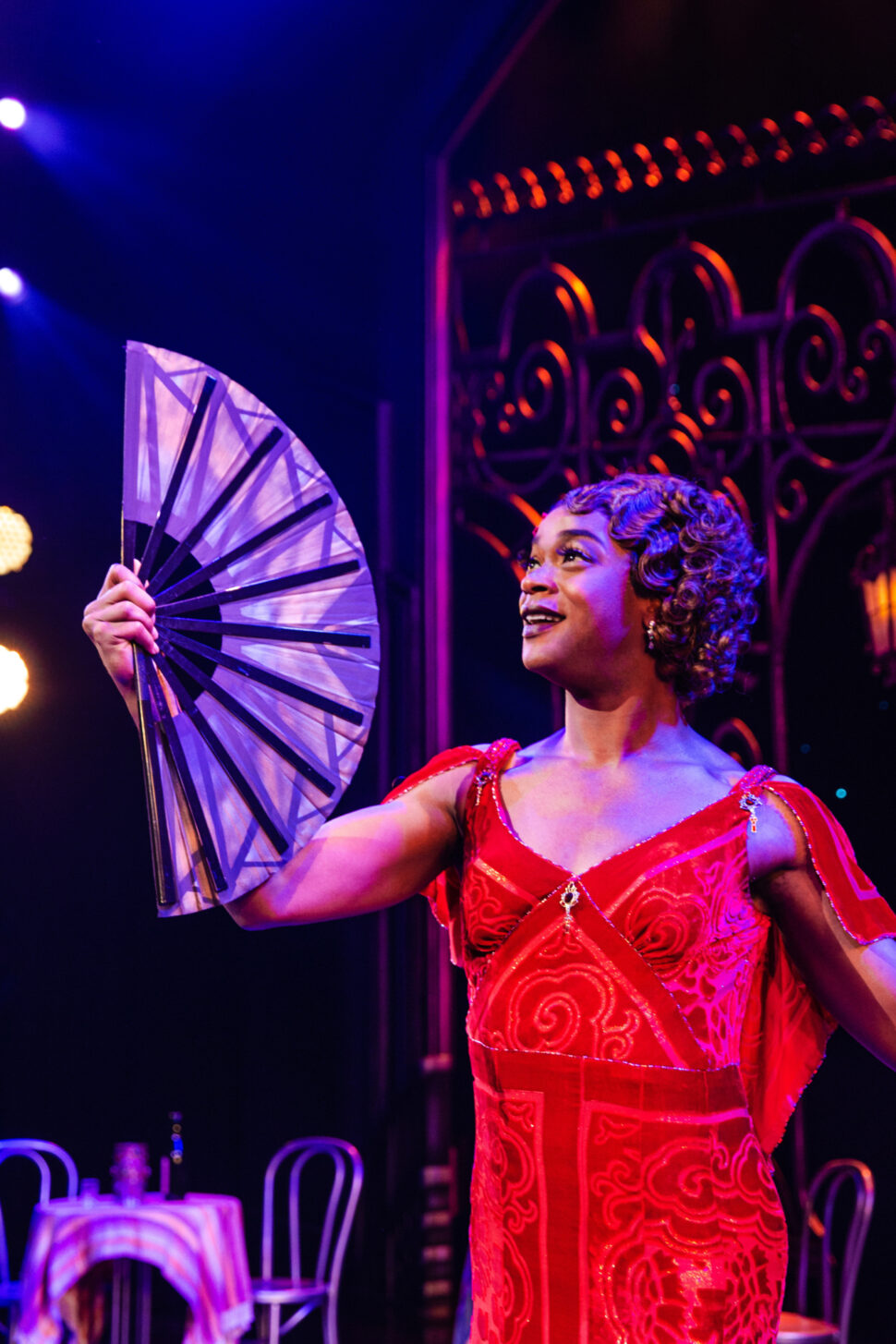 J. Harrison Ghee, Best Performance by an Actor in a Leading Role in a Musical, Some Like It Hot
"I'm thrilled! It has been a fantastic journey to portray Jerry/Daphne, and I've been overwhelmed—in a good way—to see how audiences have received these characters. I'm thankful to every member of this production for creating such an affirming space where I get to show the complexity of this human and go on a beautiful ride every time the curtains go up. I'm grateful to the committee for recognizing this work. It's a moment I will cherish forever."

Greg Nobile, Sue Wagner, and John Johnson, Best Revival of a Play, Producers of The Sign in Sidney Brustein's Window
"Anne Kauffman has been on the journey of putting this revival together for over a decade. There's so many people all over the city who couldn't get tickets to see the show at BAM. When a theatre became available on Broadway last minute, we just mobilized really quickly. We were thinking there was no possible way we'd be able to pull all the pieces together. This is one of these complete lightning-in-a-bottle moments—everybody was able to shift a lot in their lives and make huge sacrifices to be available to remount the play. It's a testament to the words on the page, and the culture in the room Anne has built to keep the story going, and to keep the legacy of Lorraine alive. It feels a little magical. Any piece of art that you get anywhere feels impossible, but you have to put it out there. Sometimes it hits and sometimes it flops. We're gonna have a toast with the cast about 90 minutes before the show to congratulate all of them, the creative team, and Anne Kaufmann to celebrate the fact that we pulled this off so quickly and that it's been nominated."
Michael Arden, Best Direction of a Musical, Parade
"Overwhelmed to be included in such incredible company. To be at the helm of both Parade and Charles Dickens' A Christmas Carol this Broadway season has been the honor of my career thus far. I am indebted to all the artists who came together to make both these singular productions possible."
Suzan-Lori Parks, Best Revival of a Play, Topdog/Underdog
"I am thrilled and deeply honored to have my work embraced and recognized! And I'm also so happy for Corey and Yahya! Our TOPDOG revival was a joyous team effort, with Kenny Leon leading the way! I'm doing my happy dance!"

Shane McAnally, Best Original Score (Music and/or Lyrics) Written for the Theatre, Shucked
"When we started this show a decade ago, just getting to Broadway seemed like a dream too big to dream, so to be recognized by the Tony Awards is truly beyond my wildest."

Alex Newell, Best Performance by an Actor in a Featured Role in a Musical, Shucked
"To be nominated alongside such talented individuals is a tremendous honor. I grew up dreaming of singing my heart out on a Broadway stage, and to not only accomplish that, but also receive a nomination for it? It is beyond a dream come true. This is a surreal moment for me, and I'm feeling deeply grateful and happy."
Jack O'Brien, Best Direction of a Musical, Shucked
"As someone whose first nomination dates to 1977, which was Porgy & Bess, you can imagine how proud and thrilled I am to be included in this raft of ravishing young talent. We had one of the greatest collective community experiences I have ever known, and that must have been evident from the amount of joy every night in our theatre. This is the best gift I could have asked for."
NaTasha Yvette Williams, Best Performance by an Actress in a Featured Role in a Musical, Some Like It Hot
"We performed on the Today Show today, we were still at the studio. Prior to the performance, the first five categories were announced. So, everybody was trying to dry up their tears before we performed again. And then after, we went upstairs to the Peacock Room. Somebody was streaming from the phone, and listening to all the categories. I walked up to someone and was looking over their shoulder and I heard Bonnie's name, and then I heard my name. And then I looked around, and I just started crying. And then I said, 'Is this real? Is it real?' I've said so many years, and so many times, 'Maybe next time, maybe next year.' If you keep pushing, keep playing...next year, or maybe next time, it does come. It is a realized dream. I called my father in North Carolina because I know that he didn't know how to stream anything. And he probably didn't see it. I called my husband after my dad. He said, 'I've been crying.' And I said 'I'm crying. We're crying.' Everybody was crying. It was really nice."

Scott Pask, Best Scenic Design of a Musical, Shucked and Some Like It Hot
"I couldn't be more stunned, or more thrilled about the nominations for my work on Shucked and Some Like it Hot! To be recognized for both of these incredible productions—well, the enormity of it all is still sinking in. I have been a part of these very special shows long before the pandemic began, so to have the designs accomplished, and then realized during such a precarious time in the world and especially within our live arts community, makes this recognition all the more special and significant."
Arian Moayed, Best Performance by an Actor in a Featured Role in a Play, A Doll's House
"I don't have enough words to describe how honored and excited I am. The only joy greater than this Tony nomination is sharing it with Jessica, Jamie, Amy, and the incredible company of A Doll's House."
Brandon Uranowitz, Best Performance by an Actor in a Featured Role in a Play, Leopoldstadt
"I'm just floored and overwhelmed with gratitude. This play means more to me than I could ever articulate and to be recognized in this way is the honor of a lifetime. But, I have to say, Leopoldstadt is an ensemble piece in the truest sense of the word and my work cannot exist without the 37 extraordinary other actors on stage with me each night. I share this with them."

Colman Domingo, Best Play, Producer of Fat Ham
"I am beyond thrilled today as a Tony-nominated producer on James Ijames' exquisite Pulitzer Prize-winning play, Fat Ham. To champion this Black playwright from The Public Theater/NBT production to Broadway is very meaningful to me. No Black playwright has won the Tony Award for Best Play since 1987. This is a master work that I hope goes all the way, because I truly believe that this is the daring, bold, and light-filled work that needs to brighten and add more color to the Great White Way."
Colton Ryan, Best Performance by an Actor in a Leading Role in a Musical, New York, New York
"The act of coming together to create is my love language, and the theatre has been my lifelong sordid love affair. After two years of being told we are essentially non-essential, the biggest honor is just being able to do it at all. And to do it with such extraordinary company (especially my friend and singular talent, Anna Uzele), I figured I couldn't get any luckier. But whaddaya know? To John Kander, thank you for dedicating your life to this art form. My life is infinitely fuller because of it."
Helen Park, Best Original Score (Music and/or Lyrics) Written for the Theatre, KPOP
"After dedicating eight years of my life to working on KPOP and dreaming of sharing my music with the world, I am honored and humbled to be included in such an esteemed group. The recognition of my work through this nomination is a testament to the tireless efforts of my incredible creative team and cast who joined me in pushing boundaries and bringing a never-before-seen performance to the Broadway stage. Their hard work and dedication have truly paid off, and I am thrilled to share this moment with them. I am at a loss for words, and deeply grateful for this recognition."
Max Vernon, Best Original Score (Music and/or Lyrics) Written for the Theatre, KPOP
"I'm thrilled to be nominated and also feel like I just drank ten coffees! KPOP's run was cut short, but it's so wonderful and moving to know that our score lives on. This month it will be nine years since our first workshop at Ars Nova. What a wild journey! I wish I could tell the five-year-old me who wanted to be Cosette in Les Mis about this."
Sophia Choi and Clint Ramos, Best Costume Design of a Musical, KPOP
"Happy AAPI Heritage Month! Thank you and we are so proud of our show. We dedicate this honor to the entire company of KPOP!"
Martyna Majok, Best Play, Cost of Living
"I am beaming with joy for this incredible honor! It means the world for this story and these beautiful artists to be recognized by our community that I feel so grateful to be a part of every day. Cost of Living is about hoping for miracles and searching for a home in others, and that's what this gift feels like to me right now."
Jonathan Deans, Best Sound Design of a Play, Ain't No Mo'
"With much thanks. The producers and management supported Taylor and I to join together, allowing us to shape the invisible with Stevie and Jordan, reflecting on the stunning performances with an amazing collaboration from everyone."
Taylor Williams, Best Sound Design of a Play, Ain't No Mo'
"I'm still floored that I was invited into the vortex of this show. Jonathan's collaboration, along with the amazing work of so many people at the Belasco, have made this a dream experience. The honor of a nomination this morning is a (very big) cherry on top of it all!"
Brian Moreland, Best Revival of a Play, Producer of The Piano Lesson
"We were honored to be selected by Constanza Romero Wilson to lead this new production for our generation. We are here because of LaTanya Richardson Jackson's singular vision and are gratified that Mr. Wilson's work is living on. On behalf of Kandi Burruss, Todd Tucker, Tom Kirdahy, Sonia Friedman, and our co-producers, and especially August Wilson, we give thanks."
Kandi Burruss and Todd Tucker, Best Revival of a Play, Producers of The Piano Lesson
"Every bit of this experience of being producers on August Wilson's The Piano Lesson has been a dream come true, starting with Constanza Romero Wilson giving her blessing for us to bring Mr. Wilson's great work back to Broadway. On day one of seeing our amazing cast and phenomenal director LaTanya Richardson Jackson in rehearsals, we knew this show was special, and that we were making August Wilson proud. We are so grateful for this nomination! Thank you!"
Samuel L. Jackson, Best Performance by an Actor in a Featured Role in a Play, The Piano Lesson
"It's a thrill to be nominated—this honor is particularly special having been under the direction of LaTanya and getting to continue August Wilson's legacy on Broadway after first performing The Piano Lesson onstage at the Yale Repertory Theatre 35 years ago. Thank you to the members of the American Theatre Wing and Broadway League. Congratulations to all of the nominees."
LaTanya Richardson Jackson, Best Revival of a Play, Director of The Piano Lesson
"This glorious recognition of August Wilson's beautiful work, The Piano Lesson, amplifies his legacy and supports it as a living representation of our culture. It honors August and I am overjoyed."
Brandy Clark, Best Original Score (Music and/or Lyrics) Written for the Theatre, Shucked
"The first musical I ever saw was Oklahoma! and I fell in love. It's been a lifelong love affair for me and musical theatre, but I never dreamed I'd be a part of the musical theatre and Broadway world. Shucked has made dreams I never dreamed come true."
Betsy Wolfe, Best Performance by an Actress in a Featured Role in a Musical, & Juliet
"I'm overjoyed. I immediately think of little perm-haired Betsy who could only dream of performing on a Broadway stage while watching the Tonys every year in her living room. I fell in love with & Juliet the moment I read it, and to be recognized by the nominating committee is beyond special. My hair has come a long way, and I'm grateful I have, too."
Bill Sherman, Best Orchestrations, & Juliet
"Thank you to the Tony Awards, the cast, crew, creatives, and the producers of & Juliet. To be recognized for our work on a show that exudes such joy is truly an honor. A special thank you to Max Martin for re-defining an entire generation and history of music. Dominic and I were honored to take this amazing music apart and put it all back together again for Broadway."
Dominic Fallarco, Best Orchestrations, & Juliet
"What an honor it is to be nominated for a Tony, along with my fantastic collaborator Bill Sherman—especially in a field of such wonderful nominees! Thank you to Max for trusting us with some of the best songs of the last few decades. It's a labor of love to put so much detail into the notes and the sound and I'm thrilled to have that work recognized. I'm so proud of our show, and honored to share it with the world—congratulations to all the nominees."
David West Read, Best Book of a Musical, & Juliet
"So many confetti cannons are firing off in my brain right now! I am beyond thrilled by the nine Tony nominations that & Juliet received this morning, and tremendously honored to be in the same category as writers I admire so much. In building this show, I have been lucky enough to collaborate with the most talented, passionate, generous, and kind producers, creative team, and cast, so it's a complete joy to see my fellow team members welcomed and embraced by the Broadway community. We have all been inspired by the humble genius that is Max Martin, and we can't wait to keep sharing his music, and this story, with audiences around the world."
Lorna Courtney, Best Performance by an Actress in a Leading Role in a Musical, & Juliet
"It feels amazing to be honored and recognized in this way, and for this show, it means everything. Congratulations to my fellow nominees, they are all incredibly talented. And thank you so much to the Tonys. To be a young Black woman from Queens, New York, this is truly a dream come true!"

Howard Hudson, Best Lighting Design of a Musical, & Juliet
"I feel very honored to receive this nomination and particularly to be part of & Juliet's nine nominations which shows what a collaborative effort this production was. I'm delighted that the New York theatre community have welcomed our colorful and joyous show so warmly."
Miriam Silverman, Best Performance by an Actress in a Leading Role in a Musical, The Sign in Sidney Brustein's Window
"This morning is the last class of the semester at NYU. I teach both in the Dramatic Writing Program and in the MFA Acting Program, and it's my last class with my lovely writers and actors. We do a collaboration class and I just made a quick stop for doughnuts, because last week, they'd all seen the play and they said, 'You're gonna get a Tony nomination.' I said, 'No way guys! No way am I gonna get a Tony nomination!' And they're like, 'Yes, you are.' I was like, 'Alright, guys. I will bring doughnuts if I get a Tony nomination.' Like through tears, I went into The Donut Pub across the street. I've just been crying for the last hour. I ordered a bunch of donuts. I sort of feel like I'm on another planet, too, like in some alternate universe that I dreamed about happening at some point in my childhood and young adulthood. I was going to stay after and have a coffee with one of the students who wants to talk about grad school. But I might ask if we could do that next week. My best friend works at NYU, not in Tisch. She's going to come and give me a hug. I'll go buy some lunch, and then I'm going up to the theatre because we actually still have some rehearsal today.
This morning started with my kids and breakfast. The first bit of nominations on CBS I missed because I was dropping my four-year-old off at nursery school. And I just thought, 'Well, as long as I can get home by nine when they announce the rest, I'll be okay.' And I did. I got to actually watch the whole thing. I turned to my husband as we were watching and I was like, 'Really? Honey, this is so even ludicrous that we're even watching these like there's some possibility.' He's like, 'It's awesome. We'll remember watching this, even if nothing happens. You were close to it.' And then when it happened, it was like, 'Yeah, this is the best.'"
Micaela Diamond, Best Performance by an Actress in a Leading Role in a Musical, Parade
"I woke up and watched the nominations with my mom, who has been with me on this journey since I moved to New York. I am so happy for what this means for her and for us! And to be nominated for this production at this moment in time—along with Ben and Michael—what a dream!"

Jodie Comer, Best Performance by an Actress in a Leading Role in a Play, Prima Facie
"I love getting to play the role of Tessa in Prima Facie, so to receive this Tony Award nomination for my Broadway debut is beyond my wildest dreams. Broadway audiences have been so welcoming to me, so it has truly been an amazing experience. I am grateful to get to speak Suzie Miller's words in her vital and urgent play, and for director Justin Martin, who guided me every step of the way."

Robert Horn, Best Book of a Musical, Shucked
"I shed a couple of tears. I surely did. I was excited for the whole production, for the whole team. This little show—that I had been writing for 10 years and never thought would happened, and there were so many stalls and so many moments where it looked like it was never going to be—to get to this place is just so exciting and thrilling and humbling. Growing up, all I ever wanted to do was be in the theatre, and for them to have welcomed me the last time and then this time said, 'Yeah, you're part of us,' it's really exciting. Wherever I go, people say that to me, 'Well, you're the little surprise of the season.' People were like, "Yeah, right. A musical about corn, and country music and all that?" We didn't say anything, just did the show. People make fun of me because when I'm in town, I go to the show a lot. It is an amazing feeling to sit there and hear people, see people, connect to the same thing and to what you thought. You look at your life and you wonder what is going to be your legacy? What are you going to leave behind? And it's that: The ability to make people laugh."
Kevin Cahoon, Best Performance by an Actor in a Featured Role in a Musical, Shucked
"I was watching on my computer while FaceTiming with my mom. I did my first Broadway show 29 years ago, and there were moments where I felt that may not happen. For it to happen today is beyond any dream that I still had. There was a yelp from 74th Street and a yelp from rural Texas. We both screamed. You're watching every category come through, and you're seeing friends get acknowledged. And then when they get to your category, my heart was beating. Oh my gosh, my palms are sweating, my heart is racing. This really does mean something. It's thrilling. It's a validation of a lifetime commitment. It is a nod from your peers saying, 'You have done this, and you have done a good job.' Show business is hard, but it wasn't a choice for me. This was the only place I was going to spend my life, within the theatre. Whether it be here, or around the country somewhere. It's where I am meant to spend my life. And Broadway is the most incredible honor to be a part of. Whether I'm in the audience watching a show, or whether I have the good fortune to be on the stage. There's nothing like it. There's nothing like a Broadway show. And the laughter I've heard at Shucked every night is unlike any show I have ever done in my career. I just feel like this is a tonic for what we need right now."
Jamie Lloyd, Best Direction of A Play, A Doll's House
"Working with Jessica Chastain, Arian Moayed, Amy Herzog, and the entire company of A Doll's House has been one of the greatest experiences of my career. It was a privilege to create this new production of Ibsen's masterpiece for Broadway audiences with a team of exceptional artists. We are honored and grateful to be recognised with these Tony nominations."
Jessica Chastain, Best Performance by an Actress in a Leading Role in a Play, A Doll's House
"If I could tell that girl who yearly recorded the Tony Awards on her VHS that this would happen, it would have blown my world open. To tell her she'd be living in New York, performing in A Doll's House, and nominated for a Tony Award for Best Actress…It is a dream come true. Thank you so much to The Wing and the Tony Awards for recognizing our play. Thank you, The Jamie Lloyd Company, Ambassador Theatre Group, Wessex Grove, Hudson Theatre, Gavin Kalin Productions, and 101 for believing in us. Everyday I get to say Amy Herzog's words and act with the most incredible group of artists. Jamie Lloyd, none of this would have happened without you. Love you very much."
Jordan Donica, Best Performance by an Actor in a Featured Role in a Musical, Camelot
"Words simply cannot describe the differing and constant emotions that I am feeling. I am a wee bit sleepy, a lot bit energized, and just at peace with whatever has been and whatever will be. It is an honor to be nominated along such incredible talents and, more importantly, incredible people. Thank you for the recognition and thank you to Lincoln Center Theater and the beautiful cast and crew of Camelot. No one gets to where they are alone. Thank you to everyone on Team Jordan, and thank you to my entire family for the never-ending love, support, and guidance. 'Every day is a gift.'—Kathy Schutte"
Michael Yeargan, Best Scenic Design of a Musical, Camelot
"It's a thrill to be nominated, but more so for the collaboration with Ben Pearcy and 59 Productions, the extraordinary company and the brilliant Camelot production team at Lincoln Center Theatre—it just doesn't get any better!"
Jordan Roth, Best Revival of a Musical, Producer of Into the Woods
"Into the Woods has always been the show that holds our hand through so many moments in life. To have so many of our Into the Woods family recognized today is one more moment that makes it worth the journeying."
Lear DeBessonet, Best Direction of a Musical, Into the Woods
"My heart bursts with gratitude for the recognition of our work on Into the Woods. I always thought of this show as a great expression of love and humanity, and I am so honored that our intention was embraced with this incredible generosity."
Sara Bareilles, Best Performance by an Actress in a Leading Role in a Musical, Into the Woods
"I'm absolutely reeling. My heart is so full with love for the show—and for what this story meant to all of us onstage, backstage, as well as in the audience. I am beyond honored for this acknowledgement and I reserve the right to spontaneously start screaming with joy at any point today."

Sean Hayes, Best Performance by an Actor in a Leading Role in a Play, Good Night, Oscar
"Thank you to The Broadway League and The American Theatre Wing for this incredibly humbling nomination…I am honored to be included in such esteemed company. I am forever grateful to Doug Wright and Lisa Peterson for giving me the opportunity, and the stage, to bring Oscar Levant to life alongside a brilliant cast, crew, and producers who work tirelessly to make this show so special. It is a privilege to portray someone so complex, someone who is both hilarious and heartbreaking, and I am truly grateful and thankful for this beautiful acknowledgement."
Jason Howland, Best Orchestrations, Shucked
"I am thrilled to be nominated for my work as an orchestrator on Shucked! Shane McAnally and Brandy Clark's songs are fantastic, and the combination of working with them and Jack O'Brien, Robert Horn, and Sarah O'Gleby has been an absolute joy. You can feel that joy coming back to us every night in spades from the audiences who are laughing and cheering eight times a week at the Nederlander Theatre! I am so proud of this team, our producer Mike Bosner, and this cast! Get Shucked!"
John Shivers, Best Sound Design of a Musical, Shucked
"I am absolutely thrilled to have been nominated for my work on Shucked. It has been an extremely rewarding production to be a part of. I can't say enough about the incredibly talented creative team, cast, orchestra, and crew. I am so happy our work was collectively recognized with the Best Musical nomination."
James Ijames, Best Play, Fat Ham
"Oh my gosh! I'm spinning still, I think. I'm just so excited. I'm so happy for the whole team, the whole production. I love this play, and this community that we've built around this play, and I'm just thrilled. It's been really special on the nights that I've been there to feel the energy in the room. As people are leaving, hearing them talk about the play, and quote the play—that's also, I think, what I'm sort of surprised happens. Nikki Crawford, oh my gosh. She's just such a supernova in the show. That part, I know for her, was this beautiful challenge. She stepped to it with so much grace and humor and intelligence. I'm just really thrilled for her, and the whole company. I feel like the show's appeal is in large part because of this group of actors that we brought from The Public. I'm astonished every time I see the play how much they bring themselves and their humanity to these characters."

Emilio Sosa, Best Costume Design of a Play, Ain't No Mo' and Good Night, Oscar
"I'm completely floored by this amazing acknowledgement by my peers. I truly love what I do and hope to continue to add to the fabric of inclusion and diversity in our community. Go theatre!"
Scott Lehrer and Alex Neumann, Best Sound Design of a Musical, Into the Woods
"We're so pleased to have been nominated for this incandescent production working with such a great creative team. We especially thank our collaborator music director Rob Berman and his whole music department."
Annaleigh Ashford, Best Performance by an Actress in a Leading Role in a Musical, Sweeney Todd
"Thank you American Theatre Wing! It is an honor to be nominated alongside these talented women. I am deeply proud to be part of a show that has long inspired so many people to become artists and continues to do so today. Steve Sondheim was masterful at ensuring that the female counterpoint in his shows was equal, and he was authentically interested in telling the whole, full story of all humans. I couldn't be more thrilled to be telling his story with this magical cast, crew, and creative team. Congratulations to you all."
Jordan E. Cooper, Best Performance by an Actor in a Featured Role in a Play and Best Play, Ain't No Mo'
"Oh my god, it's so crazy. I was hoping that we would get some kind of recognition. I came back home to Texas for the weekend, it was my brother's birthday. So thankfully, I'm in my childhood home, and my parents took off today to watch it this morning. I'm amazed. We literally watched it in the same living room that I used to do plays in. It's crazy. We only got a chance to do about 60 performances. I'm just so grateful that it resonated so much with audiences, because we knew that people were moved, we knew that it was worth it. To know that it resonated with the American Theatre Wing and the Tonys, I can't be more grateful and also flabbergasted."
David Lindsay-Abaire, Best Original Score (Music and/or Lyrics) Written for the Theatre and Best Book of a Musical, Kimberly Akimbo
"We were watching on TV like everybody else. Jeanine and I were on the phone together at the same time. I was over the moon to get so much love. Also, I've been seeing most of the shows, so I know what an amazing season it is. I'm especially thrilled that our scrappy musical has been so recognized and embraced by everybody. It's a completely different kind of joy and gratification to have not just recognition, but longevity in an industry that doesn't always support that. I started writing this weird little play 23 years ago. It was Jeanine that pulled Kimberly off the shelf and said, 'I actually think there's a musical in here. I think these characters sing. They have complicated internal lives, and big emotions. And those are the key ingredients to a good musical. So how about this?' To actually have it happen, and then end up on Broadway, and then to get Tony nominations for it is nothing I could ever have imagined."
Justin Cooley, Best Performance by an Actor in a Featured Role in a Musical, Kimberly Akimbo
"I woke up early and called my parents. I got on a Zoom with some of my castmates and we all sat together and watched. It's crazy, I never thought I would be here at this time in my life, but I just feel so lucky. Two years ago, I was just in high school and now here I am being nominated for a Tony. Learning the life of being a professional actor, on top of learning my role, doing a show eight times a week, working with so many industry professionals—it was definitely a lot to assimilate. But I've just had to take it slow, and had support every step of the way. And I keep growing every single performance. [Victoria Clark] is the dream partner. Throughout our creative process, she really helped me come into my own. She's really been monumental in building this for me, I feel like my nomination is just as much a testament to her and really all my other castmates, and the creative team."
Bonnie Milligan, Best Performance by an Actress in a Featured Role in a Musical, Kimberly Akimbo
"I had a couple of friends come over to my apartment, and we watched the nominations together. My friends were cheering, and I was crying. I said afterwards, 'I have no idea who else was in my category!' because I just lost it. It's incredible. I feel the many years it's taken me to get here. I think of the years I spent waitressing and temping, and trying to fit into rooms I couldn't get into, and then slowly, feeling like I was part of the community by doing readings and concerts and anything anybody would let me be creative in. And it just took longer. I think I became a better artist for it. Today just feels like, wow.
I felt my dad with me. I felt everything. It was beautiful. Losing my dad recently, and during a show kind of about all this, there are some days that that's very much in the room and very present in my mind in playing someone who is loving someone, and in a space with someone who's toward the end of their life. It can be quite a challenge. God bless Jeanine Tesori, she wrote me over two octaves in both of my big numbers. I'm in the basement and the rafters. It's one of those shows—it's so funny and cathartic that it's actually sheer joy. And it's honestly helped my own grief, because I remember being in and out of the hospitals with my dad, and just holding on to the joy and the jokes and the laughter through such intense pain that we were all feeling in the room. [But I can imagine him] saying like, 'I knew it, baby.'"
Cynthia Erivo, Best Play, Producer of Fat Ham
"These nominations mark an exciting and joyful moment in our theatre community, with a mix of productions that celebrate representation and humanity. I'm in awe of James ljames, Saheem Ali, and the brilliant actors, designers, crew members, and more who make it all possible to tell this poignant tale eight shows a week. To return to Broadway in this capacity is a dream come true and a full circle moment for me. I am thrilled to share in this honor with the most incredible Hamily a girl could ask for!"
Julia Lester, Best Performance by an Actress in a Featured Role in a Musical, Into the Woods
"I'm in the city right now with my family. They live here, so it was perfect timing that I could come here and be with them. We woke up super early and all gathered on the couch to watch the nominations and cheer everybody on like we do every year. And it's just so crazy that I was a part of it this year. It's really just a dream come true. Everybody wrapping their arms around me and screaming, my mom sobbing her eyes out and and then promptly afterwards, I laid on the floor and didn't know what to do with myself. I did a production of Into the Woods for the first time when I was 10 years old. It's remained such a an important show in my life, in my family's life. And so when the initial opportunity came by to be in the Encores! production, that was a huge accomplishment in itself. And then just everything that has come after that has been the biggest surprise, the biggest blessing. I'm so grateful. I know Steve is smiling down on us for this day."
Katy Sullivan, Best Performance by an Actress in a Featured Role in a Play, Cost of Living
"I got a text from one of my oldest friends that said, 'So, you wake up and you have a Tony nomination? What else do you do with the rest of your day?' That's kind of like you've hit the peak. You can't get better today. I'm just over the moon excited for all of the love that Cost of Living is getting, attention and recognition. There are so many ways that playing this character has changed me. Her emotions are so fresh and new. She's changed me in so many ways, in ways of being strong myself, in being confident in who I am, and proudly proclaiming, 'This is who I am.'
There was one particular day that I came out of the stage door. There was a young girl, late teens or early 20s. She was on forearm crutches. She came up to me, and was like, 'I have to thank you. I've never seen anybody similar to me on a Broadway stage.' She was like, 'I've always wanted to be an actor, but I didn't think it was possible.' I was like, 'Keep going, like, please.' I think representation is the biggest takeaway that I have to take from this, from being a part of this production, is people being able to see themselves reflected in in this massive way. It's groundbreaking."
David Zayas, Best Performance by an Actor in a Featured Role in a Play, Cost of Living
"I'm very excited, very surprised, very thankful, and I feel very lucky. It's wonderful to be in a show where everybody commits 100% to it. I kind of was the new guy in the cast. They were just so accepting and helpful. We created a kind of tribe that I know supported me every night. I'm in Wyoming this week tomorrow to talk with drama students in colleges and university with my son, who is with me. It's his birthday today. It's been a good day. A really good day. There is no downside to this."
Brigitte Reiffenstuel, Best Costume Design of a Play, Leopoldstadt
"Thank you so much. I feel very honored and very delighted to be nominated. It's my first show on Broadway and it's my first Tony Award [nomination]. It's a play about the past, but it's also very much about the present, and what's going on in the world. The characters really needed to be not masked, but enhanced with the clothes. It was a very gentle approach to the play in itself, to the characters and their humanity, but also to go and do precise research. I've been in touch with all my team. We are just absolutely delighted."
Nikki Crawford, Best Performance by an Actress in a Featured Role in a Play, Fat Ham
"Oh my gosh, I am walking on clouds. It's surreal. I am so humbled and so grateful for this amazing honor. This is not only my New York debut, but my Broadway debut. It turned into a Tony nomination. I'm over the moon, I'm over the universe. This script came to me and within the first two pages, I said, 'Oh, my God. I have to play this role.' The characters are so familiar to me. They're people that I grew up with in Washington, D.C. The language felt so familiar. When I read Tedra, I started reading those lines, I heard her voice immediately. I identified with that woman immediately, because I grew up with that type of woman.
I put my phone on vibrate, I was really nervous. People told me to prepare for this moment, but I didn't. I wasn't sure and I didn't want to watch. Then around 8:50 this morning, the phone started ringing off the hook. My manager was the first person that I spoke to, she's screaming at the top of her lungs. I said, 'Susan, are you sure they said my name?' She said, 'Yes. They said your name.' I asked her three times! I've seen it since, but you know, I couldn't watch it live. Tonight we're sold out, which is so wonderful for the show. This has been one of the most amazing experiences in my career, creating this role from scratch. Saheem and James are amazing collaborators. They allowed me to try everything. What I take from this experience is trusting my instincts, and really believing in myself."

Natasha Chivers, Best Lighting Design of a Play, Prima Facie
"I'm honored to be recognized for my work on a production as powerful and important as Prima Facie. This team is one dedicated to collaboration, trust, and support and I'm grateful and proud to be amongst their ranks. Thank you to Suzie, Justin, and James especially for welcoming me into their vision. It has been incredibly rewarding to revisit and refine my work on Prima in its move from the West End to Broadway."
Lap Chi Chu, Best Lighting Design of a Musical, Camelot
"What a great way to wake up! I'm thrilled and so proud that the Camelot design teams' work is being recognized. Hooray for the 'Lusty Month of May'!"
Christian Borle, Best Performance by an Actor in a Leading Role in a Musical, Some Like It Hot
"We were about to do a number on the Today Show. And we were sitting in their studio and they were live, so we had to be quiet. And all of a sudden, there was a hush. J. Harrison Ghee was looking at his phone and saw that they were nominated for Best Leading Actor. And their reaction was just silent tears. Everyone silently surrounded them and started crying because we couldn't make a peep. And then we saw the Best Musical nomination. It was just like 20 or however many people there all acting out Edvard Munch's The Scream, but it was all totally silent. The cameramen started filming it. But then we went to commercial, and we were all able to scream. And then we started to see the expanded lists. It just doesn't get old. The Tonys mean the world to me, they always have. And I'm particularly proud because of my partnership with J and the show. It I knew that J was a lock. And I'm going to be rooting for J for the win."

Kevin Del Aguila, Best Performance by an Actor in a Featured Role in a Musical, Some Like It Hot
"We were up watching the Today Show so we could cheer on the whole cast, which was thrilling to get to watch them respond to the nominations on television. My jaw hit the floor, and I had to pick it up and try to put it back where it should go. There was a lot of screaming, a lot of hugging, a lot of trembling, but it was all all very exciting. And then I had to run off to a dental appointment. I don't know how to behave right now. But I do feel very honored and very excited and fortunate that not just me, but the show, has been acknowledged. I think I said to someone once I was like, 'I forget that before we went into previews, we were nervous.' We didn't know how people were going to respond to the show. And so this is just a thrill to feel embraced in this way and recognized in this way."
Cameron Crowe, Best Original Score (Music and/or Lyrics) Written for the Theatre, Almost Famous
"What a privilege to be nominated alongside my friend, the brilliant Tom Kitt. Tom brings his whole heart to his work, you can feel it on first listen, and it only deepens from there. Our passionate cast lives in every note of the score, they brought such fire every night and day. Much appreciation to our audiences, our fellow nominees, and to the Tonys. Thanks for shining a light on Almost Famous and our simple motto: Music is love."
Tom Kitt, Best Original Score (Music and/or Lyrics) Written for the Theatre, Almost Famous
"I was actually with my wife watching my young son Charlie in his percussion concert. So, I walked out onto the street after it was done and I started to see texts. It was nice that we were together and got to share that moment. It was euphoria. It was very emotional, especially [with] Almost Famous not running at the moment. The fact that the work resonated and was remembered, it's huge. That means a great deal, and for a show that was so personal to me, that I spent years working on. Cam and I are in deep conversation about the future of the show."

John Clancy, Best Orchestrations, Kimberly Akimbo
"I was already working when the text messages came. Everybody in the community is so sweet and cool. I'm just thrilled to be a part of this show. Honestly, I've loved it since I first saw a workshop of it, I think David Lindsay-Abaire's story and book is unbelievable. In the same song, you're laughing and then you're crying. And Jeanine I've worked with a lot of times, and her music is always deep. You never know where it's gonna go, because she's some sort of genius. I just try to lift the music up. I'm very honored to be a part of this group."

Ben Stanton, Best Lighting Design of a Play, A Christmas Carol
"I'm honored and thrilled to be nominated in a season with so much brilliant work. All of the nominees are so talented and I'm grateful to be included in this prestigious group. This season's nomination is particularly special because my partner Lucy Mackinnon was also nominated. We're a family of freelance artists, and with two small children it hasn't always been easy. This moment of recognition for our work means the world to both of us."

Lucy Mackinnon, Best Scenic Design of a Play, A Christmas Carol
"I am so, so happy to be nominated for a Tony Award, and thrilled that the whole A Christmas Carol design team received nominations. Michael Arden and Jefferson Mays' adaptation of A Christmas Carol is beautiful and brilliant. It's been a joy to work with everyone on the team, and an honor to build this show over four years with Dane, Michael, and Jefferson."

Joshua D. Reid, Best Sound Design of a Play, A Christmas Carol
"This is an honor that you only dream about growing up as an arts enthusiast. It feels unreal. I'm overwhelmed with the deepest love and admiration for the everyone who breathed life into A Christmas Carol; and especially for Jefferson and Michael who brought us through an artistic trance every waking day."
Stephen Adly Guirgis, Best Play, Between Riverside and Crazy
"I'm in Los Angeles. I woke up, and there was a bunch of text messages. I was like, 'Oh, shit.' It's either a bunch of messages saying like, 'You got robbed,' or it's the other. I'm really honored. This play [is special] for two reasons. One is that it's personal. I moved into my parents' house the night my mother died. I took care of my dad for four years. A lot of the stuff in the play is based on real things. To write about it, and to have the play be recognized, means so much. Also, the other really big reason is Stephen McKinley Henderson…such a close friend, and so happy that he's getting his props."

Audra McDonald, Best Performance by an Actress in a Leading Role in a Play, Ohio State Murders
"I am honored to have been nominated for Ohio State Murders. Having the opportunity to work with Kenny Leon, and to be a part of Adrienne Kennedy's long-overdue Broadway debut of her extraordinary, relevant, and powerful work, was one of the most important artistic experiences of my life."
Amy Herzog, Best Revival of a Play, A Doll's House
"I feel incredibly lucky today. I've loved A Doll's House since I was a teenager, it's deep in my playwriting DNA, and getting to do a nerdy dive into it with Jamie, Jessica, Arian, and this incredible company has been an honor and a thrill. I'm so grateful to my brilliant collaborators, our producers, and the nominating committee...I like to think that somewhere in the universe OG Ibsen has a sly little Scandinavian smile on his face, too."

Joi Gresham, Director and Trustee of the Lorraine Hansberry Literary Trust, Best Revival of a Play, The Sign in Sidney Brustein's Window
"This is a truly remarkable time for the Lorraine Hansberry legacy. She shows that she can continue to hit the note of our times in her writing and her vision. I am thrilled beyond words that we have been able to bring this play home to Broadway after almost 60 years. We are still chasing her, trying to listen to what she has been saying!"

Ben and Max Ringham, Best Sound Design of a Play, Prima Facie and A Doll's House
"We are honored that our first Tony Award nominations are for two brilliant shows, Prima Facie and A Doll's House. It feels very special to be acknowledged for our work this season; we are a part of such incredible companies and grateful that we get to do this together."