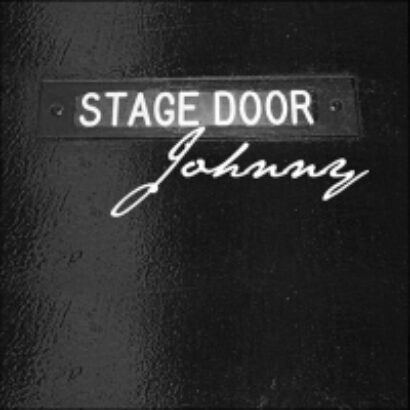 In our new advice column, "Hey, Johnny!" (as in: stage door Johnny), an anonymous Broadway veteran answers the burning questions that might just be keeping your theatre-loving soul up at night. Previous columns have covered everything from how to tell your parents you want to major in theatre to whether you need a "Broadway body" to make it big.
Got a question? Ask it here.
*
You know what they say about New Year's resolutions, paying taxes and binge-watching "Gilmore Girls": Better late than never! So this week, I'm taking a break from answering your queries (psst: you can catch up on all my past columns here) with a list of a 10 Resolutions Every Actor (Everywhere) Should Make for 2015. And beyond.
Even if only three of the following resolutions resonate with you, that's 30 percent — and keep in mind, that's about the same percentage of Broadway shows that recoup.
I resolve to:
1) stop trash-talking people on social media.
...even if you're 17 and unknown and living in [city redacted so as not to alienate readers] and just live-snarking #NBCMusicalsLive for your 15 followers, three of whom share your last name. In 2015 you're going to stop talking smack about every cracked note to pierce the airwaves. It's good karma to be good online. It will help get you cast in the future, because people want to hang out with fun people and mostly what theatre is actually about is regular ol' hanging out, except in fake eyelashes. Check out the Twitter feeds of Lin-Manuel Miranda, Sierra Boggess and Julia Murney to see how uber-successful musical theatre people (heck, two of 'em are Verified!) can be both kind AND funny online, amen.
2) stop worrying about the parts of my body that I can't change.
Like: if you've got really short legs and you're done growing, you're either gonna write a kick-butt one-woman cabaret show about how your dream was to be a Rockette but it doesn't seem like THAT'S gonna happen, hahaha (cue: audience applauding, smiling warmly at your bravery and humor), or you're gonna walk up 8th Ave. glaring at the legginess of Stro dancers. Be the first kind of person. Love the body you're stuck with. Use what you've got. Bob Fosse wore bowler hats because he was balding. He won something like 3,000 Tony awards (number not confirmed).
3) stop complaining about my 9-to-5 job.
Many of your favorite actors, directors, and writers had their own excruciating pasts seemingly "stuck" behind a desk. Survival jobs are, unfortunately, the price of admission for playing in the big leagues. Unless you were born with a silver spoon in your mouth or own a thriving marijuana-cookie baking business (not endorsed by Playbill's editors), you will very likely have to trudge through a lot of suck en route to your dream. If Broadway were easy, your Aunt Bonnie would be starring in The Phantom of the Opera. Broadway being hard is what makes it special. *waves cane in the air*
4) stop thinking that people who have "made it on Broadway" have an easy life that's perfect, Laura Benanti probably follows them on Twitter and their apartments look like the loft from "Friends." It's just usually not like that, gang. It's great to have an ambition — to set Broadway as your "last and final stop" (hate when train conductors say that, btw) of the runaway success known as your career — but (wonderful) shows close all the time. Sometimes quickly. Sometimes even if Sting is in them. Broadway is a worthy goal, but remember that being a New Yorker means you have to deal with New York, which includes winters and the MTA.
5) stop letting the fear of getting reviewed negatively stop me from doing the thing I go to bed thinking about doing that I'm not yet doing.
Put another way: start putting yourself out there, as soon as possible. Yes, some people will react poorly. Yes, people in your immediate circle including your dad may laugh at or not understand your dream, especially if they didn't previously know you want to be Sutton Foster when you're older. But even your biggest heroes have gotten terrible reviews. Fun game: Name your all-time favorite musical actor/actress or show. Like, the one that you could argue is the greatest actor/actress or show of all time. Now go find some one-star reviews of said actor/actress or show. Get out from behind the safety of your keyboard (unless you're a writer, in which case: buckle up and stay put) and put your dreams on the line. Because tomorrow you're going to be a day older, and that dream ain't growing dimmer. Unless it does grow dimmer, in which case: You win! You get to leave showbiz and be at peace with it! Collect $200.
6) stop comparing myself to others. Which is impossible. Humans are little comparison machines. (Facebook banks on it.) So actually:
7) to use my natural tendency to compare to inspire me.
If you're always looking left to right, checking out the competition, you may as well learn something from the people booking the jobs you want, or living the life you're coveting. This sometimes requires the 30,000-foot view; that is, for you to stand on a really big ladder and look down and say: Gee, what's REALLY keeping me from getting the thing I want? How am I getting in my own way? Do you get the same notes, over and over, from different directors — but you refuse to take them? Do you come to auditions unprepared, or sing 1.2 million bars when they clearly only wanted 16? Learn the rules before you break them.
8) keep up my training.
Which can mean any number of things. If you're a dancer, you know you've gotta keep taking classes. Even during the run of a show. But actors, singers, and none-of-the-abovers out there: millions of (free!) resources are at your fingertips. Go to your local library. Scale down your $300 cable-Hulu-Netflix bill and rent some DVDs. Study the greats! When you're online, read about more than the weather and the tour of Wicked (we love the tour of Wicked, nothing against the tour of Wicked). Become a better actor by becoming a more curious person in the world around you. Read Julia Cameron's "The Artist's Way" and be surprised how much of it still holds up, even if the pages are practically scented with sandalwood and patchouli. 9) try to live thriftier than I need to.
That means don't buy yourself $500 jeans as a celebration for a callback *if* you've also got BFA debt. Either Eleanor Roosevelt or Oprah once said, "If it's on your ass, it's not an asset."
10) not believe that any one person has the answer.
Much of the "advice" you will get in showbiz will be from people who are under-informed, jealous of how pretty you are and/or mostly going off rumors. In general, don't believe anyone who says a show is coming right in to Broadway, directly after its regional tryout, if the regional tryout has not yet gotten reviewed. Substitute any number of nouns in that last sentence and you'll begin becoming healthily wary of the loudest prognosticators. They're frequently the most insecure.
*bonus resolution!* I resolve to ask people questions about themselves when I'm at cocktail parties, even if they're not in theatre.
Because theatre people aren't always great about doing this. Remember: Sentences don't always have to start with I!
I say all this lovingly, and I struggle with much of the above, myself — like how I just began a sentence with I.
So mostly, let's all make 2015 the year when we don't get in our own way. Make it the year you get one step closer to being the opening night version of you. When you get there, the trick is to keep it fresh, year in and year out.
Break a leg,
Johnny
Johnny will be back next week with answers to your questions. Got one? Ask here. Need to catch up? All his past columns are here.