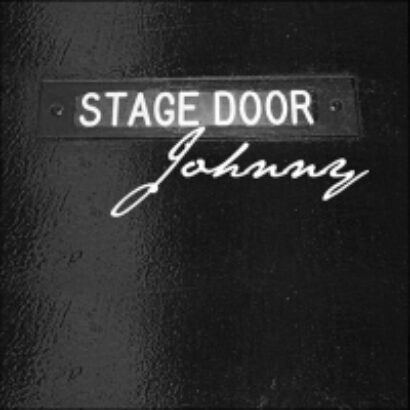 In our new advice column, "Hey, Johnny!" (as in: stage door Johnny), an anonymous Broadway veteran answers the burning questions that might just be keeping your theatre-loving soul up at night.
Have a question for Johnny? Ask Johnny a Question! or tweet to us @Playbill using the hashtag #HeyJohnny.
Here's Johnny's latest round of reader replies.
Hey, Johnny! Bear with me, as this may be a long-winded question: When I was a college student at AMDA in the late 90s, one of my professors noticed that unlike all the other students obsessed with Rent, I was asking to perform material from the likes of Subways Are For Sleeping and Out of This World. This man, well-respected in the theatre world, took me under his wing and, while showing me his impressive collection of obscure bootlegs, offered me some sage advice: "Don't be like me or you will wind up very frustrated and lonely."
Well, here I am nearing 40 and though not exactly lonely, I am very frustrated. I am still a performer and have now started directing, but here in Cincinnati, if it ain't Annie or The Music Man, nobody is interested. How can I parlay and share my passion for the plethora of more obscure musical theatre material into something worthwhile?
Signed,
Oddball in Ohio
Dear Oddball:
The Venn diagram of people who love Subways are for Sleeping and people who are lonely and frustrated would have some overlap, sure, as most Venn diagrams do. But I know plenty of guys (and some gals) whose adoration of the arcane has also made them part of a clandestine club: the wonderful über-dorks of the theatre.
That you didn't respond to Rent doesn't mean much, Oddball, only that you didn't respond to Rent. There are all types of "real" rock-and-rollers out there who would listen to one track on Rent and laugh at all of us theatre people, from the Chorus Line-rs to the Caroline, or Change-rs. And so what's really going on here?
I think you have a fear that you're going to become him, the professor. I don't live in Cincinnati, so I'll trust your instinct that either version of The Wild Party wouldn't sell quite like West Side Story might, but you'll forgive me in saying that having a "plethora" of obscure theatre knowledge won't add up to anything worthwhile in any town until you make it so — or until you redefine "worthwhile."
Are your expectations realistic? A few years back I shuddered at the image of Arthur Laurents' entire estate, up for sale on some online auction. A bronze statuette here. An opening night gift from Bernadette there. Overnight, it had all become a big old tag sale — of a man who not only didn't traffic in the obscure, but who'd put the words in the mouths of Ethel Merman, Barbra Streisand, you name it. And yet one man's infamy is another man's trash.
Can I guarantee you you'll make a "worthwhile" living as a director of funky musicals in Ohio theatres? No, I can't. But I also couldn't guarantee you you'd make a living as a director of commercial hits in Times Square. For goodness sake, Rocky just bombed, and it was literally based on "Rocky."
Besides, "worthwhile" means something different to everybody. After ten years on and around Broadway, I recently began working with theatres students again, many subway stops away from 42nd and 8th. Sometimes, when I'm waiting backstage at these small-town auditoriums, I am so overwhelmed with how much they all smell the same — like sawdust and greasy makeup and paint and hormones — that I almost start to cry. I almost start to cry because I remember what it was like to love something, just…because. Not because I was getting paid for it, but because I had found something so weird and true and utterly me that, as an eighth grader, I couldn't wait to get home from school every day and play Sonic the Hedgehog and listen to my Annie Warbucks album until Mom said it was time for dinner.
When I get to these middle school auditoriums, it feels worthwhile. Not because I'm changing the world, necessarily, but because I'm back in the only one that ever accepted me: the theatre.
Get it out of your head that people in love with Tick, Tick, Boom! and Hedwig and the Angry Inch have it easy. Google shows like that and you'll see how many theatres have canceled productions in the wake of controversy.
Get it into your head that "worthwhile" might need to mean something that doesn't involve standing ovations and robust checking accounts — not because you don't deserve those things, Oddball, but because the world isn't fair. It doesn't always reward the best or the most worthy or "arty," and in fact it rarely does.
Your true job, then, is not to become bitter. In fact it's job number one. This is your chance to change history, to be like those Merrily We Roll Along youngsters and know that, at 40, you've still got worlds to change and worlds to win.
Take the parts of the professor that you loved — the passionate mentor with the bootlegs — and hop out of the Venn diagram overlap that you no longer want to be in. That of the lonely, frustrated guy whose "sage advice" actually sounds like a lot of resentment, to me. You don't have to be him. This isn't Side Show. You two aren't connected at the hip.
Everyone is frustrated about something, Oddball. Even those classmates of yours who knew every lyric to "No Day But Today." And speaking of days — I hope that someday, there's a young person in your life who is curious about your own impressive collection of obscure videos. When that kid comes along, you might want to rewrite history and offer this sage advice: that you hope he'll end up just like you — fortunate to have found something in his lifetime that he truly, simply loves.
Is there anything more worthwhile than being a black sheep who has found his flock?
Break a leg,
Johnny
Click through to read Johnny's reply to Courtney, who asks about finding a job in the industry, behind the scenes.
Hey Johnny,
I have a passion for the theatre world and for all aspects surrounding it. I just know that my career has to be centered around the theatre atmosphere. But I know that I don't want to perform for a living. I also know that design is not my thing. Is there a career for me that keeps me involved in the rehearsal and performances of a show? I have been looking into stage management as well as production management. Can you tell me a bit more about those positions? Are there any others jobs like that?
Thanks!!
Courtney
Dear Courtney:
How refreshing: someone with stars in her eyes who doesn't want to be a star herself. At least not onstage. In some ways you're already ahead of the pack — it seems that 90 percent of the theatre kids I meet these days want to be the next Kristin Chenoweth. That's including the boys. And so how do we get your feet wet in these mysterious "other" theatre jobs, from backstage to front-of-house. (It would be really nice to have somebody with a love of other humans working in a box office.)
I believe it was Oprah Winfrey who said: "Where passion meets proficiency: that's where your true career takes off." It may not have been her, though; I write this column anonymously so I feel comfortable misappropriating quotes from billionaires, but what Oprah (or Bill Gates, maybe?) meant is: the formula for your perfect career =
what you love (the theatre) + what you're good at (which we don't know yet, Courtney)
That might mean stage management — those geniuses who tame wild creative teams across the world. If you don't excel or enjoy design (are you sure?, or did somebody small-minded just tell you you're not good at it?), your passion-meets-proficiency formula might equal wardrobe supervising, spot-light operating, or all sorts of technical jobs that literally keep the show running. It could mean producing. It could mean ushering.
We just don't know yet — though you do have an instinct you want to be part of the day-to-day process. That's a good thing to be aware of about yourself, as a number of talented and invaluable casting directors, for instance, feel very much left out of the fun (or left out of the credit) once rehearsals start and they're magically forgotten about until the opening night party.
My advice: get involved in whatever local theatre opportunities you can. If you're in middle school or high school, there is almost always some kind of little community theatre (or more) at the local level in your town. Those theaters always need passionate people on the cheap. Always. In every department. If you're in college, there is probably some kind of basement production of Godspell ("but set in the Civil War," or something) happening on campus. The point is to stretch and surprise yourself, and perhaps most importantly: to find somebody smart, patient, and experienced to take you under his or her wing.
If my first mentor hadn't been a dancer — if he'd been, say, a set designer or makeup man — I may have become that, myself. So find a local leader who needs free help, and volunteer for that person, and make sure he/she is not a jerk. Because if they're a jerk you'll think that's part of the job — a requirement — and let me tell you: you can still have a shelf full of Tony Awards and remain wide-eyed and open-minded. You really can.
Google will tell you a lot about the two possible career paths you laid out. But there's no experience like real-world, hands-in-the-sawdust, up-all-night-painting-backdrops experience, just as there's no business like show business, Courtney — even if some people have no real business being onstage. As you, thank goodness, already know.
Break a leg, Johnny
Send us your theatrical conundrums, and don't be afraid to dive deep. Johnny's got the time. Be warned, however: He talks straight and fast, and he's a little tired. Keep the questions vivid and you're more likely to keep him awake and get picked.