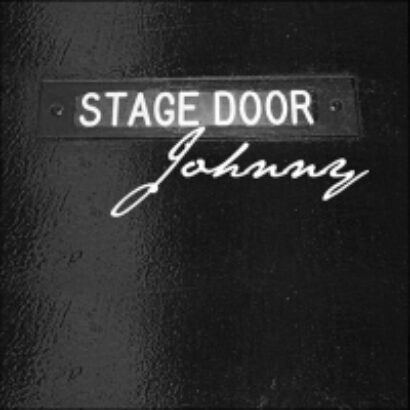 In our new advice column, "Hey, Johnny!" (as in: stage door Johnny), an anonymous Broadway veteran answers the burning questions that might just be keeping your theatre-loving soul up at night.
Have a question for Johnny? Ask Johnny a Question! or tweet to us @Playbill using the hashtag #HeyJohnny
Here's Johnny's latest round of reader replies.
Hey, Johnny! What's your advice for day jobs for actors?
Signed,
9-to-5
--
Dear 9-to-5,
Well, gosh, there are the fairly obvious tropes, I suppose: Find a job that allows you the freedom to audition at the drop of a top hat; find a job that doesn't leave you so depleted (or literally hoarse, like bartending) that you can't get out of bed for morning auditions; and find a job that doesn't make you feel like cattle.
But here's some less obvious advice, too: find a job that keeps you out of the Theatre District. Don't bartend at the Barrymore. Don't usher. Don't sell merchandise. Don't wait tables on 46th Street. Why? Because creative people can be remarkably uncreative; if the director a musical for which you're auditioning somehow remembers that you once served him chicken wings in Times Square, he's going to very subtly categorize you as a struggling actor — or, worse, as somebody who "hasn't made it yet," possibly for some nefarious a reason.
That's an ugly opinion, I know, and I'm certainly aware of people who were selling T-shirts at the back of a theatre one day and performing up onstage the next. It really does happen. But I think it's rare, and I disagree with the theory that it's all about exposure — that "just" being seen by anyone, anywhere, increases the likelihood that they'll remember you later. They might indeed remember you, but you want it to be for the artistic work you put into the world — if you really do dream of someday dropping the day job and taking the final bow.
But know something else: even actors who end up for some stretch of time on Broadway or the road or working regionally will frequently return to some kind of "survival" situation. So my last piece of advice: Find something that doesn't crush your soul or turn you bitter.
The hardest thing about being an actor — no, one hard thing — is waiting around for somebody to cast you in something. The best kind of day job, such as nannying for a thoughtful family, or helping people in true need, or assisting somebody accomplished who can mentor you, might even feed your art and inspire you to create something, yourself. And starring in your own life story is the best kind of job there is, day or night.
Break a leg,
Johnny
Click through to read Johnny's reply to Soprano for Life, who asks if a singer has to belt to make it on Broadway.
Hey, Johnny,
Hi! So I am a soprano 1, but cannot belt. Is my dream of being on Broadway realistic? Or must I be a belter to succeed on Broadway?
Signed,
Soprano for Life
Dear Soprano for Life: When my voice changed in middle school, I was alarmed to discover I could no longer hit the final high note in Jean Valjean's "two-four-six-oh-oooooone!" My classmates had wanted to be astronauts and veterinarians, but my entire adolescence I'd dreamed the dream of someday starring in Les Miz. As puberty showed up, then, my hopes took off.
And yet! I ended up performing in a healthy handful of Broadway shows and dreaming a new dream for myself along the way: that of the male dancer who sings okay. Okay enough, I should say; in my Great White Way debut, there were only six of us chorus guys in the cast, and I could not physically hit several of the notes we were each required to hit, and so I just lip-sycned them every night. Eight shows a week. For a year. I didn't even attempt to sing them on the cast album.
And you know what, Soprano for Life? I wasn't paid a penny less than the tenors.
There is no hard rule for who gets cast as what. Speaking of Les Miz: Did anyone ever foresee a day in which Daphne Rubin-Vega would sing "I Dreamed a Dream" on Broadway? And yet she did, wonderfully to my ear, precisely because she wasn't flawless, just like Fantine. That's what's great about musicals: Even the sopranos are almost always real people, first.
But I digress. There are plenty of roles for you, from Marian Paroo to several of the Pick-a-little Ladies who back her up. There's Christine in Phantom, Laurey in Oklahoma!, virtually every role Rebecca Luker has ever played. There's also the mighty chorus! The list is endless and will continue to expand, as Gentlemen's Guide has shown with its largely anachronistic "period" score.
So allow me to say that I believe somebody has made you feel as if you are deficient. Young people, especially, get it into their heads that there is some neat checklist that everybody on "the other side of the table" carries around, a checklist that includes all the things you need to "be" to get cast. But that checklist rarely exists. Broadway is not known chiefly for its thoroughness.
Now, Randy Skinner knows how to explore somebody's talents at auditions — he used to make even the chorus tap dance, by themselves, for 42nd Street auditions. But he's old school. I could more easily name half a dozen Tony-winning choreographers who could not get up and dance the very steps for which they received the award.
My point? Everybody's winging it, to a degree, on either side of the footlights. I got cast in Broadway roles for which I could not rightly sing every note, dance every step or even fit every costume. And yet exceptions are made every day.
Could anyone have predicted the casting of noted soprano Marin Mazzie in Next to Normal? And yet she was spectacular and unexpected. And she is also, it turns out, one incredibly cool gal to work with. Take note.
Here's my advice: Own the parts of you that you can't change (some people just can't belt), and work instead on being so damn fun in the room that even when you're not really right for the role, you get cast. Because, dammit, theatre people mostly just like to have fun in the room. Rehearsal room, dressing room, green room. Be the girl they have to invite to the party, whether you can raise the roof or not.
Break a leg,
Johnny
Send us your theatrical conundrums, and don't be afraid to dive deep. Johnny's got the time. Be warned, however: He talks straight and fast, and he's a little tired. Keep the questions vivid and you're more likely to keep him awake and get picked.