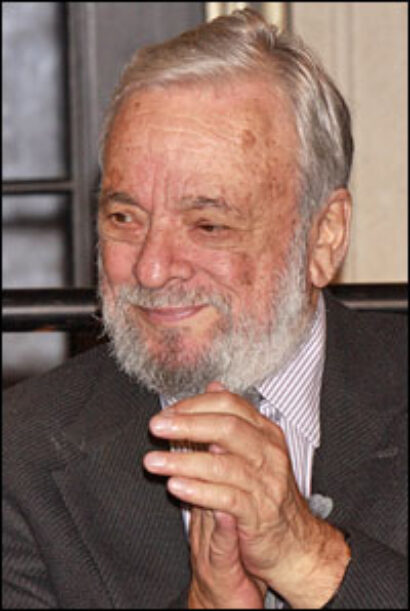 "I cry easy," the 80-year-old Pulitzer Prize winner said, holding back tears.
A crowd of perhaps 400 watched as the Tony Award-winning composer-lyricist flipped a switch that illuminated a white-light sign representing his signature on the marquee of the former Henry Miller's Theatre. The 6:30 PM event on the cordoned-off West 43rd Street was populated by fans and friends. Among the onlookers were director Harold Prince, director Mike Nichols, longtime pal Mary Rodgers Guettel, friend Phyllis Newman, friend and benefactor Ted Shen, director Eric Schaeffer and (sharing the dais) librettist John Weidman and performers Patti LuPone and Nathan Lane.
"I'm deeply embarrassed, I'm thrilled but deeply embarrassed…partly because I've always hated my last name," Sondheim said at the beginning of his brief remarks. "It just doesn't sing. It's not 'Belasco' and it's not 'Rodgers' and it's not 'Simon' and it's not 'Wilson.'"
He added this zinger, referencing Broadway theatres named for producers and theatre owners rather than artists: "It sings better than 'Schoenfeld' and 'Jacobs,' but it just doesn't sing."
He thanked the Durst Organization "for building this beautiful theatre, and [Roundabout artistic director] Todd Haimes and the Roundabout for conferring this on me." Under a clear blue twilight, Sondheim switched on the lights of the marquee, to cheers and applause, and the guests made their way into lobby of the 1,055-seat theatre for a private reception.
Nathan Lane, in introducing Sondheim — his collaborator on revivals of The Frogs and A Funny Thing Happened on the Way to the Forum, said, "There is something sacred about naming a theatre, and there is something about this that is right and just." The crowd cheered his words. "I couldn't think of someone more worthy of this honor than Steve."
Lane quipped that he was glad that a person — an artist — was on the marquee, "as opposed to the British Petroleum Playhouse or the McNugget…"
Formerly the Henry Miller's Theatre, at 124 W. 43rd St., the newly constructed venue opened in fall 2009 with Roundabout Theatre Company as the operator, but with Miller's name (and the historic façade) still attached. (For the record Miller's name is still inscribed in stone, far above the modern marquee.) In spring 2010 — coinciding with Sondheim's 80th birthday, and owing to Roundabout's many productions of Sondheim's work — the organization announced the name change.
The marquee signage was installed the week of Sept. 6. For the 15-minute ceremony, the logo/signage for the first tenant under the Sondheim banner (The Pee-wee Herman Show) was masked.



photo by Joseph Marzullo/WENN
Tom Tuft, chairman of Roundabout Theatre Company's board of directors, also spoke, as did LuPone, New York City Council member Christine Quinn and Haimes.
This is a rare modern case of a Broadway theatre being named for a living theatre artist. The Neil Simon Theatre (formerly the Alvin) was dedicated in 1983 in the presence of playwright Simon; playwright August Wilson knew that the Virginia Theatre was to be renamed the August Wilson in 2005, but did not live to see the dedication that fall.
According to Roundabout, a small group of anonymous Sondheim devotees "initiated a generous contribution to the renaming dedication of the theatre to support Roundabout's Musical Theatre Fund." The Musical Theatre Fund was established in 2003 by Roundabout's board of directors "to sustain this important art form and insure that Roundabout can continue its mission to produce musical revivals as well as developing new musicals by both established and emerging composers."
Roundabout produced five Tony Award-nominated Sondheim revivals including Company (1995), Follies (2001), the Tony Award-winning Assassins (2004), Pacific Overtures (2004), Sunday in the Park with George (2008), and the recent revue Sondheim on Sondheim.
The first tenant of the Sondheim Theatre is the non-Roundabout attraction, The Pee-wee Herman Show, beginning performances Oct. 26.
*
Sondheim has one foot in the Golden Age of the American book musical (with Gypsy and West Side Story) and one in the modern world of the concept musical, which sought to tell stories in fresh ways (Company, Follies, Pacific Overtures). Like his mentor, Oscar Hammerstein II, he changed the nature of musical theatre forever, influencing subsequent generations of writers.
Sondheim is the winner of an Academy Award, many Tony Awards, multiple Grammy Awards and a Pulitzer Prize. Some of his other accolades include a Lifetime Achievement Award from the Kennedy Center Honors (1993), the National Medal of Arts (1996), the American Academy of Arts and Letters' Gold Medal for Music (2006) and a special Tony Award for Lifetime Achievement in the Theatre (2008).
Sondheim wrote the music and lyrics for Road Show (2008), Passion (1994), Assassins (1991), Into the Woods (1987), Sunday in the Park with George (1984), Merrily We Roll Along (1981), Sweeney Todd (1979), Pacific Overtures (1976), The Frogs (1974), A Little Night Music (1973), Follies (1971; revised in London, 1987), Company (1970), Anyone Can Whistle (1964) and A Funny Thing Happened on the Way to the Forum (1962), as well as the lyrics for West Side Story (1957), Gypsy (1959), Do I Hear a Waltz? (1965) and additional lyrics for Candide (1973). Side by Side by Sondheim (1976), Marry Me a Little (1981), You're Gonna Love Tomorrow (1983) and Putting It Together (1993/99) are anthologies of his work, as is the new musical Sondheim on Sondheim. He composed the film scores of "Stavisky" (1974) and "Reds" (1981) and songs for "Dick Tracy" (Academy Award, 1990). He also wrote songs for the television production "Evening Primrose" (1966), co-authored, with Anthony Perkins, the film "The Last of Sheila" (1973) and, with George Furth, the play Getting Away with Murder (1996), and provided incidental music for the plays The Girls of Summer (1956), Invitation to a March (1961) and Twigs (1971). He won Tony Awards for Best Score for a Musical for Passion, Into the Woods, Sweeney Todd, A Little Night Music, Follies and Company. All of these shows won the New York Drama Critics Circle Award, as did Pacific Overtures and Sunday in the Park with George, the latter also receiving the Pulitzer Prize for Drama. Saturday Night (1954), his first professional musical, finally had its New York premiere in 1999 at Second Stage Theatre.
For more information, visit www.roundabouttheatre.org.
*
The Durst Organization and Bank of America completed construction and restoration of the Stephen Sondheim Theatre on West 43rd Street, off Times Square, in May 2009. The Stephen Sondheim Theatre is the first new Broadway theatre built in over a decade and sets new standards for environmentally sustainable design and construction of performing arts venues. The Stephen Sondheim Theatre sits behind the preserved and restored neo-Georgian façade of the original 1918 theatre.
By 1969, after being used as a Broadway theatre for 51 years the Stephen Sondheim Theatre was abandoned as a legitimate theater. In 1998, Roundabout Theatre Company transformed, reopened and operated the venue as a Broadway theatre with their Tony award winning production of Kander & Ebb's Cabaret. Cabaret ran for nine months, closed because of a construction accident at an adjacent building, re-opened briefly, and transferred to Studio 54 for a five-year run.
Based on Roundabout's track record of revitalizing and managing theatres, an opportunity was presented to Roundabout by The Durst Organization, the New York developer. In September 2009, Roundabout Theatre Company became the curator of the new 1,055-seat Broadway theatre, New York's first LEED rated theatre, built as part of the Bank of America at One Bryant Park project.
The Stephen Sondheim Theatre serves the Roundabout's mission "by providing more opportunities for artists as well as audiences," according Roundabout notes. "With the Stephen Sondheim Theatre, Roundabout will create 80-100 new jobs each year for artists and theatre staff through its activities."
The theatre is used for Roundabout productions. "Ensuring year-round occupancy of first-rate Broadway productions," the theatre will also be rented to commercial producers and other not-for-profit theatres.