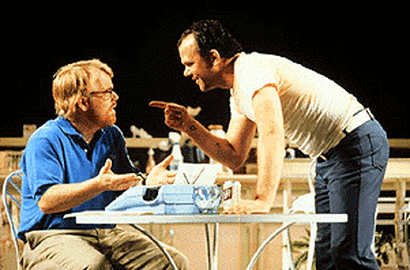 Brotherly love is nice, but brotherly tantrums and rage can be much more fun -- at least in the world of Sam Shepard's dark comedy, True West, receiving its Broadway debut March 9.
Performances began Feb. 17 at Circle in the Square Theatre for the show, which had two Off-Broadway incarnations, including a legendary 1982 mounting with Gary Sinese and John Malkovich. The 2000 version, set for an open run, stars Philip Seymour Hoffman and John C. Reilly (who will both appear on Rosie O'Donnell's ABC television show the morning of opening night).
By the end of True West the preppie Austin has changed characteristics with his drifter brother, Lee. The neat, business-oriented sibling has become a cranky slob; the unstable bum has plunged headlong into the world of screenplays and agents.
But the new Broadway production of True West has an even bigger switcheroo: stars Hoffman and Reilly are alternating roles throughout the run. According to a production spokesperson at Boneau/Bryan-Brown, the schedule for who plays Austin and who plays Lee on which nights has yet to be worked out, though at the first preview, Hoffman was Austin and Reilly, Lee. On the Rosie O'Donnell television show of March 9, the actors revealed that they flipped a coin in the theatre early that morning, and Reilly would again play Lee, with Hoffman as Austin. They also said they wouldn't switch roles every night, but "every three or four performances."
Reilly added, "It's the secret actor's fantasy to play all the parts." The casting curiosity is reminiscent of the original 1955 production of Inherit the Wind, when star Ed Begley switched from the role of Matthew Harrison Brady to Henry Drummond mid-way into the run.
No word as to whether the producers will ask the Tony Awards Administration Committee to consider Hoffman & Reilly as one person (a la the Side Show twins), or whether True West qualifies as a "new" play because it's never been on Broadway before.
Robert LuPone and Celia Weston complete the cast of this revival, which will be the first time Shepard's 1980 play will reach Broadway. Ron Kastner (RJK Productions) is producing the show, helmed by Matthew Warchus, who staged True West in London in 1994.
True West's 1980 debut, at the Public Theater, featured Peter Boyle and Tommy Lee Jones. The more famous 1982 staging at the Cherry Lane Theatre featured Chicago actors Sinise and Malkovich. Their pairing was eventually taped for broadcast on public television.
Actor Hoffman's recent New York credits include The Skriker, The Author's Voice and Shopping and Fucking. Reilly followed Chicago's Steppenwolf troupe to Broadway in The Grapes of Wrath in 1990. Not only did Reilly and Hoffman appear together in such films as "Hard Eight" and "Boogie Nights," Reilly was instrumental in bringing Hoffman on board for True West.
LuPone's credits include A Chorus Line and 1995's Clothes For a Summer Hotel at OB's York Theatre. He also coproduced 1998's Anadarko with Manhattan Class Company, where he serves as co- executive director. Weston appeared in the Roundabout's 1996 revival of Summer and Smoke and won an Outer Critics Circle Award for her work in 1997's Tony winner, The Last Night of Ballyhoo.
On Rosie O'Donnell's March 9 television broadcast, actors Hoffman and Reilly told her that as wild as the play can get, one scary-funny incident in early previews was a little too wild: In the scene where one character holds a tray of toast and the other smacks it out of his hand, the tray hit the ceiling a little too hard, dislodging a piece of hard plastic that came down ("like a guillotine" Reilly said) right between the two actors. They continued, sans ad-libs, with the scene despite the accident, with Hoffman adding that his friend, who saw the show that night, later told him, "I know it was scary for you, but it was great for the audience!."
Other plays by Shepard include Simpatico (recently filmed by director Warchus), Cowboy Mouth, Seduced, A Lie of the Mind and Curse of the Starving Class. 1978's Buried Child won the Pulitzer Prize and received a recent Broadway revival directed by Sinise. He also penned the screenplay for "Paris, Texas" with director Wim Wenders and has appeared as an actor in such films as "Baby Boom" and "Crimes of the Heart." Asked what he was currently working on, Shepard told Playbill On-Line (March 8), "I've finished a new play, but it hasn't got a title yet." Shepard didn't feel comfortable talking about the plot but did say it would be done at San Francisco's Magic Theatre, where he's developed a relationship over the past couple of seasons.
For tickets ($55) and information on True West at Circle in the Square on West 50th Street, call (212) 239-6200.
Among celebrities expected at the opening night show and party are Ron Rifkin, Eric Bogosian, Patti LuPone, Laura Linney, Paul Thomas Anderson, Fiona Apple, Julianne Moore and Sarah Jessica Parker.