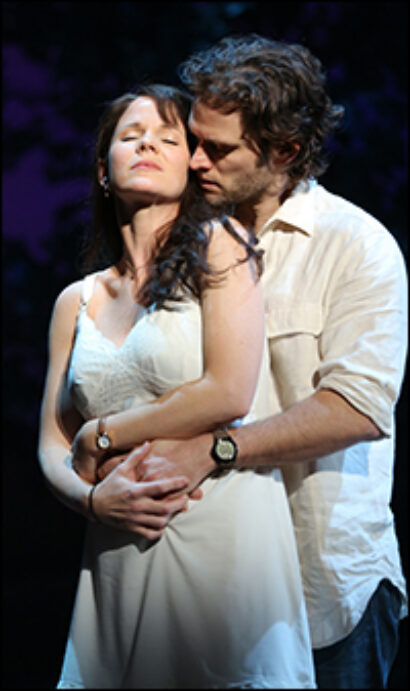 How, then, is it possible for one show to win Best Score, as The Bridges of Madison County did June 8, but not be named Best Musical—an award that went to A Gentleman's Guide to Love and Murder?
In this year's case, voters didn't have a chance to give Best Musical to Bridges, as it was not nominated in that category, a rare, but not unprecedented occurrence for a Best Score winner. A similar situation happened in 2000, when the Elton John musical Aida won for Best Score, but was not nominated for Best Musical. The top honor went to Contact, a dance musical that used a pre-recorded score of existing musical material.
Nominators obviously felt that Jason Robert Brown's score was of special quality, whereas the show as a whole apparently fell short, especially given the competition. The voters as a whole agreed with the exceptional quality of the Bridges score, but felt the sum of the Gentleman's Guide quality, including its Tony-winning Best Book of a Musical, was greater than its parts and put it on top.
Brown, who also won this year's Tony Award for Best Orchestrations, must have felt déjà vu about the 2014 awards. Back in 1999 his musical Parade also won Best Score, only to lose Best Musical to another show, Fosse. That loss may have been even tougher, since Parade also won Best Book.
Sometimes the separation of the categories makes sense. Contact won Best Musical in 2000 despite having no real book and a score of mainly old standards. Critics at the time carped that a show with no book and no original score didn't deserve to be called Best Musical. But the majority of Tony voters disagreed. In 1978 another revue of old songs, Ain't Misbehavin', also won Best musical while On the 20th Century took Best Book and Best Score.
However, sometimes it's just a matter of voters feeling that one show may have the best book and score, but one of its competitors put on a better or in some way uniquely special show overall. Two of the most eyebrow-raising examples were 1998 when Ragtime won Best Book and Best Score, while the visually arresting The Lion King took the Best Musical crown. Proving it can happen to the best of us, Stephen Sondheim and James Lapine's Into the Woods earned them Best Score and Best Book, respectively, but Best Musical went to the epic (and still-running) The Phantom of the Opera.
Click to the next page for a year-by-year survey of the distribution of these three important Tony Awards since 1976:
1976 A Chorus Line sweeps Best Musical, Best Score, Best Book.
1977 Annie sweeps all three categories.
1978 Ain't Misbehavin' named Best Musical; On the 20th Century wins Score and Book.
1979 Sweeney Todd sweeps.
1980 Evita sweeps. 1981 42nd Street is Best Musical, but Score and Book go to Woman of the Year.
1982 Nine gets Best Musical and Best Score, but Dreamgirls takes Best Book.
1983 Cats sweeps.
1984 La Cage aux Folles sweeps all three categories, shutting out Sunday in the Park With George.
1985 Big River sweeps.
1986 The Mystery of Edwin Drood sweeps.
1987 Les Miserables sweeps.
1988 Phantom of the Opera wins Best Musical. Into the Woods takes Best Score and Best Book.
1989 In a uniquely dry season for new musicals, the categories of Best Score and Best Book are eliminated due to an absence of eligible shows. The revue Jerome Robbins' Broadway is named Best Musical.
1990 City of Angels sweeps.
1991 The Will Rogers Follies takes Best Musical and Best Score, but Best Book goes to The Secret Garden.
1992 Crazy for You is deemed Best Musical, even though Falsettos wins Best Score and Book.
1993 Kiss of the Spider Woman wins all three categories, but with an asterisk. It ties for Best Score with The Who's Tommy.
1994 Following complaints about 1993's Tommy using existing music, the name of the Best Score category is tweaked to Best Original Score. The change is bad news for Disney's first Broadway musical, Beauty and the Beast, which loses Best Original Score, along with Book and Musical, to Passion.
1995 Sunset Boulevard sweeps, but only because there is no eligible competition in the Book and Score categories, and those two awards go to the show by default.
1996 Rent sweeps.
1997 Titanic sweeps.
1998 The Lion King wins Best musical, but Ragtime wins Best Score and Best Book.
1999 Fosse is Best Musical, but Parade wins Best Score and Book.
2000 In a rare three-way split, Contact wins Best Musical; Best Original Score goes to Aida and Best Book goes to James Joyce's The Dead.
2001 The Producers sweeps.
2002 Book and Score go to Urinetown, but Thoroughly Modern Millie is named Best Musical.
2003 Hairspray sweeps.
2004 In one of the great "are-you-sure?" years, Avenue Q sweeps, beating Wicked in all three of these categories.
2005 In another three-way split, Spamalot wins Best Musical while Best Score goes to Light in the Piazza and Best Book goes to The 25th Annual Putnam County Spelling Bee.
2006 Jersey Boys is crowned Best Musical while The Drowsy Chaperone contents itself with Best Score and Book.
2007 Spring Awakening sweeps.
2008 In the Heights wins Best Musical and Best Score, while Passing Strange is chosen for Best Book.
2009 Billy Elliott wins Musical and Book, but Score goes to Next to Normal.
2010 Memphis sweeps.
2011 Book of Mormon sweeps.
2012 Once wins Best Musical and Best Book, but Newsies, which augments its movie score with many new Alan Menken and Jack Feldman songs, snags Best Original Score.
2013 Kinky Boots wins Best Musical and Score, but Matilda takes Best Book in a tight race.
2014 A Gentleman's Guide to Love and Murder takes Best Musical and Best Book, while The Bridges of Madison County, which was not nominated for Best Musical, goes home with Best Original Score.