Internet bullying. Fake news. Arab-Israeli relations. Racism. Income inequality. Homophobia. While escapism was once the gold standard for commercial Broadway theatre, these earnest subjects torn from America's headlines now attract audiences for a contrarian collection of current Broadway shows—both original works and revived ones. Dear Evan Hansen and The Band's Visit, revivals of Once on this Island, Angels in America and Torch Song, these non-escapist few invite ticket-buyers to engage with the bad news and not look away.
How they accomplish this of course varies from show to show. Their mutual objective, however, is to involve audiences actively rather than passively with what is happening onstage. As Orin Wolf, lead producer for The Band's Visit, puts it, "I wanted an audience to lean in and complete the story with us, as opposed to letting an audience sit back and have the story sung to them."
The Band's Visit began life as a much-admired Israeli film about a fictitious Egyptian police orchestra blundering into an isolated Israeli Negev desert town for a night. Eight years ago, Orin Wolf optioned it and began to shepherd The Band's Visit toward Broadway as a musical. "I loved the absence of direct hostility in The Band's Visit," he maintains, "despite our painful awareness of Arab-Israeli hostilities. I loved the sense of all that going on out there just beyond this story. Potential investors often asked me: Why don't you deal more directly with the conflict, with the fact of these Egyptians and Israelis confronting each other in this place and time? Well, I feel that the greatest political confrontation in our show is between the actors playing Arabs and Jews and the audience, not between the characters themselves. Everybody arrives at the Barrymore Theatre with their own expectations of Arabs and Jews in the Middle East. That completes the chain in The Band's Visit. The relationship between the audience and our show is the most dramatic part of the experience."
Michael Arden, the director of Once on this Island, revolutionized his production with very similar intentions. Originally presented on Broadway in 1990, Once on this Island tells the fable-like tale of an orphaned, dark-skinned island girl's tragic love for a light-skinned, rich island boy. "I chose to reset everything in what is essentially Haiti after the earthquake," Arden explains. "I doubt that many people who come to a Broadway theatre have ever visited Haiti. It couldn't be further away for them, and they are comfortable watching that world from a safe distance. I wanted to immerse them in Haiti's natural disaster so that by the end they feel there is no separation; we're all in this together. I wanted to force the audience into an active place where they must engage with their own preconceptions.
"The original production sought to make Once on this Island as beautiful as possible," Arden adds. "I wanted to be brutally honest, both visually and behaviorally. This is a story about how people come together in times of crisis to form family. The beauty in that is not earned. It's inherent."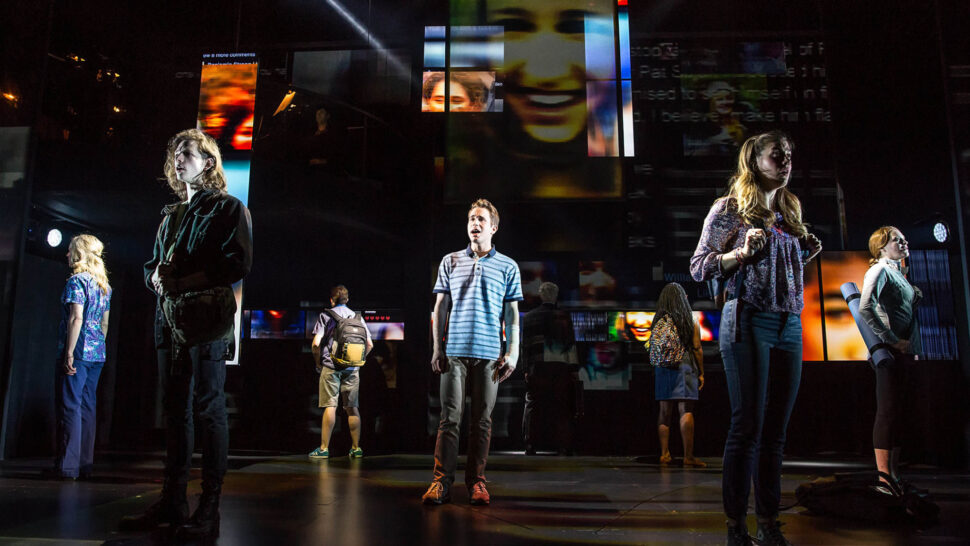 Dear Evan Hansen offers its own very contemporary slant on people coming together to form family in times of crisis. It is a musical that sings brilliantly about the blurring lines of love, intimacy and loss for one unpopular high school kid, who insinuates himself into the family of a fellow student after they suffer unimagineable tragedy.
"I actually don't think of Dear Evan Hansen as addressing the headlines of the day," insists Stacey Mindich, the show's lead producer. "I think of it as addressing the underlying pulse of our daily lives. I think of it as touching our sense of disconnection in a highly connected world. As a parent, especially, this story spoke to me. I did wonder, though, if it would ring true for a Broadway audience. Developing things that haven't been done on Broadway before is not for the faint of heart."
Is non-escapism a Broadway trend with legs? In addition to Evan Hansen, last Broadway season hosted the Pulitzer Prize-winning Sweat and even a limited-run engagement for topical comedian Lewis Black, as well as a revival of Falsettos. This season included a highly provocative 1984 and Michael Moore's The Terms of My Surrender. Dear Evan Hansen, The Band's Visit, and Once on this Island are drawing upwards of 95 percent capacity. The forthcoming 2019 season, as constituted so far, promises nothing remotely non-escapist. But it's early yet.
The presence on Broadway in 2018 of Angels in America and the upcoming Torch Song and The Boys in the Band is not coincidence either; these are benchmarks of gay theater in this country, from the 1990s, the 1980s and 1960s, respectively.Together they chart the evolution of "coming out" in the commercial theatre. In the end, however, they share one commonality with Dear Evan Hansen, The Band's Visit and Once on this Island that transcends topicality.
"Brilliance," states Roy Furman unequivocally, the veteran Broadway producer and a co-producer of both Dear Evan Hansen and The Band's Visit. "In the end, you're drawn to brilliance. Dear Evan Hansen and The Band's Visit did not have anything about them that struck me as commercial. They are not Hello, Dolly!. What has made these shows commercial is their artistry. That has won the day."
And as artists express themselves authentically, this age of activism has helped non-escapist fare—emotional, introspective, cathartic—become a staple of, rather than a token of, commercial theatre.