One of the hidden easter eggs in the Katrina Lenk-led production of Company is on Bobby Conte's forearm. PJ, the equivalent of the original character Marta in the gender-changed revival, has an XXXV tattoo. (In the musical, Bobbie is celebrating her XXXV birthday.) Look closely at Hades in Hadestown, too, especially in the second act. He has bricks etched onto his left arm. Characters with tattoos are becoming increasingly common on Broadway; this season, both Clyde's and Company employed tattoo designers to generate the ink art displayed on actors.
"You can create a person's history with tattoos," says Kyle Krueger, a special effects makeup artist and the assistant tattoo designer for Clyde's. "A character walks onstage, and they have a specific tattoo, that's a personality. They could come into the next scene with a completely different wig or wardrobe because their character is evolving, but that tattoo stays consistent because that's kind of the history of the character."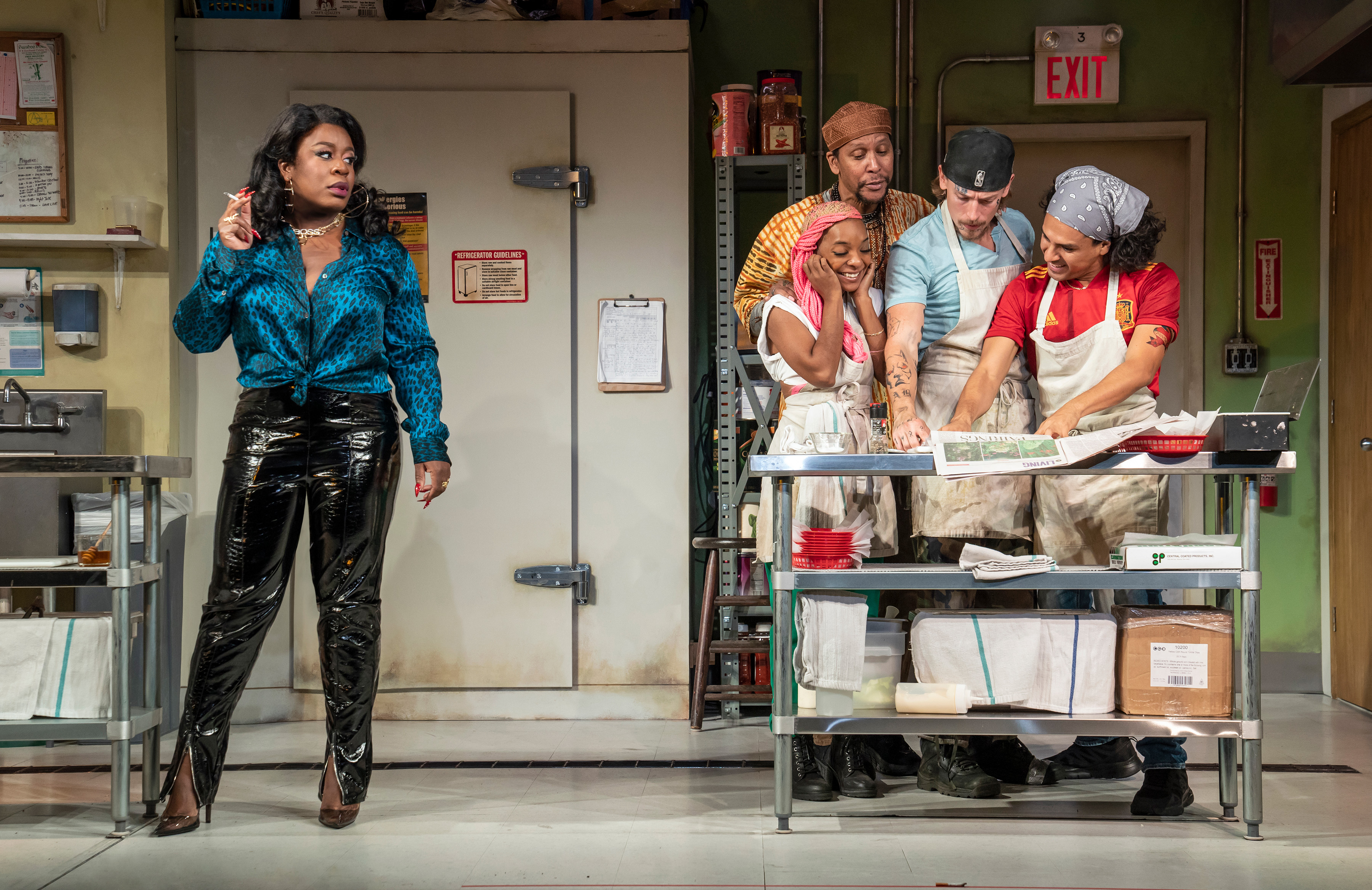 Krueger worked with Jessie Mojica, Clyde's head tattoo designer, to create the white supremacist tattoos on ex-convict Jason, played by Edmund Donovan.
"When he puts the tattoos on, he looks like a completely different person," says Krueger. "You take a character and you throw those tattoos on them, even the small ones that don't read past the first four rows, and it completely changes the feeling of that character."
"When you see a tattoo, you start to ask more questions about a person." Makeup artist and Company tattoo designer Andrew Sotomayor adds. "The theater is supposed to make us curious about people who are not us." Simple tattoos—numbers, arrows, the tattoos on Donovan's knuckles—Krueger hand painted every night. More complicated tattoos, including large text on Donovan's biceps and a dog with red eyes on his right forearm, were stencils designed digitally and then airbrushed with alcohol-based makeup.
PJ's XXXV tattoo and the other pieces Sotomayor designed for Company hint at the character's past. PJ is a musician; his tattoos intentionally have international influences as a way of conveying how well-traveled he is. Sotomayor also wanted the character to feel "up-to-date."
"I think putting tattoos on these characters in these older shows is the fastest way to connect these characters to a modern audience," says Sotomayor. He previously worked as the tattoo designer for the Ivo van Hove revival of West Side Story, where he and associate tattoo designer Michael Clifton made more than 100 designs for approximately 30 different actors.
The pieces they crafted had meaning along several different axes. Imagery repeated across characters so the two rival gangs each felt like a family. Many of the Sharks had tattoos of skulls or the word tiburón (shark in Spanish), while the Jets had eagles and the phrase "Jets for life." The tattoo design team also created a visual hierarchy among gang members. Younger gang members had simpler, more cartoony ink pieces, akin to the designs one might get from a friend. Older members had larger tattoos in more elaborate styles. Baby John had no tattoos; Riff had a big chest piece.
Tattoos onstage—like tattoos offstage—are a form of self-expression, an attempt at externalizing show motifs and character beliefs and desires. They invite audience members to look closer. A question about a character's ink can lead to a better understanding of a character or an exploration of the show's larger themes.
"West Side Story is about how the American dream often plays out different for different people." Sotomayor says. "Kevin Csolak [a Jet] has the Statue of Liberty drawn by Michael Clifton as a sexy 1940s-style pinup. It's celebratory and fun and beautiful. And Roman Cruz, who is one of the Sharks, has one I drew. I overlaid her face with a fence that I drew from a photograph of a fence in El Paso, Texas, which is where my mother's family is from, and where there are children being held by ICE. To get to tell, just with those different tattoos, the way that the American dream can play out for some and fail for others, and to know that it's because of my grandfather and my parents that I get to live my dream, that was really beautiful."