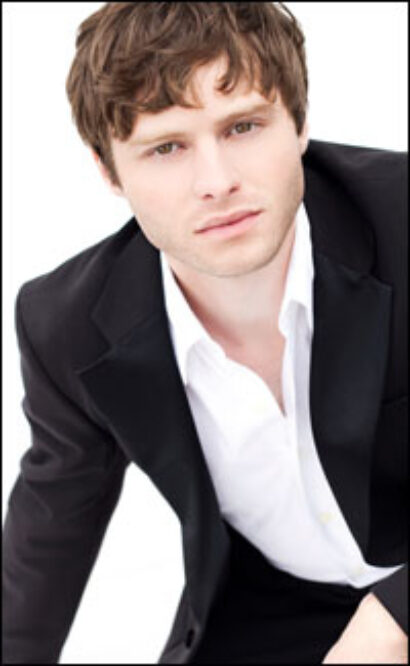 *
The unabashedly boyish Bobby Steggert turned Three-Oh recently, doing what has come to be quite natural for him over the past four years: playing 18. For a workshop of Yank!, the new musical by The Brothers Zellnik (David and Joseph) about gays in This Man's Army of World War II, industry bigs packed the Clark Theater at Lincoln Center to see the show take another step to Broadway.
The process involved a lot of singing, dancing, marching and crying, so afterward Steggert understandably made a beeline to the nearest Starbucks for a fast, caffeinated pick-me-up. He's pleased with the wonders David Cromer (Our Town, Adding Machine, House of Blue Leaves) has wrought since he took over directing. "The war is a lot more present now," Steggert says. "So is the reality these men are facing. The world around my character is richer."
Lincoln Center has become familiar turf for Steggert of late. His last (public) stage appearance was at the Mitzi Newhouse Theater in A.R. Gurney's The Grand Manner, in which he played The Boy Gurney, dazed by a backstage visit with Katharine Cornell in 1948. Now, that romance sorta continues — on the same stage — with A Minister's Wife, a musicalization of Candida, Shaw's triangle comedy that occupied Cornell on more than one Broadway occasion.
Sixty-five years ago this month, she played the title role opposite Marlon Brando's Eugene Marchbanks, the young poet wooing her away from clergyman-hubby Wesley Addy. Four years before that, also in April, she was getting the rush from Burgess Meredith, who was upending her union with Raymond Massey. This tuneful retread by Adding Machine composer Joshua Schmidt, Jan Levy Tranen (lyrics) and Austin Pendleton (book) has Marc Kudisch and Kate Fry as the couple and Steggert as the smitten swain rocking their marital boat. Michael Halberstam conceived of this project for his Writers' Theatre in Glencoe, IL, and directed such a successful production there that Lincoln Center brought it here, with Fry again in the lead.



photo by Joseph Marzullo/WENN
Steggert was invited to do the initial workshop version at Lincoln Center but had to pass because he was in rehearsals for the Gurney play. When Marchbanks became available for New York and he was free, he pounced — primarily "because I've always wanted to work with Austin Pendleton," he said before New York rehearsals fully blossomed. "Plus, he has played Marchbanks four times — most recently opposite Blythe Danner, when he was 40 years old. We haven't talked about the character [yet], but I know, from other people, Austin is a great collaborator. He gives you wonderful ideas, but he also really respects and admires what you yourself bring to the part.
"I'm reading a biography of Shaw, and it's been very helpful in my preparation because every playwright writes himself into all of his characters. I see so much Marchbanks in young George Bernard Shaw as he moved to London and tried to find his place in the world. They both have a naïve and boastful ignorance that is both terribly frustrating and incredibly charming. I wonder if he'd have seen it or admitted it."
This cerebral attack on the role is what you'd expect from a valedictorian, which Steggert was. "When I was young, I was — like many kids — insecure and alone, so acting was my team sport. It was my introduction to the idea that you can be a part of something.... I loved the feeling of being in a cast doing community theatre."
That horizon enlarged when he was 14 and came, with his mom, to New York to play Tiny Tim's brother in the second edition of A Christmas Carol at Madison Square Garden. Terrence Mann was his Scrooge, he remembers, and he still has a thank-you note from Lynn Ahrens. "I just remember it being so meaningful that a lyricist would take the time to write a huge, 80-person cast a handwritten note — such a wonderful gesture — and now, I know, indicative of the person she is."
He went by totally unseen in his Broadway debut, understudying the first third of the title roles in Master Harold...and the boys, but he played it in L.A., and the director, Lonny Price, hired him for 110 in the Shade. He got a Drama Desk nomination for the younger brother role in that, and a Tony nomination for the one in the Ragtime revival. Roles don't get much rangier than that.
For an ex-valedictorian, Steggert leads a lot with his vulnerable heart. "I think every actor must. That's your job — to expose yourself to the audience. I'm not here to hold back. I operate very much on instinct. A lot of things that you might think are choices simply happen. I've learned to do the research and then to let it go and just really operate on instincts when I'm up there. You have to play the balance."