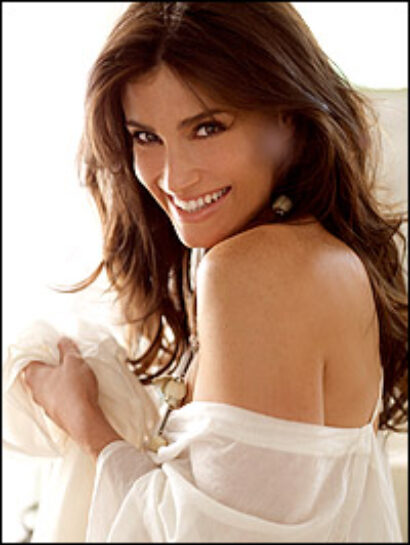 *
Tony winner Idina Menzel may be the only performer who can silence a room full of 6,015 theatregoers, sing to the rafters without a microphone and bring the entire crowd to its feet. After all, the singer — who, this year, skyrocketed to superstardom via the Oscar-winning animated film "Frozen," in which she sings the now-iconic "Let It Go" — is at the height of her fame and has been, as she says, changed "For Good."
At 7:55 PM the curtain rose at Radio City Music Hall, where Menzel had been only one week prior — as a Tony nominee for her portrayal of Elizabeth in the new Broadway musical If/Then. A full orchestra accompanied Menzel, who kicked off her evening with "Defying Gravity," the song that earned her the coveted Tony in 2004 for her turn as Elphaba, the not-so-wicked witch of Broadway's hit Wicked.
"Goodnight!" she exclaimed to a half-standing crowd, as she jokingly made a run for the wings after the show-stopping power ballad. Throughout the evening, Menzel, 43 — who embraces her 40s, referencing the "transitional phase" she's recently entered multiple times during the night — kept the audience on its toes with her witty banter and lighthearted humor.
She was unafraid to poke fun at herself, saying that her first gown — a sparkly, strapless top that faded to a sheer black bottom — was an original from "Forever 41," her "best side" was her backside and her breasts (which accidentally made an appearance during the show's second half, when Menzel encountered a bit of a "costume malfunction") were "all real." Menzel also made mention of a recent review, in which her voice was described as "screechy." In celebration of her "screechy" cords, the singer — who said she prefers to sing "loud and proud" — performed a medley of tunes stamped by the late, great Ethel Merman, the very first Broadway beltress. She began with "There's No Business Like Show Business" from Annie Get Your Gun, which led to the title song from Anything Goes and "Everything's Coming Up Roses" from Gypsy. Bringing down the house, Menzel made audiences wonder how many years it would be before a Gypsy revival would be in the works.
Her first half also included "Brave" from her album "I Stand"; the title song from her early album "Still I Can't Be Still" (which, she joked, was way ahead of its time since it was only purchased by a select few); an original entitled "God Save My Soul"; a mashup of Cole Porter's "Love For Sale" (a tune she performed as an assignment when she studied at New York University) and The Police's "Roxanne"; and Joni Mitchell's "Both Sides Now," a song she described as a fine wine — the lyrics resonating strongly as a young adult, as a mother and now newly single.
Speaking of her newfound single status, Menzel placed a "phone call" to her ex-husband
Taye Diggs
(whom she met during her Broadway debut in
Jonathan Larson
's
Rent
) to speak with her four-year-old son Walker. "Tell him Mommy's doing a show at Radio City!" she said on the fake phone call to Walker. "8,000 people!" She then performed a cover of Radiohead's "Creep," which she called an "anti-empowerment" song. Menzel, known for the empowering ballads "Defying Gravity," "Let It Go" and more, confessed that, during this time of a very-public separation from Diggs, sometimes it could be difficult to get out of bed — and it became a struggle to sing the iconic anthems. She tapped into her vulnerable interior and offered a down-to-earth side with "Creep."
Menzel quickly picked things up and sang from Rent for the next portion of her show. For "Take Me Or Leave Me," the second-act duet in the rock opera, she needed a singing partner. Menzel made her way into the audience and onto the passerelle of the Radio City stage, where she invited a few members of the audience to take Joanne's part in song. Audience members rushed the front of the house for their chance to share the stage with Broadway's original Maureen.
Following "Take Me Or Leave Me," Menzel offered a gorgeous, stripped-down version of Rent's anthemic "No Day But Today," sitting on the edge of Radio City's stage.
To lighten the mood, she decided to reenact her Tony Awards moment from this year's ceremony. She sat in the same seat she was given June 8 and had an audience member announce the Best Leading Actress in a Musical Category — this time with Menzel taking the prize.
As she made her way back to the stage, she grabbed a beer bottle from a member of the orchestra (to use as her Tony) and gave her acceptance speech. She first dedicated the award to "anybody trying to write any musical from scratch," referencing the work put into If/Then, the original show by Tom Kitt and Brian Yorkey, that was left out of this year's Best Musical category. She then said thank yous to Kitt and Yorkey, Rent and If/Then director Michael Greif and producer David Stone, who was in attendance at Radio City. She also made a special reference to her If/Then cast, most of whom were at Radio City to support their co-star, before singing the show's 11-o'clock number "Always Starting Over" and receiving a full-house standing ovation. Menzel owned the song, a number crafted specifically for her in If/Then.
To thank her fans, she silenced the audience, took out her earpiece, put down her microphone and offered an a cappella, mic-less "For Good" from Wicked. Her voice resonated through the entirety of the famed venue.
Menzel concluded her evening with a soaring version of the Oscar-winning "Let It Go." Kitt joined her on stage for an encore performance of "You Learn to Live Without," and she said goodbye to a night she "will never forget."
(Playbill.com staff writer Michael Gioia's work appears in the news, feature and video sections of Playbill.com as well as in the pages of Playbill magazine. Follow him on Twitter at @PlaybillMichael).