Doyle will succeed Brian Kulick, who has led the company since 2003, in July. Kulick has won acclaim for the company with a string of well-received, popular and star-studded productions of Chekhov and Brecht. The company's mission is "reimagining the classical repertory for contemporary audiences."
Doyle is less known for work with classic plays than with modern classic musicals, particularly the works of Stephen Sondheim. He won a Tony Award in 2006 for his direction of a revival of Sweeney Todd, in which the set and cast were stripped down and the actors doubled as the orchestra. Since 2013 he has been the associate director at Classic Stage, where he directed productions of Passion and Allegro, and where he is scheduled to direct Peer Gynt this season.
Mr. Kulick said he would seek to spend more time on independent directing projects and on teaching at Columbia, where he is a professor in the graduate theatre program.
***
Blackbird—David Harrower's controversial drama about a woman who tracks down and confronts the man who had an affair with her when she was 12 and subsequently was jailed for statutory rape—was a critical hit when it was staged at Manhattan Theatre Club in 2007. Jeff Daniels and Allison Pill starred.
Now the play is back and booked into Broadway's Belasco Theatre, where it will open in March 2016. Daniels, who was last seen on Broadway in God of Carnage, will again star. His co-star this time is Michelle Williams, who made her Broadway debut in Cabaret. Joe Mantello will direct, just as he did Off-Broadway.
***
There was more news on the future of this season's Tony Awards this week. Having been told by Radio City Music Hall that the 6,200-seat theatre will not likely be available for the annual Tony Awards ceremony next year, the Tonys are now considering the David H. Koch Theatre at Lincoln Center as a possible alternative, The New York Times reported.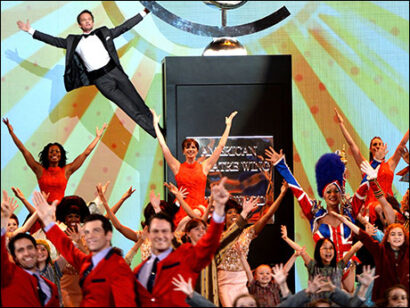 The Tonys also reportedly checked out the Kings Theatre in the hip, trendy borough Brooklyn, but judged it to be too far from Broadway.
When Radio City gave the Tonys the heave-ho, most people assumed they would decamp to the Beacon Theatre, just as they did a few years ago when Radio City wasn't available. But The Times reported said the Tonys brass are seeking alternatives to the rather small, 2,900-seat Beacon.
***
The serial killer musical American Psycho has a place to spill its nightly blood. The Duncan Sheik musical will start previews March 24, 2016, a month later than originally announced, at the Gerald Schoenfeld Theatre on Broadway.
As previously reported, Benjamin Walker, who starred in the title role of Broadway's Bloody Bloody Andrew Jackson, will play the lead role of Patrick Bateman, a slick young-suited symbol of '80s greed who spends his spare time shopping and killing women.
The book is written by Roberto Aguirre-Sacasa, based on the 1991 novel by Brett Easton Ellis.
***
Well, at least it wasn't a cell phone.
The first preview of Broadway's Thérèse Raquin on Oct. 1 was disrupted. Nobody was sending a text or taking a picture or trying to find a place to plug in their phone. Instead, an ardent and apparently disturbed fan in the mezzanine began shouting his love for leading lady Keira Knightley and attempted to propose marriage.
Security at the theatre, who obviously have no sense of romance, escorted him out. But not before the man—who seems to have thought he was at the opera—tossed a bouquet of roses onto the stage.
The performance marked film star Knightley's Broadway debut. It's one she'll never forget.