*
At the end of the following interview, music director Matt Castle looked at Ben Steinfeld (the co-artistic director of Fiasco, the co-director of Into the Woods and the musical's Baker) and said, "What you said about the piano makes me think of the lyric you sing in the 'Baker's Reprise': 'A cloak is what you make it, so you take it.'"
He replied, "As is everything. That's how we live; we just don't know it."
They (along with Fiasco co-artistic director Jessie Austrian, who plays the Baker's Wife, and Jennifer Mudge, the show's Witch) had just finished talking about how they created the new sound and feel for Into the Woods, the acclaimed production that originated in 2013 at New Jersey's McCarter Theatre and went onto play San Diego's Old Globe. With play toys and pretend, the company crafted a brand new forest, where audiences must use their imagination to see and hear the magic behind the musical.
When theatregoers enter Off-Broadway's Laura Pels Theatre, they feel as though they stepped inside a piano. A scrim of strings hangs in the back, with real extracted piano harps lining the sides of the stage (and, in fact, they're tuned and set up with microphones, so that when cast members hit them, scrape them or strike them, sound is picked up for effect). The ten players — along with music director Castle at the piano — are like a ragtag troupe of thespians, recreating a classic for the people before them (but mostly, it seems, for their own satisfaction). They nix the typical elaborate set pieces and sound for practicality and performance. Story is told through song, and song is stripped down — to devise new stylings representative of their fairytale counterparts.
Co-artistic director Austrian explained, "We spent some time in those early workshops just listening to the piano accompaniment and figuring out what information we were getting from the music because it's really easy as an actor to just focus on the thing you say — the words and the melody line of the lyrics — but there's so much information in the sound, and Matt's a genius at figuring out what we think Sondheim was after with this phrasing and just pulling out simple things to allow the audience to hear this story. We tried to make all these decisions in service of the story."
Mudge, the show's Witch, added, "We have a relationship through music. Little Red with the toy piano, and Jack's Mom's sounds with the guitar [and] the banjo. It's funny because you feel it listening to the show every night. You're like, 'Yes, this is Jack's family's theme.' It's in there, but…"
"It's part of their little world," Castle finished, not noticing his play on words. "Our Little World," a song added for the first London production of Woods (but not frequently used in subsequent stagings) that isolates the Witch and Rapunzel from the rest of the world, is included in the Fiasco production.
Creating a "little world" for each fairytale was something the team was determined to do since their early workshops. "Since we wanted to do the three locations in the 'Prologue' all center stage, rather than having three separate sets, we talked about how they can sound different," said Austrian.
For example, with Jack and his mother, she explained, "This is a family on a farm; we happen to play some bluegrass instruments. What if we play around with the things we have?"
Different motifs were created for each fairytale. Jack and Jack's Mother have a bluegrass/acoustic sound, Cinderella's birds whistle through the air, Little Red Riding Hood enters to the sounds of a toy piano, and the Baker is occasionally found with a guitar in hand.
"Talk about the Witch's cord!" Austrian said to Castle.
"So, this chord occurs a lot in connection with the Witch. Whenever she shows up and scares somebody, this plays," he said, playing the Witch's motif. "It's kind of all over the show, and a lot of times — I have two hands worth of normal accompaniment to do — I don't have any hands left, so I thought, 'Maybe we can put it on a guitar' … but the chord has too many notes in it that it wouldn't work on a guitar. So [we thought], 'What else can we do? What if we had an autoharp, and it was all customized to play?' So that's what we did. We got an autoharp with solid felt bars in it and cut out notches, so that it will play only the strings that we want. It's really cool. A mighty wind would not blow through this autoharp!"
But where did the autoharp and the tons of other sound-making devices come from? Austrian explained, "The McCarter prop shop brought a whole bunch of stuff, and Darron [L.] West, our sound designer, got a whole bunch of stuff. We had a whole table." Castled added, "The waterphone came from Darren."
What is a waterphone, you may be wondering? According to Wikipedia, the waterphone is "an inharmonic acoustic percussion instrument consisting of a stainless steel resonator bowl or pan with a cylindrical neck and bronze rods of different lengths and diameters around the rim of the bowl."
According to Mudge, "It's that groovy thing there!" She pointed to Stage Right, where the waterphone was placed among the dozen of other instruments.
"You know the sound the Nazgûl makes in 'Lord of the Rings'?" Castle asked to clarify. "It's like that."
Castle, who also performed in the actor-musician production of Sondheim and George Furth's Company, revealed that this musical venture began at "zero." Licensing company Music Theatre International, Stephen Sondheim and James Lapine gave Fiasco permission to do a piano-only/piano-based version of the show with only one stipulation: the group was not to use Jonathan Tunick's original orchestrations.
This was not a problem for Castle and the gang, since individual parts of Tunick's orchestrations wouldn't work out of context. In early rehearsals, the team started from scratch and began to discover who played what. Sounds and styles were then crafted around what was offered by the actors.
Castle explained, "Some people were like, 'I play these ten instruments,' and others were like, 'I play these zero instruments.'"
Mudge interjected, hitting a cymbal: "I'm in that category!"
Aside from Sondheim and Lapine's approval, the duo even embraced the new concept. Lapine offered suggestion when the company hit a bump in the road regarding the "First" and "Second" midnights, which have been cut from the production entirely.
"When we rehearsed them, we had versions of them — we tried them — and we all had so many things to say that we were looping back on [ourselves], and you had already just seen us all do something," said Mudge. "It was kind of redundant in our way of telling the story…"
"Remember, we put them in a new order?" Castle recalled.
Austrian said, "I think we had a version of them in the previews in McCarter that we did, and James Lapine came to one of those previews…" Lapine's advice: Cut it!
Following McCarter and the Old Globe, Into the Woods landed Off-Broadway, where it opened Jan. 22. The group has received positive notices for casting a new light upon the iconic Woods.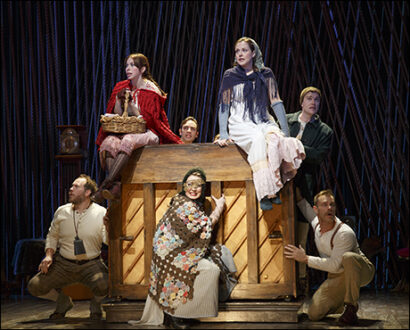 "The conceptual idea of the [show's] exploded piano came when we knew that the piano would be at the center of our production — physically, musically and emotionally," said co-director Steinfeld. "The other reason was that our sound designer found an article about people throwing away pianos that we all found very disturbing — images of pianos being pushed off the back of trucks. Somehow, the chaos and destruction and sadness of that resonated with us a little bit in terms of the death that's in the piece and also the sense of how objects become meaningful or lose their meaning entirely based on how they're related to your life, so that was something that [set designer] Derek [McLane] took and ran with…also because the play deals with scale and perspective and what it takes to change your perspective on the world… That's the kind of emotional and conceptual frame. "The tactical frame on the stage, in terms of all the objects, has to do with our interest in inheritance and how when you play as a child — or as an adult, in our case — you take something, you say it's something, and it becomes that thing. That was the spirit that we were trying to capture with this sort of 'Memory Attic,' which has objects from about 100 years ago — we still have stuff from that period of time, but all the people from that period of time are gone, so we have to try to figure out what we owe that stuff that they've left us and what we're going to do with it when it's our turn to pass it on."
Like the Baker said, "A cloak is what you make it," and that's just what Fiasco did.
(Playbill.com staff writer Michael Gioia's work appears in the news, feature and video sections of Playbill.com as well as in the pages of Playbill magazine. Follow him on Twitter at @PlaybillMichael.)
Learn more about the instruments from music director Castle:
At this interview, the cast of Into the Woods presented an exclusive performance of "It Takes Two":