"Don't you know? We're the movers and we're the shapers. We're the names in tomorrow's papers," sings a young Franklin Shepard, circa 1957, in Merrily We Roll Along, after we've already seen his artistic rise play out in reverse. Today's generation of movers and shapers aren't on rewind, but rather, perhaps, on pause. Still, as the industry weathers a hiatus a year long and counting, many theatremakers have avowed that their art—and the artform at large—won't dim alongside the marquees during the continued shutdown. In fact, this is their opportunity for not a rewind, not a pause, not even a resume, but a restart.
Producer Greg Nobile echoes Franklin's optimism when discussing his peers, who, like him, are still relatively early in their careers but nonetheless already making waves. "We are of an age and experience level where we want to have long careers, and we can put our power, our money, and our influence behind things to affect meaningful change," he says. "It's this generation's responsibility to make sure there's a Broadway in the next 100 years."
With a plausible reopening in play, questions still outnumber answers as task forces and think tanks navigate the countless factors the industry must contend with before the curtain rises. The four individuals below—Nobile, composer Michael R. Jackson, director Sammi Cannold, and performer Anna Uzele—don't have the answers for every remaining question. But they each have the insights of a theatremaker facing uncertainty at an especially formative time in their craft and career. They will be among those to inherit an industry in the aftermath of a pandemic, and they will be among those to move and shape it as necessary.
"We spent so much of 2020 expecting things to go back to normal and expecting things to go back to how they were, and that we were going to hit resume on an old lifestyle, failing to recognize that there's no going back," Uzele says.
"We've changed."
Read on for excerpts from Playbill's recent conversations with Jackson, Cannold, Nobile, and Uzele, as they contemplate reopening, restructuring, and artistic rebirth.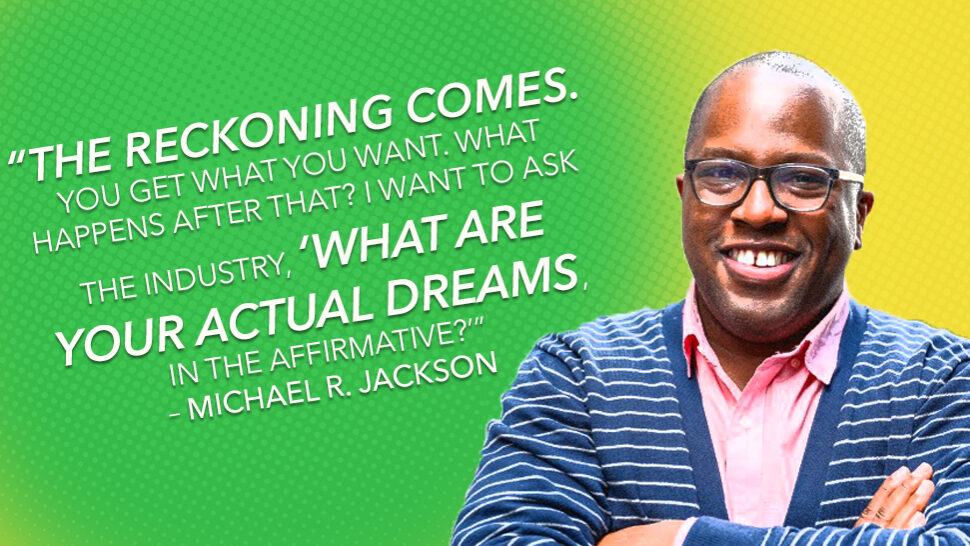 Michael R. Jackson
Hot off a hit run at Off-Broadway's Playwrights Horizons, Jackson's
A Strange Loop
had lined up its next steps: an out-of-town engagement at D.C.'s Woolly Mammoth Theatre, and with a commercial producer (Barbara Whitman) attached, a subsequent Broadway bow. Both are now on hold, but the autobiographically inspired exploration of a queer Black artist hasn't stopped bringing in accolades for Jackson, including the 2020 Pulitzer Prize for Drama. Over the past year, the composer has continued to work on his in-development musicals, such as
White Girl in Danger
and a stage adaptation of the cult horror film
Teeth
.
Time to listen
"I have been working on a new show called White Girl in Danger with the Vineyard Theatre. We were supposed to have gone to New York Stage and Film last July, but then that got canceled, so we ended up doing two different Zoom book workshops. We just did it online, and much to my surprise, it was really helpful, because it forced me to really listen. It was 95 percent more listening and literally hearing the words. I actually think that there are changes that I would not have figured out if I hadn't had to just literally listen to it. It made me even more of a convert into doing book workshops of musicals specifically. I think a lot of musicals tend to have a lot of book problems, and maybe something that could come out of this is a re-emphasis on strengthening the book and dedicating time to the structure, the story, to asking those questions about character arcs, tone, style—all the things you would learn if you only were just focusing on the words."
A Strange Loop loops back
"I'm fundamentally a hopeful person, but I will say sometimes, gremlins creep up in my soul, and I start thinking, 'Maybe the culture will move on without me, and A Strange Loop will be old hat. Something will happen, and people won't like it anymore.' I think things like that just because time is elapsing, but then I say, 'No, I think we did good work, and I did good work.' So I'm not necessarily looking at it differently. I started working on A Strange Loop in 2002. The essence of it was always the same, so to me, there's nothing fundamentally different. But I'll be curious to see whenever we're able to do it the next time, how will the audience perceive it? Will they have a different relationship to intimacy, or trauma, or truth?"
READ: Michael R. Jackson Gets Deeply Personal With His Musical A Strange Loop