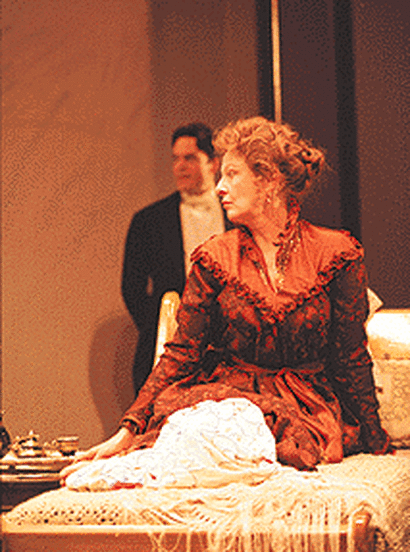 Tony winner and former NEA head Jane Alexander is Mme. Ranevsky in Emily Mann's new adaptation of Chekhov's classic, The Cherry Orchard, beginning previews March 28. Alexander's only stage role since stepping down as the NEA's chair has been the short-lived Broadway play, Honour. Her many celebrated theatre credits include The Great White Hope, The Sister Rosensweig and Shadowlands.
The production's Lopakhin will be Avery Brooks, best known for the television series "Spenser: For Hire," "A Man Called Hawk," and "Star Trek: Deep Space Nine" and for playing Paul Robeson on stage. John Glover, meanwhile, will be Gayev. Glover recently concluded his run in the Brian Friel play Give Me Your Answer, Do!, Off-Broadway. He won a Tony Award for his dual performance in Love! Valour! Compassion!.
Also in the cast are Barbara Sukowa, Lou Myers, Glenn Fleshler and Alanna Ubach.
Mann, McCarter's artistic director, will direct. Mann has previously helmed Chekhov's Three Sisters at the Princeton, NJ, theatre. Cherry Orchard will run March 28-April 16, with a March 31 opening.
The Chekhov play replaced the previously-announced stage adaptation of novelist Cormac McCarthy's The Stonemason. According to a press statement, both McCarthy and McCarter artistic director Emily Mann agreed The Stonemason needed to be developed further and McCarthy could not find time in his busy schedule to do the necessary work. The Stonemason traces four generations of an African-American family living in Louisville, Kentucky in the 1970's as they struggle to remain tied to their land and to each other. *
The remainder of the 1999-2000 season, the 10th anniversary for artistic director Mann, runs as follows:
• Chekhov's The Cherry Orchard, March 28-April 16, directed by Emily Mann. Jane Alexander, Avery Brooks and John Glover star.
• Polly Pen's The Night Governess, May 2-21. The work, inspired by the Louisa May Alcott thriller "Behind the Mask," is the darkly comic story of a quiet young woman who comes to teach a household in the art of manipulation as she twists each family member to her own designs. Pen workshopped the musical at the McCarter in November 1998 with Judith Blazer, Alma Cuervo (Titanic ) and Emily Skinner (Side Show) in the cast. Lisa Peterson will direct.
To subscribe to the McCarter Theatre's season ($80 and up), call the box office at (609) 258-2787. The McCarter Theatre is located at 91 University Place.
-- By Robert Simonson