In celebration of the centennial of the birth of Jerome Robbins, whose contributions to the worlds of ballet and Broadway musical theater have made an indelible impression on both art forms, New York City Ballet will open a festival dedicated to Robbins on May 3. Robbins 100 will feature 20 works created by Robbins, NYCB's co-founding choreographer, as well as two world premieres: Something to Dance About, by Tony Award-winning choreographer and director Warren Carlyle in tribute to Robbins' legendary Broadway career, and a second world premiere by NYCB Resident Choreographer Justin Peck set to Leonard Bernstein's Prelude, Fugue and Riffs, in honor of the centennial of both Robbins and Bernstein. The choreographer and composer collaborated on several landmark works for ballet and Broadway, including Fancy Free, West Side Story, and Dybbuk. A version of the following article originally appeared in NYCB's Playbill in the Spring of 2008.
Two ambitious, formidably talented men—one barely 25, the other 24—met for the first time in the summer of 1943. Lenny Bernstein was on the brink of sudden fame: the moment when he would step in to conduct the New York Philharmonic on a day's notice. Jerry Robbins, only a couple of months younger, had been told, finally, that he could choreograph a work for Ballet Theatre, the company that employed him as a principal dancer. Bernstein had been suggested to Robbins as just the person to write the kind of bumptious, jazz-tinged music that would suit Robbins's scenario about three sailors on shore leave in New York City and the girls for whose attentions they competed.
Fancy Free was the beginning of a long, contentious friendship and three no-less-contentious collaborative ventures for Leonard Bernstein and Jerome Robbins, but between November 1943 and April 18, 1944, when this very timely, very American ballet brought a New York audience to its feet, both were exuberant about working together. Robbins was on tour with Ballet Theatre, playing mostly one-night stands; Bernstein, suddenly famous, was conducting orchestras around the country. They communicated mainly via letters, and Bernstein not only sent Robbins the score as it emerged, but 78 RPM phonograph records featuring two-piano versions of the music, played by himself and his good friend Aaron Copland. The young collaborators were certainly on each other's wavelength, although perhaps only their relative inexperience explains why Bernstein so willingly accepted Robbins's suggestions about the music, responding to one complaint: "About the ending of #2: Throw it out. It's not necessary, and I see your point."
What emerged from this long-distance creative process is a ballet score miraculously in tune with the steps it accompanied. Bernstein not only wrote brilliant, nervy dance passages—trolling the blues, hot jazz, and, for the third sailor's hip-swinging solo, the south-of-the-border danzon—he also provided a ping to accompany each competitive toss of the sailors' gum wrappers, orchestral pows and zaps for their fight, and high chatter to give voice to the women's excited gossiping. Both music and ballet capture the excitement of small-town guys in the big city, the sweetness of their friendship, and the intensity of these few hours ashore.
After the success of On the Town, the musical spawned by Fancy Free, Robbins and Bernstein collaborated on Facsimile for Ballet Theatre in 1946, and in 1950, Robbins fit his Age of Anxiety—among the first works he choreographed after leaving Ballet Theatre to join George Balanchine's New York City Ballet—to a powerful pre-existing Bernstein score: "The Age of Anxiety," Symphony No. 2 for Piano and Orchestra (1948).
When Robbins and Bernstein teamed up with Arthur Laurents in 1955 to develop a musical that they'd been talking about for several years, ideas again often had to fly via letters back and forth between coasts (both Laurents and Robbins were working on movies). By the time Stephen Sondheim joined as lyricist, the update of Shakespeare's Romeo and Juliet had already changed from an ill-fated Lower East Side romance between an Irish boy and a Jewish girl to a gangland conflict between Puerto Rican and Polish immigrants called West Side Story. Regardless of disputes over structure, plot details, and characters, the men were excited; they knew they were tackling something unprecedented in musical theater. Two acts ended with dead bodies onstage, much of the dancing expressed fierce rivalry and violence, and the collaborators were artists of stature—"long-haired artists," as Robbins later referred to them in self-mocking quotes. In a 1985 symposium, he said, "Why did Lenny have to write an opera, Arthur a play, me a ballet? Why couldn't we, in aspiration, try to bring our deepest talents to the commercial theater in this work?" (The collaborating didn't stop with West Side Story's phenomenal Broadway success in 1957; during the making of the Academy Award–winning 1961 movie, Jerry was still asking Lenny for little changes in the score to fit the demands of film.)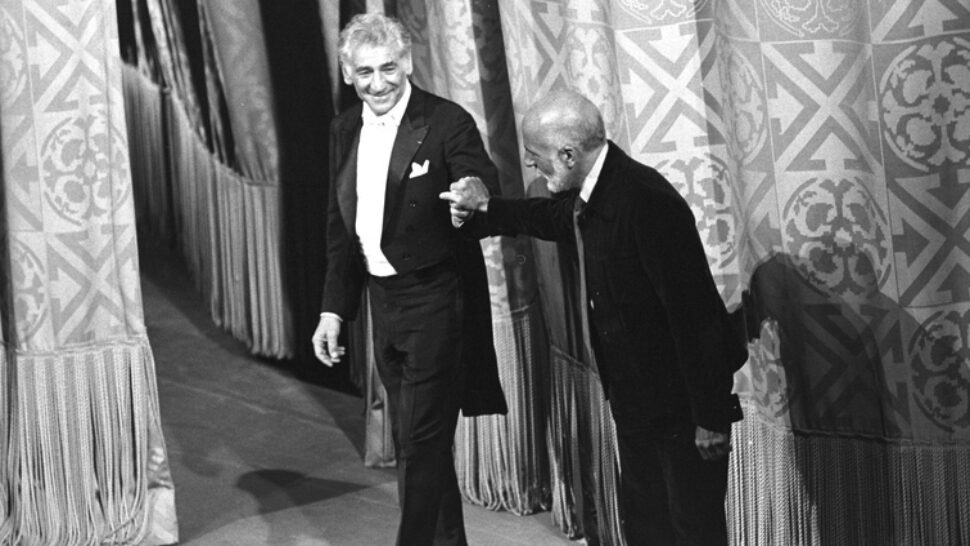 It's strange that working together on the ballet Dybbuk should have been so difficult for Robbins and Bernstein. Turning S. Ansky's famous Yiddish play about demonic possession and the persistence of love into a ballet with music by Bernstein had long been on Robbins' mind. The subject resonated with their heritage as the offspring of Russian-Jewish immigrants. In 1954, Lincoln Kirstein had hurt Robbins' feelings by turning down the idea of Dybbuk for New York City Ballet. Perhaps that's why, when the project was finally given the go-ahead 20 years later, Robbins accommodated to the company's image as the repository for George Balanchine's great, plotless works—eliminating details of the story in an effort to convey its essence through dancing. He complained that Bernstein's score was too dramatic. After the premiere, he pruned the ballet further, re-titling it Dybbuk Variations, then restored some of what he'd pruned, and finally in 1980 presented just the men's choreography as Suite of Dances. At Dybbuk's 1974 premiere, Helgi Tomasson played Chanon, the scholar deprived of his promised bride, who returned as a dybbuk. It was Tomasson, as artistic director of the San Francisco Ballet, who undertook to restore the original choreography in 2005. The revival reminds us that the score is one of Bernstein's greatest, displaying his genius for catching the dramatic moment and revealing in full measure his originality in terms of melody, rhythm, and orchestration.
Bernstein had died by the time Peter Martins started pestering Robbins in 1994 to do West Side Story as "a choral ballet," hoping that the story might entice more young people to the New York City Ballet's performances. It is perhaps significant that Robbins, in his 70s, having lost many of his contemporaries, didn't trace the story to its ending, with the killing of Tony, its hero. Instead, after the demise of Riff and Bernardo in fights, the cast assembles onstage to sing (!) and dance Bernstein's beautiful, hopeful anthem "Somewhere," as a statement the composer would surely have seconded—that tolerating diversity might lead to a better world.