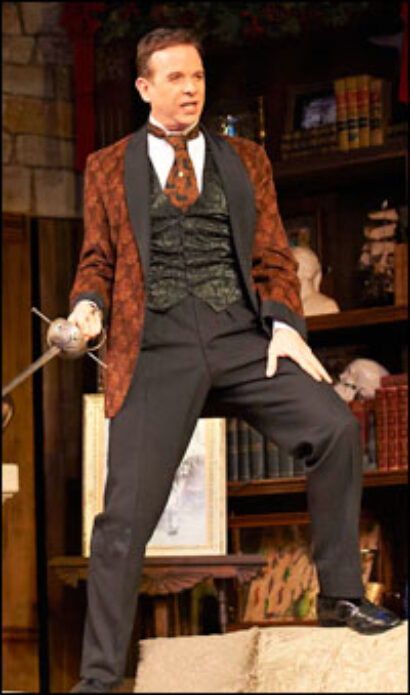 Helen Hayes and Barrymore Award-winning director Aaron Posner directs Afoot, which began previews Nov. 25 and will play an extended run through Dec. 24.
Ludwig previously debuted his comedy Leading Ladies at the Playhouse in 2004. He returns with a new comedy inspired by real-life turn-of-the-century actor William Gillette, who was best known for playing the infamous sleuth of Scotland Yard.
Here's how the Playhouse bills the work: "We meet famed stage actor William Gillette at his Connecticut Castle, recovering from an attempt on his life following a performance of his renowned play, Sherlock Holmes. It's Christmas Eve, and much to his mother Martha's chagrin, William invites fellow actors, Aggie & Simon and Felix & Madge, over for the holiday weekend. His elaborate home, filled with gadgets and hidden passageways, becomes the setting for a murder, and Gillette must use the Sherlock Holmes crime-solving skills he made famous on stage to catch the culprit. Will Gillette uncover the secrets his guests are hiding? Will he discover who the murderer is before he/she claims another victim? Will his guests ever be able to drink eggnog again?"
Regional veteran Mackay (Six Degrees of Separation, "Mad Men") portrays Gillette, with Kilgarriff (Broadway's Night Must Fall, MTC's Time and Again) as his mother, Martha.
Completing the cast are Rob McClure (Avenue Q, I'm Not Rappaport on Broadway), Erika Rolfsrud (The Coast of Utopia, Exit the King on Broadway), Eric Hassom (The 39 Steps), Lise Bruneau (Legacy of Light), Mattie Hawkinson (Blackbird, Rock 'n' Roll) and Sarah Day. The design team includes Daniel Conway (scenic design), Thom Weaver (lighting design), Linda Roethke (costume design) and James C. Swonger (sound design).
Ludwig earned Tony nominations for his play Lend Me A Tenor and the book to the Tony-winning musical Crazy for You, which also received the Olivier Award upon its London debut. His works also include The Gershwins' An American In Paris, Moon Over Buffalo, The Adventures of Tom Sawyer, Shakespeare in Hollywood, Treasure Island and The Three Musketeers.
For tickets phone (216) 795-7000 or visit ClevelandPlayhouse.