This week Playbill checks in with Kevin Del Aguila, who plays Mexican American millionaire Osgood Fielding III in the new musical Some Like It Hot, which opened at Broadway's Shubert Theatre in December 2022.
Adapted from the 1959 film written and directed by Billy Wilder, the musical features a book by The Inheritance Tony winner Matthew López and Amber Ruffin and a score by Hairspray's Marc Shaiman and Scott Wittman. Tony winner Casey Nicholaw directs and choreographs.
READ: Marc Shaiman and Scott Wittman Have Read Your Criticisms About Broadway's Some Like It Hot
Del Aguila was also part of the original Broadway companies of Frozen, Peter and the Starcatcher, and Rocky, while his numerous Off-Broadway credits include Love's Labour's Lost, Jacques Brel Is Alive and Well and Living in Paris, God Bless You Mr. Rosewater, and A Christmas Carol. His TV appearances include Peg + Cat, Law & Order: SVU, and Deadbeat, and he also voiced the character of Troll in Disney's Frozen.
The multi-Emmy-winning TV writer is also a lyricist for stage and screen, penning the libretto for the Off-Broadway hit Altar Boyz, as well as musical stage adaptations of the Dreamworks film Madagascar and the book series Diary of a Wimpy Kid. TheaterWorksUSA will bring Dog Man: The Musical, Del Aguila's collaboration with Brad Alexander, back to New York beginning March 4 at the Off-Broadway New World Stages.
Below, Del Aguila explains how he became involved with Some Like It Hot, how a writing gig almost prevented him from playing Osgood on Broadway, and why the new musical is, simply, delightful.
What is your typical day like now?
Usually, I spring out of bed with a euphoric grin on my face, twirl my way through my apartment, throw open the window and shout, "I'm in showbiz!" Then a series of birds arrive to help me get dressed. I Wordle. Perhaps solve a true crime. And then it's off to flamenco lessons with Enrique!

When and how did you originally get involved with Some Like It Hot?
OK, I'll get serious. About four years ago, I was on a family vacation in Disney World when I got a text from Marc Shaiman saying, "Hello, I'm Marc Shaiman, and I would like you to record a demo song for a new musical that I'm writing." To this day, I have no idea how he got my number. I spent the rest of my vacation learning a really difficult song, practicing it full-voice on the teacups and Space Mountain. I attempted to record with Marc when I got back to the city and botched it spectacularly. But to my astonishment, he texted a month or two later saying, "We've totally rewritten the song, and we'd like you to come record it for us." I did slightly better the next time around, and they invited me to play Osgood in a reading they were planning. The random way it all played out has been totally indicative of my experience with this show—one unexpected delight after another.
Were you a fan of the original movie? Have you gone back to it since you were cast?
The movie was always on TV when I was growing up, so I saw it many times. I didn't rewatch it before I went into that first reading and just kind of based my characterization on my memory of what actor Joe E. Brown was like in the film: a sweet, clueless, millionaire man-child. Turns out my memory was faulty, the character of Osgood is much more of a dirty old man in the movie. But everybody seemed to like my more innocent take and found that it was helpful to the new spin they had on the story. I've wanted to go back and watch the movie again, but my flamenco lessons always seem to get in the way.
Do you have a favorite moment in the musical for Osgood?
So many favorite moments. Don't make me Sophie's Choice them. I relish all of the ridiculously fun things I get to do in this show. Plus, character actors don't often get to play roles that have much dimension or emotional depth, so I love revealing all the different aspects of Osgood as the show progresses and undercutting the audience's expectations. It's a true journey from the ridiculous to the sublime.
Is the cast having as good a time on stage as the audience is watching everyone?
I know it sounds like a lie when I say "100 percent! Absolutely!" But it's the God's honest truth. You'd have to be made of stone not to have fun while surrounded by so much laughter, tap dancing, and such a swinging, jazzy score. Everybody involved truly loves the material and wants to do it justice. And, we've got such a wildly talented cast and band, when they attack this stuff, it just roars to life. Adrianna Hicks and I enter late in the first act, but every night we stand in the wings watching the opening number, just to get a taste of it all. It's such a burst of happiness and joy.
During this time of reflection and re-education regarding BIPOC artists and artistry, particularly in the theatre, what do you want people (those in power, fellow artists, audiences) to be aware of? What do you want them to consider further?
We have a beautifully diverse cast in Some Like It Hot, and it was all done by design—baked into the narrative by BIPOC creators and developed with BIPOC actors. It required a big change from the source material, which was totally embraced by the creative and producing team, when it easily could have been avoided. It's a reminder that inclusivity doesn't have to be just "checking boxes"—it can unlock a wealth of new storytelling opportunities. Change is a process. There may be over-correction and missteps along the way, but it's exciting to see how new voices are reshaping the landscape.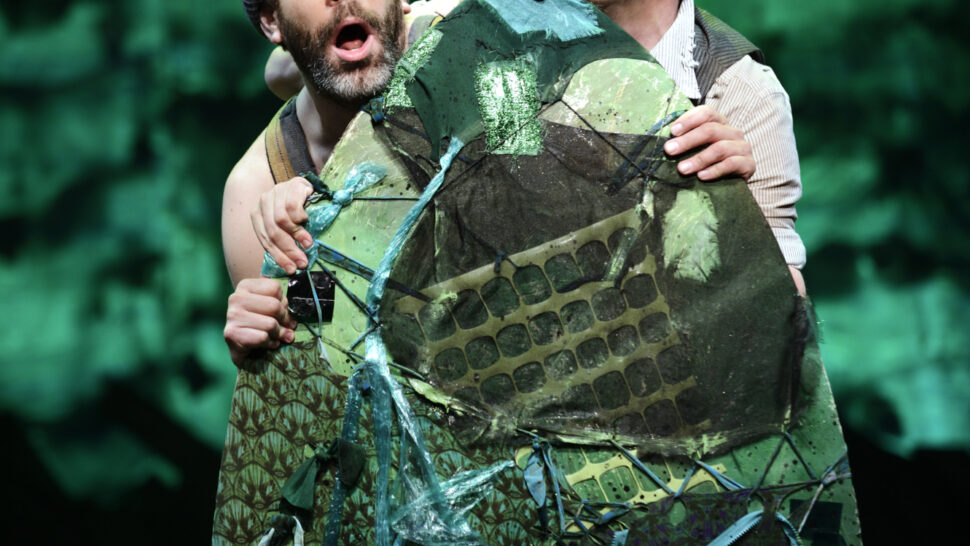 What, if anything, did you learn about yourself during the past two years that you didn't already know?
Well, I came to terms with the fact that I will never be the foremost flamenco dancer of my generation. But I also learned to appreciate my worth a little more. I have a whole separate career as a writer, and I've been extremely fortunate to be able to juggle performing and writing projects as they've overlapped throughout the years.
Last year was the year my luck finally ran out, and a TV writing gig I had came in direct conflict with my participation in Some Like It Hot. I really thought I could do both, but the powers that be made it very clear that I had to choose between the two. Nice problems to have, I know, but I spent many sleepless nights heartbroken at the thought that I'd have to drop out of the show. What surprised me, however, was how many people around me simply refused to accept that outcome and rushed in, determined to make it all work. They were totally willing to upend everything, fight for me, and bend schedules into pretzels just to keep me involved (I'm looking at you, Casey Nicholaw). At the end of the day, the writing gig went up in smoke, and I've been able to savor every second of being in Some Like It Hot—which has been, hands down, one of the greatest experiences of my life. Still, it's incredibly flattering and eye-opening to learn just how much people value and believe in what you do. You never really know until it's on the line.
Do you have any other stage or screen projects in the works?
My musical adaptation of the popular kids' book series Dog Man (with music by Brad Alexander, directed by Jen Wineman) will be returning to NYC for an Off-Broadway run at New World Stages in March and April. It's a feast of hilarity performed by a stellar cast (you can hear them on our cast album here). The production was such a blast. I've been commissioned to write a sequel to it based on the spin-off book series The Cat Kid Comic Club, which should be coming to a New York stage very soon.
What organization would you recommend people learn more about or donate to during this time of change?
TheaterWorksUSA is producing Dog Man and Cat Kid, and I really believe in their mission to introduce theatre to kids, families, and underserved communities. They're fostering a whole new generation of theatregoers, and their shows are always top-notch. I'll also be starting a GoFundMe page for Enrique, as I've just learned he's been trampled black and blue in a freak flamenco accident.