Alli Mauzey currently portrays Pattie, mom to Tony winner Victoria Clark, in the often-hilarious and overwhelmingly moving, Tony-winning musical Kimberly Akimbo at the Booth Theatre.
Mauzey—who originated the role of the suburban mom who makes some questionable choices in Atlantic Theater Company's earlier Off-Broadway production of Kimberly—has also been seen on Broadway as Ernestina in the revival of Hello, Dolly!, Glinda in the long-running Wicked, Lenora in Cry-Baby (earning a 2008 Theatre World Award), and the Tony-winning Hairspray, which marked her Main Stem debut. The actor also appeared in the City Center Encores! productions of The Golden Apple and It's a Bird…It's a Plane…It's Superman and played Ellie in the New York Philharmonic staging of Show Boat.
In the interview below for the Playbill series How Did I Get Here—spotlighting not only actors, but directors, designers, musicians, and others who work on and off the stage to create the magic that is live theatre—Mauzey shares how children's theatre ignited her passion for performing, and how her dream role is Ariel in The Little Mermaid.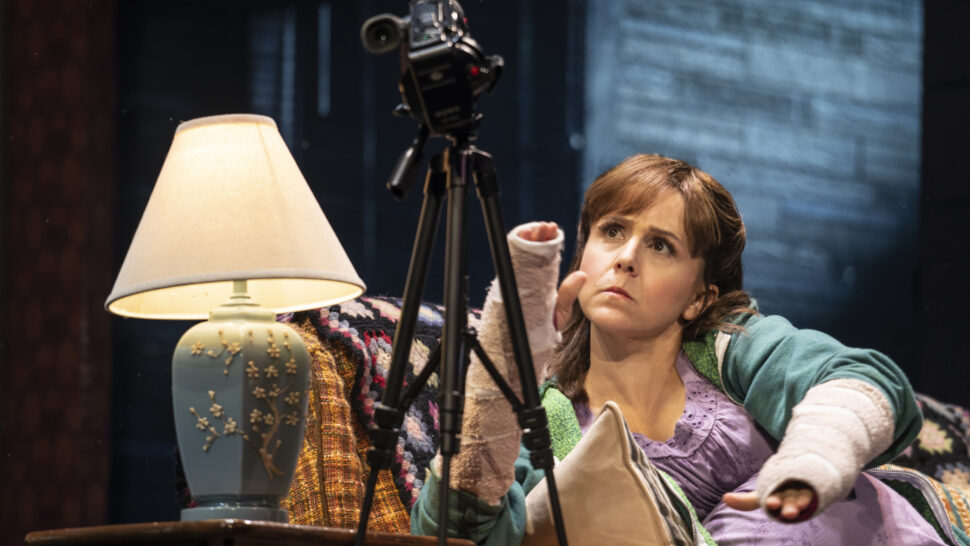 Where did you train/study?
Alli Mauzey: I graduated from NYU.

Was there a teacher who was particularly impactful/helpful? What made this instructor stand out?
I love teachers! Most of my family members are teachers! But as far as my time at NYU goes, my very first acting teacher at NYU, Doug Moston, was the most impactful. Before I met Doug, I had little understanding of what acting actually is. He helped lay really important groundwork. I wish I could still bounce ideas off him, but sadly he passed away not long after I graduated.
Outside of NYU, I have been studying with my voice teacher Edward Sayegh since high school. He's been a steady mentor/teacher.
And I'd love to give a shout out to my first teacher, my dad, Larry Mauzey. Technically, by the time I was in school, he was my principal (I did actually get sent to his office once). But his support and guidance have meant the world to me.
What are the challenges of playing a character who would likely not win any Mother of the Year awards?
Ha! Is that another way of maybe saying, "What is it like to play a sometimes unlikable character?" From the response I get after the show at the stage door, Pattie is a bit of a challenge for the audience, as well. People have mixed feelings about her. There are so many moments where you like her and feel for her, and other moments where you can't believe what just came out of her mouth. My challenge is to not judge any of it. I'm enjoying the conversations it sparks, though.
Do you have a favorite moment in the show for Pattie? What makes that part special?
I absolutely love the very first family scene with Steven Boyer and Vicki Clark. I love that they come in and try to pull the wool over Pattie's eyes with why they are so late coming home. It's a fun little game we play every night.
Other than Kimberly, do you have a favorite theatrical experience? Why was that show a particular favorite?
I have so many, like playing Glinda in Wicked. But recently I had been reflecting on a production of 110 in the Shade I had done at the Pasadena Playhouse. It was such a beautiful production. I was really young, fresh off the Hairspray tour and cast in a principal role among some super heavy-hitters: Marin Mazzie, Jason Danieley, Tom Wilson, Ben Davis, and a very young Adam Lambert, to name a few. Adam and I were both at the beginning of our careers. I think he was our dance captain, which makes me giggle because we clearly all know him as an absolutely amazing singer. This group of people were crazy talented and good vibes all around.
What made you decide to become an actor? Was there a particular production or performance that influenced your decision?
I did children's theatre growing up at Stagelight Family Productions in Orange County, California, and had so much fun! I played Annie, Peter Pan, Adelaide in Guys in Dolls, just to name a few. I had so much fun playing pretend with all my friends, I just wanted to keep doing it. It really was all about the fun and the creative outlet it gave me at a very young age. And, now what's fun is that so many of our kids/nieces/nephews are doing Stagelight!
Also, in high school, a friend of mine showed me a performance by Judy Kuhn on the Tony Awards. She sang from the musical Rags and then later in the evening, sang the role of Cosette from Les Miz. I got to tell Judy this recently, but watching her do those two different roles in that one night meant something to high school me.
Tell me about a time you almost gave up but didn't.
I have been deeply frustrated, angry, sad, etc., but I haven't come to a point where I thought I should give up. Lockdown during the pandemic was hard as the months continued and live theatre continued to be nonexistent…I did have thoughts like, "Am I supposed to be moving onto something else now?" But as hard as those moments were, those thoughts only added more fuel to the fire for me. I never wanted to give up.

How did you get your first job in the theatre?
On the recommendation of my voice teacher, I had entered an acting/singing competition in Los Angeles near where I grew up. I had no interest in competing but did it to get seen. Hairspray was starting to cast the first national tour right around this time. An agent who I met from this competition submitted me for Hairspray. I went through a bunch of rounds of Hairspray auditions in L.A. and eventually got asked to be an original company member of the first national tour. A huge bonus was before I started rehearsals for the tour, I got asked to join the Broadway company and made my Broadway debut!
What do you consider your big break?
I booked my first Broadway show, joined Actors' Equity, and started paying my own bills all at the same time when I joined Hairspray on Broadway. So, I guess that's my first big break. A real working actor! And I joined the Broadway company in March before awards season, so I got to be there for all the really fun celebrating and performing on the Tony Awards. I had so much fun being part of the Hairspray family!
I have markers along the way of some pretty important moments in my career. But I think getting my start as an actor feels like a pretty important big break.
What is the most memorable day job you ever had?
I was a singing waitress at Tibby's Music Hall in Newport Beach, California. Heavy emphasis on the singing because I was a pretty lousy waitress. I was 18. People would order drinks I've never heard of, and I would write down what I thought it sounded like. I would then take my notepad to one of the more seasoned waitresses/performers, who would do her best to sound it out based on my horrible writing, and she'd help me put the order in to the bartender. I also dropped many a drink tray.
My favorite skill I learned during that time? I have one really fancy way of folding napkins, which comes in handy when hosting a dinner party! I also made lifelong friends at that job.
Tell me about a job/opportunity you really wanted but didn't get. How did you get over that disappointment?
I didn't lose sleep over this, but gosh I would have loved to have played Ariel in The Little Mermaid on Broadway just so I could sing "Part of Your World" eight times a week. I grew up on that movie. I had some callbacks (one of which was in those wheelie shoes) only to be told I was more of a Belle type in Beauty in the Beast. And then I went in for Belle only to be told I'm more of an Ariel type. Hilarious.
What advice would you give your younger self or anyone starting out?
Listen. Take the note. Trust yourself.
What do you wish you knew starting out that you know now?
You can totally start and have a family and be an actor. Not sure why I was told otherwise by some people. It's so weird to me now. Like most things in life, you just figure it out.