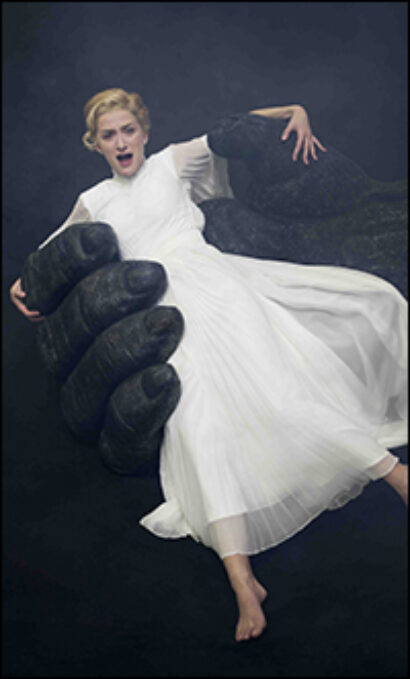 Daniel Kramer directs a cast led by Australian actors Esther Hannaford (Hairspray) as Ann Darrow, newcomer Adam Lyon as Carl Denham, Chris Ryan (Thyestes) as Jack Driscoll, veteran stage actor Richard Piper as Captain Engelhorn and musical theatre and cabaret star Queenie van de Zandt as Cassandra.
King Kong officially opens June 15. The production is aiming for a future New York bow; however, no official announcement has been made. Tickets are currently on sale through July 28.
A group of some 35 on-stage and off-stage puppeteers work to manipulate the large-scale puppet. Several puppeteers are positioned on swinging trapezes and others launch themselves as counterweights off the puppet's shoulders to raise Kong's massive arms as he runs and swipes at planes during the performance.
The new musical features a book by Craig Lucas (Marry Me A Little, The Light in the Piazza), who also contributed lyrics. Composer and arranger Marius de Vries, whose credits include the soundtracks for "Moulin Rouge" and "Romeo + Juliet," created and oversees a score that features revamped versions of 1930s Broadway classics like "Get Happy," "I Wanna Be Loved By You" and "Brother Can You Spare a Dime" as well as new and existing songs from a mix of contemporary artists: Robert Del Naja from Massive Attack, Sarah McLachlan, Justice, Guy Garvey from Elbow and The Avalanches. A key collaborator on the musical landscape for the show is Stephen Pavlovic from Modular People; Michael Mitnick has contributed lyrics to several new compositions.
Here's a listen to the songs in King Kong:
Director Kramer said in a previous statement, "It's tempting to focus on the spectacle of King Kong himself. But it is only through the humanity of the life around him – the people of New York City, the comic megalomania of filmmaker Carl Denham, the stubborn opposition of first mate Jack Driscoll, and the grace, beauty and power of our leading lady, Ann Darrow – that he truly takes life. After three years of auditions and workshops, it is an honour to introduce the world premiere cast of King Kong."
The musical, according to press notes, "has gone back to the source – the novella of the original film by Merian C. Cooper and Edgar Wallace – in this world-first adaptation as a large-scale musical. Featuring a cast of 49 actors, singers, dancers, circus performers and puppeteers; a crew of 76; and arguably the most technologically advanced puppet in the world - a one-tonne, six-metre giant silverback - King Kong will be an epic and dazzlingly original theatrical experience."
The character of King Kong, according to producers, is "an imposing, stylised silverback of exaggerated proportions...a highly sophisticated animatronic/marionette hybrid that will be controlled by the integration of hydraulics, automation and the manual manipulation from a team of puppeteer/aerialists (The King's Men) on stage, and off."
The creative team also includes choreographer John O'Connell, production designer Peter England, creature designer Sonny Tilders, Tony Award-winning costume designer Roger Kirk, lighting designer Peter Mumford, Grammy, Tony and Olivier Award-nominated sound designer Peter Hylenski, Green Room Award-winning projection designer Frieder Weiss, aerial and circus director Gavin Robins and puppetry director Peter Wilson.
King Kong is authorized by the Merian C. Cooper Estate. Global Creatures produces.
For more information go to kingkongliveonstage.com.
Here's a first look at Kong: