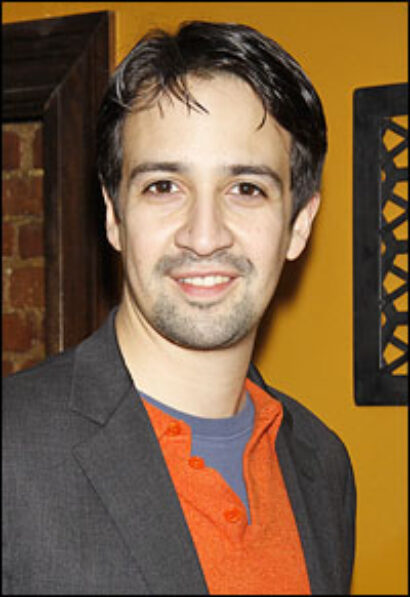 *
When Lin-Manuel Miranda, the conceiver, star and songwriter of Broadway's In the Heights, won the 2008 Tony Award for Best Score, he concluded his rap-happy acceptance speech by pulling a Puerto Rican flag out of the pocket of his tux. The award, he said, was for Puerto Rico — the land of his father, his mother and his grandparents.
More than two years after the Broadway success of the Latino-centric musical comedy about a Manhattan neighborhood where Puerto Ricans, Cubans, Dominicans and other Spanish-speaking folk live, love and work, In the Heights is going to the ancestral home of its creator. Miranda — who was also a Tony nominee as Best Actor for playing Usnavi, the narrator of the show — spent childhood summers with his paternal grandparents in Vega Alta, Puerto Rico. The Broadway star will jump into the U.S. national tour of In the Heights in San Juan, Puerto Rico, Nov. 30-Dec. 5.
The booking represents a rare Puerto Rican engagement for the first national tour of a hit Broadway show. Presenter Adam Troy Epstein told Playbill.com, "I have been the only U.S. presenter to bring touring non-Equity and Equity Broadway productions to Puerto Rico in the last ten years, so to my knowledge — and the knowledge of the agents who represent the shows — In the Heights is the first Equity [Broadway touring] production. It is very expensive to get a show to Puerto Rico due to the shipping expense; and time off necessary to get the sets, costumes, etc., to San Juan make it complicated to route tours there. I'm always working to bring more shows to San Juan, but it is very difficult."
Miranda's New Yorker father, Luis Miranda, is the leader of the In the Heights public relations effort in San Juan, in conjunction with Lidda Garcia, his local counterpart. Epstein added, "Affordability is a challenge given the high cost of presenting shows in Puerto Rico, yet we strive to find a way to have a ticket price in the $50 range. I know that Lin and his father are working with local corporations who are purchasing some seats to be able to donate them or sell them at a lower price. At the same time, the law in Puerto Rico mandates that anyone over 60 years old, or is ADA qualified, receives a 50 percent discount. Anyone over 75 years old receives free tickets. To date, we have given away over $70,000 in free tickets, and discounted over $30,000 in tickets to seniors over 60 but under 75 years old."
Miranda, who is currently working on songs for the new musical Bring It On, spoke with Playbill.com about the upcoming San Juan run, and reflected on his connection to the island. After his turn in Puerto Rico, where he is serious celebrity, he'll continue work on the Atlanta world premiere of Bring It On before jumping into the final weeks of the Broadway run of In the Heights (he returns to the show Dec. 25).
photo by Joan Marcus
We were excited to see that In the Heights is going to Puerto Rico.
Lin-Manuel Miranda: Not nearly as excited as I am. [Laughs.] You know, we worked a very long time to make this happen, and I think this is the first national tour that has ever gone there. They get shows pretty late in the life cycle, and to be able to bring a first national tour to Puerto Rico is really sort of unprecedented. So I'm really thrilled.
Did you personally push for it?
LMM: I did. I actually did it with my father. We were like, "We don't know if we'll make money, but we're gonna make history." And given how we've been selling in Puerto Rico, it looks like we're gonna be able to do both, which is really fantastic. I did not know this at the time, but when I pulled out that [Puerto Rican] flag when I won the Tony, it really sparked something over there, and they've been clamoring for it. When I was still in the show — I know, I'm going back in — but when I was still in the show, [after] every [performance], at the stage door, I'd meet at least two people who flew up from Puerto Rico to see the show. It really became a cause over there. It became like, "Oh, my God. One of our own has done something positive." So I'm really thrilled to bring it home.
So what did you do exactly? Did you personally try to get a local presenter or was that the job of your producers?
LMM: That was the job of our producers. My father grew up in Puerto Rico and lived there all his life, so he worked with them in terms of the contacts in order to really make this thing work from a publicity side. We think our economy is bad, but Puerto Rico is that cubed…it's a part of the United States, but they've been hit three times as hard as the rest of the country. So we really had to get the word out and price appropriately, and the fact that we're selling eight shows is huge. That just doesn't happen that much in Puerto Rico. Even the biggest rock stars — when Paul McCartney goes, he sells one show, two shows. So it's really been sort of amazing. I've been dropping in throughout the year. I did a big publicity swing about a month ago. We went there to announce it, so I've been going there a lot. This swing of the tour has been my baby.
Did you know for sure that you were the guy to do the run there? Did you definitely want to do it?
LMM: Yes. I hadn't been to Puerto Rico since the show had won the Tonys — and I went, I think it was fall of last year, and I was not ready for what this show has meant to people down there. I got paparazzi on the beach. I had a security detail. It was crazy, and everyone was asking me, "Will you do it? Will you bring the show [here]?" So I made that promise a long time ago. I was always gonna do this leg of the tour.
And even very early in the conception of the show, when it was Off-Broadway, did you turn to colleagues like director Thomas Kail and say, "Wouldn't it be cool if this could play Puerto Rico?"
LMM: Yeah, absolutely! You have to know something — my great-uncle actually founded the Actors Guild of Puerto Rico. His name is Ernesto Concepcion. His son is a very popular actor on the island still, my cousin Ernestito. So some of my first theatre experiences were on the island — seeing my uncle's shows, and the fact that we're actually getting to bring the show there, and it's with an amazing cast. This is a tour cast that I've already worked with. I worked with them in L.A. I just feel really proud that we can get it there.
It's interesting because In the Heights invites us to look at heritage from the American perspective — that is, looking back at the old country — but people who live in Puerto Rico now will see it as remembering that their uncle left or that their sister left. It's a different angle to see the show from.
LMM: That's true, and although the show straddles several different nationalities — the character Usnavi is Dominican, the character of Carla is a little bit of everything! — my memories are growing up, spending summers on that island. There are so many musical little in-jokes that are really distinctly Puerto Rican. I cannot wait to see how it plays. I'll give you an example; at the top of "Sunrise," there's a flute figure that … [is] actually the sound of the coquí frog, which is a frog that's native only to Puerto Rico, and every night in Puerto Rico you'll hear that [sound] coming from 50 different trees. Audiences don't get that here. [Laughs.] That sound is gonna get its own ovation when Act Two starts in Puerto Rico. The little things like that — Vega Alta, which is my father's hometown, which gets a shout-out in the show — there's sort of little "Easter eggs" throughout that no one has spotted but will be glaring to the Puerto Rican audience. I just can't wait to see it.
Watch Lin-Manuel Miranda's 2008 Tony Award acceptance speech:
You spent summers there with your grandparents? Is that right?
LMM: Yes, my dad's parents lived in Vega Alta and, you know, that's one of the other things that sort of snuck into the DNA of In the Heights. My grandmother ran a travel agency her whole life called Viajes Miranda, and my grandfather was the general manager of the bank in the town square — the George Bailey, if you will. But every summer, he'd have a different side business. One summer it would be a video store, the next summer the same property would be a clothing store, the next summer it would be a bar. It really was sort of this revolving-door of small businesses [Laughs], my favorite phase, of course, being the video store, Miranda Video. I think I still have the t-shirt that says Miranda Video somewhere. The happiest time of my life was having unfiltered access to every movie in the world with Spanish subtitles for a whole summer. That's all I did. People associate Puerto Rico with beaches, and I associate it with sitting in a dark room watching movies. [Laughs.]
How many summers did you go as a kid?
LMM: I was sent every summer for at least a month, sometimes with my older sister, and then when my older sister started working, just me as a teenager. And then I think the last summer I spent there was actually in college before my senior year. I lived with my grandparents, and that was the only time I actually was able to drive around the island and see a little more of it for myself. That's actually where I wrote "Siempre," which is the song that the mom [Camila] dances to [in In the Heights], which is the first song I ever wrote in Spanish. So I wrote that in Puerto Rico.
photo by Joseph Marzullo/WENN
You're a New Yorker. Going to Puerto Rico was a kind of immersion course in Spanish for you, wasn't it?
LMM: It was an immersion course, but it was also a lesson in displacement, in that I knew my father had grown up here, my mom had grown up here, so it was always my chance to see what my life would be like if I had grown up here. However, my Spanish was really bad, American-inflected Spanish, so I could never make friends my own age. They sort of lost patience while I stammered out what I was trying to say. So all my friends were my grandparents' friends. When I go back to Puerto Rico, I visited a bunch of 85-year-old women. Those are my people, because I never had friends my age. So it was, on one level, fantastic and is the only reason I speak Spanish. On another level, it was kind of lonely, and my grandparents worked, so I really had to entertain myself during the day, so I [made] hours of home movies and flip books. That's sort of what I did in Puerto Rico. I just made movies. My grandfather would borrow the surveillance camera from the bank. It was a VHS recorder. [Laughs.]
You connected with a generation older than you, which seems to inform your work in In the Heights.
LMM: Absolutely. Absolutely. I mean, the abuelas, those are my friends. The la abuelas of the town.
Can you give us a sense, sensually, about your summers in Puerto Rico? Was it less humid than it is in New York City?
LMM: Well, it's unbelievably hot. [Laughs.] You know, my father would joke, "I always knew I had to go somewhere else because I just wanted to be in air conditioning all the time, even as a little kid." [Laughs.] We didn't have a lot of money. My grandparents didn't have a lot of money. We had these small businesses, but it was very simple living, and blackouts were not like this, "Oh, my God, what's gonna happen?" occurrence. They happened every other night when I would spend summers out there. It's actually really funny — when I was on my honeymoon, Vanessa and I — she spent summers in the Dominican Republic with her family, and we had a blackout in our room, but because we were both so used to it, we didn't even bother calling the hotel. It turned out it was just our room and it was a circuit breaker and we just assumed the power had gone out on the island. And so the next day, we were seeing other couples and we were like, "Oh, how about that blackout?" And they were like, "What are you talking about?" [Laughs.] That was just how accustomed we are … that's just what happens on these small islands. So you didn't go to the beach very often?
LMM: No, we'd go to the beach maybe twice the whole [summer.] We weren't far from the beach, but no, my days were spent really entertaining myself, making movies with little old ladies, my actors [Laughs] and writing letters to friends, and that was sort of about it.
What were the movies? Little shorts?
LMM: It could be anything from GI Joes fighting each other and using ketchup as blood — literally stop-motion animated features. Later, I got a camera that had audio dub so I made a ton of music videos that would often star my grandparents' dog or any lizards I managed to find around the island. Lizards are to Puerto Rico what pigeons are to New York. So, that kind of stuff.
By the time you were a kid or a teenager during these summers in Puerto Rico, did you know Fiddler on the Roof? Did you know musical theatre at that point? Were you thinking about telling stories with song?
LMM: Yes. Well, that last summer I spent there was the first summer I brought a keyboard with me. That was huge and a pain in the butt to get on the plane. By then, I was writing songs, but I got exposed to musical theatre really young. The major cast albums from my family of five — we did a sixth grade play every year, so when I was 12, we did 20-minute versions of six musicals, and they were Oklahoma!, Bye Bye Birdie, a mash-up of The Wizard of Oz and The Wiz, Peter Pan, Fiddler on the Roof and West Side Story. So literally, by age 12, I'd played Conrad Birdie, a cowhand, a son in Fiddler, an Addapearle backup in The Wiz, Captain Hook and Bernardo, which is a pretty lethal dosage at such a young age. This was in school. This was at Hunter.
I'm always curious about the recipe that creates artists. You knew the history of music theatre and then you went to a foreign or inspiring spot, and this show started brewing in you, in a way.
LMM: Yeah. Well, what Puerto Rico was was time and an incubator. I spent many days with no one but myself. I mean, my grandparents both worked. They'd leave me alone in the house. I was about five blocks from their place of business if I needed them, but other than that, I'd go down for lunch, I'd poop around, I'd write in my notebooks, I'd sit on the roof of my grandparents' house, [which] is one story, so I'd sit on the roof, and they were on a hill, so it overlooked the town. It was very [much] just nothing but time. I wish I had time like I did on those summers, but that's basically what it was.
There was no Puerto Rican romance for you? You didn't kiss your first girl in Puerto Rico?
LMM: Man, I couldn't even get male friends my age to play stickball. Talking to a girl? 0I could barely talk to a girl in English. [Laughs.] That part of the show is really autobiographical. Usnavi's tongue-tied-ness. That's right from the journal pages. [Laughs.]
Have you gotten letters over the years from Dominicans or Puerto Ricans or people of many heritages? Letters about their immigrant experience?
LMM: Yeah, and that's one of the most gratifying things about the show. People see this show and they see their families reflected, whether they're Latino or not. They think of that grandparent who came from the old country, they think of their daughter who's the first in the family to go to college. Everyone has a story like the stories in Heights in their families somewhere, so everyone says, "That's your aunt on that stage, that's your grandmother on that stage." That really has been one of the most gratifying parts of it. And also Washington Heights residents go, "Hey, that's my block." No matter what block they live on, they go, "That's my block."
[For information about the national tour of In the Heights, and its Nov. 30-Dec. 5 engagement at Bellas Artes in San Juan, Puerto Rico, visit intheheightsthemusical.com.]