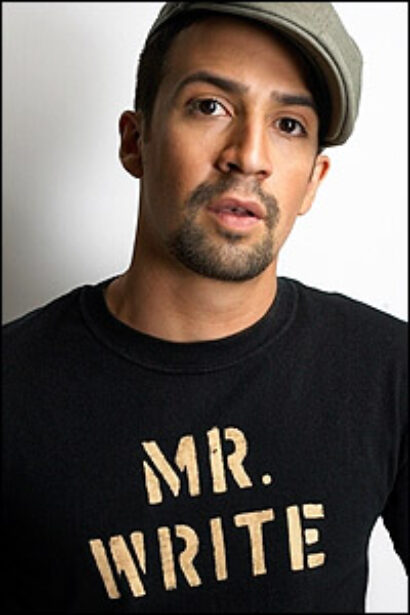 The series kicked off with "The Muppets Take Manhattan," and such movies as "Manhattan, "King Kong," "The Warriors" and "Ghostbusters" are scheduled to follow.
Theatre lovers are in for a special treat Feb. 23 at 4 PM when Miranda will host a screening of the film adaptation of the 1957 Broadway musical West Side Story with the film's Academy Award-winning star Rita Moreno as a special guest.
Miranda spoke with Playbill.com about the new film series and his lifelong connection with West Side Story.
Many New Yorkers aren't aware of how gorgeous the United Palace Theatre is. It's a real treasure. How did this film series come about?
LMM: It came in the wake of our In the Heights reunion concert that we had there last year. I've known Mike Fitelson, who runs the Cultural Center at the United Palace, for a long time. He's in charge of this amazing theatre. That's how we had the idea to do the In the Heights reunion concert in the heart of Washington Heights last year. I fell in love with the the theatre, as most people do when they walk into it. Mike asked me, "Well, what do you want to do here? Is there a show you're working on for the theatre that you want to put up here?" And, I said, "No, this place is enormous! I don't think that big! But I would love to see a movie in here." That was my first reaction: "If you can get a screen and a projector and we can watch movies like the old school multiplexes, like the Palace used to be." The last movie that was shown there was "Mary Poppins" back in the 1960's. So me and a bunch of other uptown artists raised $40,000 last year for them to get a screen and a projector.
How did you go about selecting the films in the series?
LMM: I loved the idea of picking awesome movies that I've always wanted to see on the big screen and then sort of making it our own little film club. We decided that for this year the theme would be New York City, so we picked some movies that we'd love to see on that enormous screen. I'm in charge of programing fun little skits to do before the movies. For "Muppets Take Manhattan" last month. I got John Tartaglia to sing "Saying Goodbye" and I interviewed Lonny Price, who is in that movie with all the Muppets. You also have a pretty incredible special guest for West Side Story.
LMM: We've got Rita Moreno to come introduce "West Side Story" I think, we'll do a Q&A, but probably it's just going to be a Q [laughs] and then Rita is going to put on a show because you've seen how amazing she is when she gets in front of a crowd. She's so incredible in front of an audience, so I look forward to talking to her and setting up "West Side Story." I feel like any musical theatre fan owes it to themselves to take the A train up to 175th and catch this. Rita Moreno introducing "West Side Story" isn't going to happen every day. I tried to pick movies that weren't just great movies but time capsules of New York at specific times. "West Side Story" captures Hell's Kitchen before Lincoln Center existed. The streets they are running through, where Lincoln Center is now, was that old neighborhood. All the tenements were razed. Priscilla Lopez lived in that neighborhood. She and her brothers are extras in the playground set in the first scene that the Jets are walking through! Matthew Lopez, her nephew, who is an incredible playwright in his own right, wrote a play about it, called Somewhere.
Photo by Michael LaMonica
Do you remember the first time you saw the film?LMM:
The first time I saw "West Side Story" I was in sixth grade. I will never forget it because I remember that I was cast as Bernardo in our sixth grade play and so my mother rented the movie so we could watch it together. I knew about "West Side Story" through cultural osmosis, but I didn't know anything about it. When "America" started and it was about whether to live in Puerto Rico, or live in the US – as a kid who grew up here and was sent there every summer – I was like, "Holy sh*t! 'West Side Story' is about Puerto Ricans?!" It really blew my mind. You know, I fell in love with Rita Moreno, as anyone does when they see that musical number, and so, that sort of never went away. There's no other way of saying it.
How influential was West Side Story on you as a Latino artist?
LMM: You look to see where you are reflected in any and all ways when you're looking for culture, and there's not a lot of people telling our story. I hadn't seen A Chorus Line at that point, so I hadn't met Priscilla Lopez as Morales, that would come later. But just the fact that this is one of the greatest musicals of all time, and one of the central musical numbers is whether to live here or go back to "home," back to the island, that's really amazing. It's still really amazing. And so, I ended up directing West Side Story my senior year of high school, I ended up working on the 2009 revival with Arthur Laurents and Stephen Sondheim and doing the Spanish translations for Arthur's take on the revival. It's been very instrumental to my life. I don't know if there is a score that I know as well as I do that score. And Leonard Bernstein's music is immortal. It still sounds different from every other Broadway score you'll hear. The scope and the size of it really is incredible. It's incredibly ambitious writing and, you know, that's why it still stands up today. It's still thrilling.
The film and the stage production have some differences. Are there things you love about one or the other?
LMM: I have to say that there are things about the movie that I prefer to the show, very much. Particularly the male-female "America." I think it brings in the Shark men into focus in a way that the stage version doesn't. I thought that was one of the ways in which the movie actually improved on the show in terms of the story telling. And the movie is an incredible achievement in its own right. You know Jerry Robbins' perfectionism with that dance and the rumor that he choreographed "Cool" and then re-shot it all with them all doing it on the right foot instead of the left foot. Then Robert Wise, another incredible filmmaker, sort of came in and made sure the trains ran on time and brought so much film craft to it. I think of the last scene where Tony and Maria are looking for each other and it's shots of fences on fences, literally the screen is filled with fences separating them. They are never in the clear to be with each other and the second Tony is in the clear and doesn't have a fence blocking him in the frame, Chino shoots him. There's just so much incredible film work going on in that movie.
You're giving back to the Washington Heights community with this series, but opening up the doors to the United Palace is a real gift to the greater New York City community as well.
LMM: My real aim with this first year of the film club, and hopefully this will go on many years, was to have people discover that there is an amazing theatre uptown and to show big blockbuster movies that everybody loves, but may not have gotten the chance to see on the big screen. I want to bring people from all over the city to really discover this part of our neighborhood that they didn't know existed until a couple of years ago. And this isn't like all the locals know it, and the rest of New York doesn't. I can't tell you how many people come out from upper Manhattan and say, "I live two blocks away and I didn't know this existed." It's been hiding as a church for a long time; it's still an active church, but it's also this incredible jewel. It's a secret part of New York. I'm excited for people to come uptown, hopefully have dinner uptown or drinks uptown, catch a movie and hang out with us.
Visit unitedpalace.org/upca for more information.