After the passing of three-time Tony nominee Marin Mazzie September 13, the Broadway community (professionals and fans alike) mourned the loss of one of theatre's greats—many posting videos of favorite performances. But, there are some performances by the singular talent that had not been heard. Until now. With permission from Mazzie's husband actor Jason Danieley, Mark Horowitz and the Library of Congress, Julie Larson, Jonathan Mills, and Michael Moore, Mazzie's voice—along with her cohorts Jonathan Larson and Scott Burkell—can still be heard anew in these five exclusive recordings.
Marin Mazzie met Jonathan Larson in 1981, when she was 20 years old and he was 21. They performed in Carousel together at the Barn Theatre in Michigan, and became instant friends. The famed summer stock theatre also introduced them to Scott Burkell.

When the three young artists returned to New York City at the end of the summer, they decided to form a singing trio, naming themselves J. Glitz. They began to perform in 1982 at any open mic that would have them.
J. Glitz was a campy, close harmony trio whose selections ran the gamut from the classic "Tea For Two," to "Millwork," the James Taylor tune from the musical Working, to some of Larson's first original songs. As part of their between-numbers patter, the three friends played both themselves and also their fictional alter egos. Mazzie was Joan Glitz, Burkell was Elwood Fritz, and Larson was Marv.
Joan, Elwood, and Marv were the fictional perky team who met in the 1940s through bandleader Benny Goodman. They supplied token cabaret jokes about tourists and flash photography. The show included sweet-and-sour parody commercials for the J. Glitz Motor Lodge ("Ask about our honeymoon suite, group rates available!"), the J. Glitz Musical Compilation Album ("J. Glitz sings Kumbaya!") and the J. Glitz Fan Club ("As a member, you'll receive a button, many items available in any store, and junk mail!").

As both themselves and their alter egos, the trio embraced every cheesy key change and wrung every moment of feeling from each number. Jonathan banged out Billy Joel's "Piano Man" with enough passion to fill ten rooms, Mazzie lent her soaring voice, destined for future Broadway greatness, to "Somewhere Over The Rainbow," and Burkell sang lead on a heart-wrenching arrangement of Roberta Flack's "Jesse."
In 1999, Playbill asked Mazzie to name a "weird show… that isn't on your resume." Her response was:
"One of the craziest things was when I did my club act with Jonathan Larson and my best friend, Scott Burkell, in 1984, at Don't Tell Mama [the New York City cabaret venue]. We all met at the Barn. But before Don't Tell Mama, we went to these places that had open mic nights and our opening number was a medley of 'Downtown,' 'Fame,' and 'On Broadway.' We called ourselves 'J. Glitz.' Once, we went to an open mic place and my mother was in town. We go into this smokey bar in The Village and set up, my mother is sitting at the bar, and we notice there are only women in the bar. There's my mother, in her fur coat, from Michigan, in a lesbian bar listening to her kid sing, 'I hear the neon lights are bright on Broadway...' It was hysterical. We were fearless."
At some of their performances, Mazzie's brother Mark even ran the sound!
Though they were rejected from playing The Duplex (Jonathan saved the rejection letter!), in 1984, J. Glitz did book two performances at Panache on March 11 and 17th at 11:30PM. The cover was $5, with a $7.50 food/drink minimum. Their biggest gig yet!
Panache was once located at 1409 Avenue of the Americas, between 57th and 58th Streets. It was billed as "the cabaret at the Magic Pan," and was located inside a restaurant that served mainly crepes. Sidney Myer was the cabaret's manager and the restaurant's staff was largely comprised of aspiring actors. (Fun aside: Very shortly before J. Glitz's Panache premiere, Mary Steenburgen called to get out of her lunch shift forever when Jack Nicholson selected her as his co-star in Going South.) The venue was more recently Jekyll & Hyde restaurant until 2015, and is now the home of Lloyd's International Gallery.
Mazzie, Larson, and Burkell were thrilled to get a spot on the cabaret stage at such a venue. They conducted a rooftop publicity photo shoot together wearing tuxedos. They created a modest budget and expanded their material.
(The next year, Mazzie would receive her big break playing Beth in the first post-Broadway production of Merrily We Roll Along at La Jolla Playhouse. One has to imagine that her times in basement saloons with Jonathan and Scott doing "a revue of their own" informed that performance.)
After making a splash at Panache, J. Glitz immediately booked a weekly gig at Don't Tell Mama on 46th Street, an essential New York cabaret staple to this day. They appeared every Tuesday at 11PM in April of 1984. These shows increased the cover to $6! (There was also a two-drink-minimum.)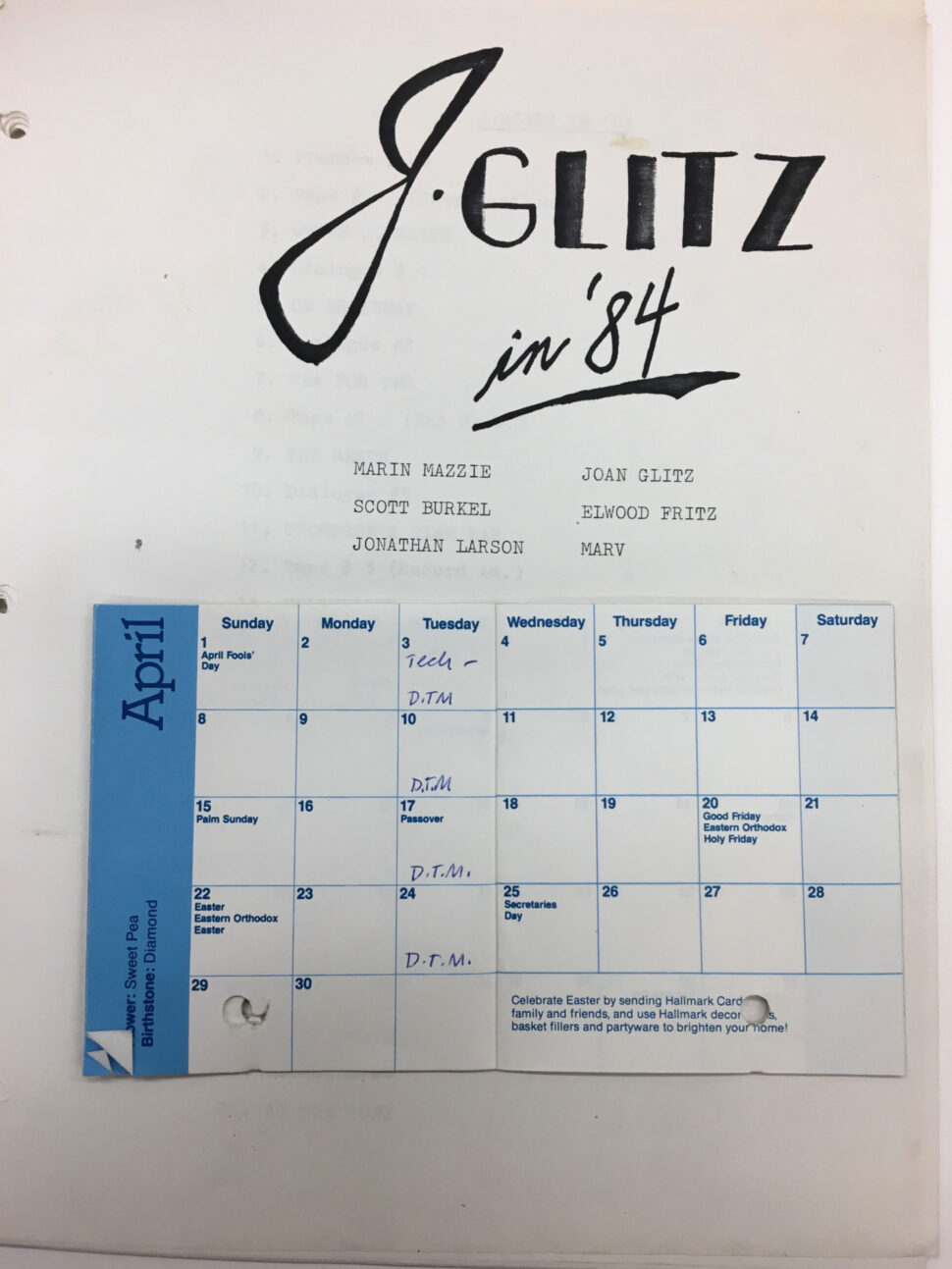 The small audiences at Don't Tell Mama applauded heartily for J. Glitz's Marvin Hamlisch medley and sweet arrangement of the 1940s favorite,"Seems Like Old Times." But it was clear that Larson's original songs captured them as well. These included "Flame," a haunting ode to the memory of love, "Heart on the Ground," a moving collaboration with Scott lending lyrics, and "After The Revolution," from Larson's musical adaptation of 1984.
In the next year, J. Glitz disbanded, although Mazzie, Larson, and Burkell remained close friends. By the end of 1985, Mazzie had made her Broadway debut as a replacement in the role of Mary Jane in Big River. She remained with the production for two years. Larson made final efforts to get 1984 produced, and then began work on his original musical Superbia—with Mazzie playing the leading lady for some of the show's development. Burkell also appeared in readings of Superbia, and went on to work as both an actor on Broadway and a musical theatre writer.
"We're J. Glitz in '84
We're the ones that you'll adore
We'll be hits forevermore
We're J. Glitz and that's the score."
Special thank you to Jason Danieley, Mark Horowitz and the Library of Congress, Julie Larson, Jonathan Mills, and Michael Moore for making this article possible.