The idea of divas as gay icons has gotten a lot of traction over the years. Essay, books and plays (cough, cough, Patti Issues) have been written on the subject and it goes far beyond Broadway, with performers ranging from Lady Gaga to Maria Callas, Meryl Streep to Elizabeth Berkley garnering the distinction. But Broadway does seem to be ground zero for the phenomenon. If you buy into the notion that gay men, seeking escape from their oppression, have found kindred spirit in the vulnerability of the great ladies of the stage, and have felt empowered by their prowess, and further, that gay men found solace in the fantasy of musical theatre, then it's only natural that the divas of Broadway would hold particular allure.
10. Audra McDonald
Six-time Tony Award winner Audra McDonald is in a class by herself. In the 1990s, when her legendarily stratospheric career climb began, Broadway was just coming out of the age of British pop operas. McDonald's classical gravitas ushered in a new era of American musical theatre, making a pronounced departure from both the West End mega-musicals as well as traditional Tin Pan Alley, as she used her ever-increasing influence to forward the careers of her composer colleagues, like Michael John LaChiusa, Adam Guettel, and Jason Robert Brown. Suddenly gay men who had held their noses at much of the popular fare of the 1980s, were getting excited over these Philip Glass-like, Sondheimian songwriters. And of course, as she's proven countless times, including her unforgettable Carrie Pipperidge in Carousel, Audra excels in the classic musical theatre repertoire. While diva-worshippers had sat frustrated watching a generation of divas post-Streisand fail to cross over beyond Broadway, this Juilliard soprano — seemingly the least likely type of singer to transcend Times Square — became a sensation. Still, Audra is our diva, and she's been a fierce ally of the LGBT community from the get-go. An avid Twitterer since the social media outlet's inception, she was one of the first to carry the civil rights banner in her moniker, as "@AudraEqualityMc." There has never been any question what McDonald stands for and there has never been any question that we stand for her.
Bernadette Peters is the rare gay icon with equal draw for straight men. How many of grew up obsessing over Peters' performances in Sunday in the Park with George and Into The Woods, while our straight friends, father, brothers, would remark, "Oh, Bernadette Peters, that's that hot chick." Yeah, sure, whatever, hot was part of it, when she wriggled around on the piano singing the definitive "Sooner or Later" (sorry, Madonna) or when she got her looks back at the end of Act One in Woods, but that was hardly her appeal. Since her 1960s success in the retro Dames At Sea, Peters exhibited a flair for camp, combined with a surprising pathos underneath — Mae West meets Shirley Temple meets Judy Garland! Her starring role in 1973's Mack And Mabel didn't run long, but Broadway fans cherished her cast album performance of the great torcher, "Time Heals Everything" and patiently waited for her to reprise it in concert years later, after claiming the mantel of Broadway supremacy, as a signature song, the hallmark of diva-hood.
8. Barbara Cook
Barbara Cook was the great Broadway ingénue of the 1950s and 60s and if her biggest roles, Amalia in She Loves Me and Cunegonde in Candide were less well-known to the general public (even her Marian in the mega-hit The Music Man went to Shirley Jones for the film version), this just made Cook all the more special, proprietary. Barbara Cook is and always has been ours. This became abundantly clear in the second act of her career when she resurfaced as a cabaret and concert singer, touring the world singing the Great American Songbook and adult contemporary and gay men flocked to see her. Still capable of hitting the high notes long into her advanced years, Cook demonstrated an additional gift of infusing songs with singular warmth and conviction. When she gave voice to inspirational songs, like Peter Allen, Michael Callen and Marsha Malamet's AIDS anthem "Love Don't Need A Reason," Barbara simultaneously acknowledged and validated and helped heal pain that had ripped our community to shreds. Even when the material is less on-the-nose, she continues to be loving, maternal voice, making us feel we're gonna be okay.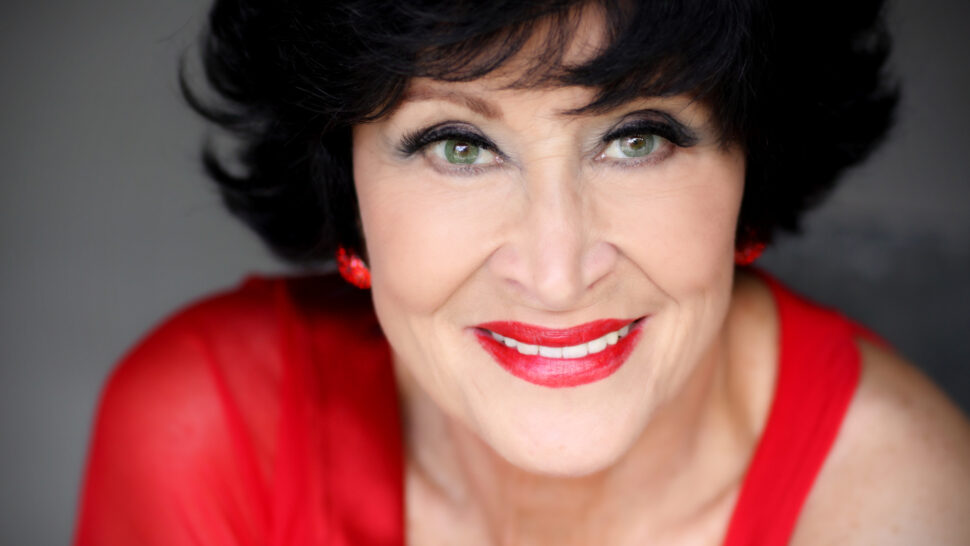 7. Chita Rivera
The gypsy's diva, Chita Rivera has been a star beloved by her ensembles since tearing it up in West Side Story in 1957. The powers that be know to put Rivera downstage center, but she is decidedly one of the people, having come up through the ranks of chorus dancers, many of whom, historically, are gay. Her comfort with our community and obvious acceptance of us for who we are has shine through the way she's shared the stage and she's been a clear ally since long before being "gay-friendly" was a common thing. When she took on the role of the archetypal gay icon in the groundbreaking Kiss of the Spider Woman (a show that was actually about a gay man's relationship with his favorite star), the casting made total sense and cemented Rivera's legend on the highest plane of divahood.
Hello, Dolly! was one of the biggest Broadway hits of the 20th century and for all the actresses who essayed the title role, it will always be associated with Carol Channing's indelible stamp. Another early friend to the gays, Channing toured the world in Dolly for decades whooping it up with all the boys in the chorus. Her position as gay icon was already assured, though, thanks to her creation of the role of Lorelei Lee in Gentlemen Prefer Blondes and her signature introduction of the hit, "Diamonds Are A Girl's Best Friend," probably one of the most popular women's songs to be appropriated by gay men. In both roles, as well as in her film and television appearances, Channing's persona, dizzy on the outside, crafty and cunning on the inside, manipulating men and situations to suit her agenda, with a sort of "lil' ol' me?" innocence, is tremendously appealing to gay men, who may have felt powerless, growing up desiring men without a an example of someone like them getting any.
It's hard to say exactly why Angela Lansbury is a gay icon, because there are so many viable explanations to choose from. It could be her early screen performance in the Oscar Wilde adaptation, "The Picture of Dorian Gray," or her co-starring with (the ultimate gay icon) Judy Garland in "The Harvey Girls." Maybe it was Mame that did it—the show is a favorite of many gay men, for its unconventional ethos and glamorous cosmopolitan milieu—and Lansbury is the original and favorite Mame. Could it be her long-running TV show, "Murder She Wrote," where she demonstrated the prowess of an older woman, who like a gay man, may not be the sexual object of the straight male mainstream? Or maybe it was Gypsy, another story into which many gay men project themselves, the fantasy of the ignored ugly duckling who transforms after the pretty little sister is gone. In Gypsy, treading dangerous ground, Lansbury was the first star to claim the Merman mantel and many still hold she was the definitive Rose. With her many starring roles onstage, she has been at the center of Broadway for decades and remains a star we can take great pride in calling our own.
Betty Buckley famously became a Broadway star the day she moved to New York. Legend has it she pulled up to the 46th Street Theatre (now the Richard Rodgers) in her El Camino and booked the job in 1776 before she even dropped off her suitcase. Her soaring, stratospheric belt voice and steely intensity made fast fans of musical theatre lovers, but it was her subsequent roles on television and film that brought her renown to a wider audience, including her crucial contribution as the gym teacher in Brian De Palma's hit horror movie, "Carrie," a gay cult classic if there ever was one. When Buckley returned to Broadway to create the role of Grizabella in Cats (and sing the definitive rendition of "Memory" for all time), her status in the highest echelons of divas was assured. Her Margaret White in the notorious Broadway musical version of Carrie couldn't have generated more fan enthusiasm if the show had run as long as Cats. How many hundreds of thousands of us wish to God we'd seen her artistic triumph. Then, when she offered a Norma Desmond, both gorgeously sung and powerful enough to carry the gargantuan Broadway Sunset Boulevard, and added to her stack of signature songs, her worshippers multiplied again. In her Carnegie Hall concert, she thrilled with a Judy Garland-esque "Almost Like Being In Love" and the homage couldn't have come from a more appropriate star.
After Rock music took over the mainstream, it may not have seemed like gay men who listened to the radio hits would get too excited about a Broadway musical star. Diana Ross and Donna Summer and Olivia Newton-John sang some showtunes (and even did a movie musical or two), but they weren't treading the boards, belting on cast albums. Was that era over? Had our fanbase been compartmentalized? Dreamgirls proved that wasn't the case and at its center was a spewing volcano, enthralling in her every breath, Jennifer Holliday. Her Tony-winning turn as Effie White may be at the top of most people's great performances they wish they'd seen, but her force is so great, it's incredible how much of the experience can be gleaned just watching her on the 1982 Tony Awards. Yet another icon whose appeal can be traced to her role as woman marginalized in straight man culture, yet still full of strength and stature. More than that, Holliday's strength comes through the core of her vulnerability; they are one and the same. And the incomparable voice that pours from her soul expresses so much its every grace note. We all embraced Jennifer Holliday as our star.
2. Patti LuPone
Patti LuPone is the very essence of a gay icon. She is powerful, ferociously so. She has great vulnerability, tsunamis of emotion that erupt within a scene or a song. She is capable of scintillating diva glamor and also stark humility. She is hilariously funny, combining a dry haughtiness with a world-class clown's unbridled commitment. All these qualities have contributed to her history-making triumphs in dynamic roles such as Eva Peron, Reno Sweeney, Norma Desmond, Nellie Lovett and Madame Rose. In concert, LuPone sings her heart out; it's "go big or go home." The money notes keep rolling in as she alternately blast and caresses music from Sondheim to Kurt Weill to Stevie Wonder. She makes you feel she's your girl and she's a winner. I think gay men feel like she's the popular girl starring the high school musical, but she's still totally gonna hang out with you at the cast party.
The ultimate diva who will do anything for her fans is Emmy, Grammy, Oscar and Tony winner, Liza Minnelli. I live for all the ladies on this list and as something of a connoisseur of their work, I find myself analyzing which of their performances I like best. (Betty was in especially good voice last night, Patti slayed me when car-washed that guy during "Primitive Man," I was so sad Audra didn't sing "I've Never Said I Love You.") With Minnelli, I have no preferences. I just need her to show up and then the rest is equally fabulous for me. I've seen her do entire concerts sitting in a stool and I've seen her fly around the stage in Susan Stroman choreography. I've seen her blow the roof off Radio City with yet another key change in "New York, New York" and I've seen her speak-sing her way through obscure saloon songs. It is always completely consuming. Liza makes you feel like tonight is the most important night of her life and you are the most important audience she's ever performed for. Since the beginning of her career, gay men have recognized her as unquestionably our icon. Even without the pedigree of being Judy Garland's daughter, Minnelli has been at the forefront of gay cultural, political, artistic and social circles. She has led the public awareness of AIDS and never wavered in standing up for the people who have always been hers.
(Ben Rimalower is the author and star of the critically acclaimed solo plays Patti Issues and Bad with Money. Visit him at benrimalower.com and follow @benrimalower on Twitter.)