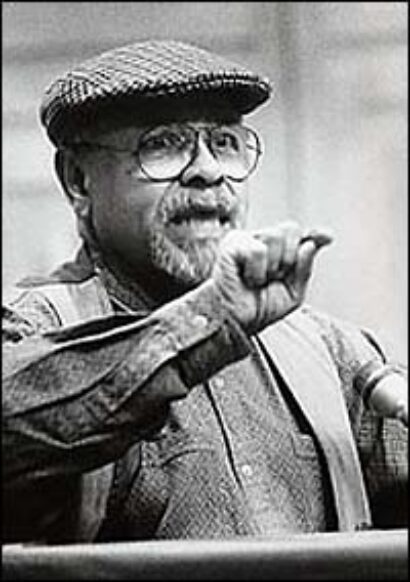 Friends and colleagues in the theatre community said Mr. Richards died June 29, after a brief illness that sent him to the hospital. Friends said June 29 was his 87th birthday.
The League of American Theatres and Producers, Inc. and its members mourn the loss of Mr. Richards and will honor him by dimming the marquee lights of every Broadway theatre for one minute 8 PM June 30.
Mr. Richards served as the artistic director of the National Playwrights Conference — the O'Neill Center's founding program — for 32 years. Mr. Richards' legacy is his discovery and development of the early work of Athol Fugard, John Guare, Lee Blessing, John Patrick Shanley, Derek Wolcott, Wendy Wasserstein and August Wilson, helping give them a voice on the American stage.
"He pioneered the need to take emerging playwrights away from the demands and distractions of commercial theatre and into a retreat setting," according to the O'Neill Center in Waterford, CT.
He was referred to lovingly by many of the scores of actors, directors, designers and playwrights who have worked with him as "Papa." Mr. Richards, praised for his ability to guide and edit the work of the poetry-prone August Wilson, won the 1987 Tony Award for Best Direction of a Play for August Wilson's Fences, which was also named Best Play that year. He also directed Broadway productions of Wilson's Seven Guitars, Joe Turner's Come and Gone, Ma Rainey's Black Bottom, Two Trains Running and The Piano Lesson.
Mr. Richards was born in Toronto, Canada, and raised in Detroit. His father died when he was nine. His mother became blind when he was a youngster, so he worked to support the family. He studied at Wayne University (now Wayne State University) and stopped his studies to serve in the Army Air Force during World War II.
Mr Richards pursued radio and theatre at Wayne when he returned after the war, and founded a theatre group in Detroit with classmates. He moved to New York City in 1947 to act, landing roles (on Broadway in The Egghead in 1957 and Freight in 1950) but he leaned toward directing as a future that had more prospects. He returned to Detroit to direct at the Nortlhland Playhouse in the 1950s.
A Raisin in the Sun, Hansberry's 1959 cultural pulse-taking — a play about an urban black family's conflicts when faced with the possibilities of moving out of the ghetto — was Mr. Richards' first Broadway directing credit. A black director directing the work of a black woman playwright on the Great White Way was a watershed moment in American theatre.
His other Broadway directing credits included The Long Dream, The Moon Beseiged, the musicals I Had a Ball and The Yearling and Paul Robeson.
In 1966, Mr. Richards was named head of the actor training program at New York University's School of the Arts. He was also professor of theatre and cinema at Hunter College in New York City.
In a fertile time in the 1980s, he was artistic director of Yale Repertory Theatre, which, under on his watch with colleague Ben Mordecai, mounted pre-Broadway stagings of The Cemetery Club, Ah, Wilderness!, Long Day's Journey Into Night (1988), A Walk in the Woods, Blood Knot, Master Harold…and the boys (1982), A Lesson From Aloes as well as the Wilson plays that he directed on Broadway (all but Seven Guitars played New Haven).
Mr. Richards' honors include the Drama Desk, the Pioneer Award of AUDELCO, the Frederick Douglass Award and (in 1993) the National Medal of the Arts. He has also served as President of the Society of Stage Directors and Choreographers.
He retired from his posts as dean of the Yale University School of Drama and artistic director of Yale Rep in 1991, but remained professor emeritus at Yale.
Amy Sullivan, executive director of the Eugene O'Neill Theater Center said in a statement "Lloyd Richards is irreplaceable. His like will not come again. The American theatre and all those who had the privilege to work with him are the better for it. I am honored to have been part of Dean Richard's last graduating class at Yale and to have worked with him many summers at the O'Neill. I learned about the art of the theatre from Lloyd, and, more importantly, the art of being a human being. Lloyd Richards was a gentle, quiet, patient man; with a will of steel. His determination and his artistry took the O'Neill's National Playwrights Conference to national and international acclaim. We are and will be forever in his debt."
Wendy C. Goldberg, in her second year as artistic director of the National Playwrights Conference stated, "Lloyd Richards' vision, passion, and nurturing of artists are the benchmarks of our work here at the O'Neill. As we embark upon the 42nd season of the National Playwrights Conference, we dedicate our work to his spirit — we are here because of him, and our work will be reflective of his energy and creativity. He will be profoundly missed."