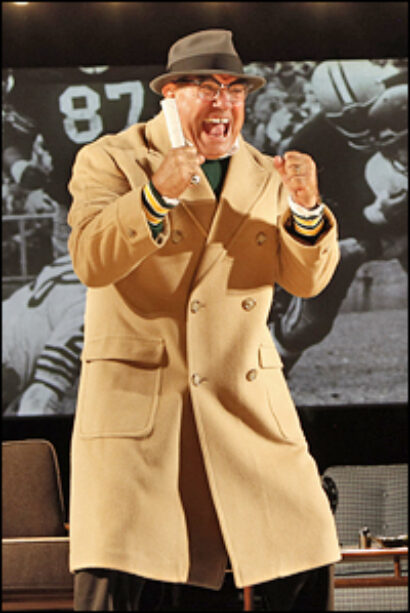 Eric Simonson's play is drawn from the best-selling biography "When Pride Still Mattered: A Life of Vince Lombardi" by David Maraniss. Set over a week in 1965 — five years before Lombardi's death from stomach cancer at age 57 — the play is told by a sports reporter, a character named Michael McCormick, played by Keith Nobbs (Off-Broadway's Stupid Kids, Four, Fuddy Meers), who comes to live with Vince and his wife Marie (played by Judith Light, of TV's "Who's the Boss?" and "Ugly Betty" and Off-Broadway's Wit) to do research for a Look magazine piece. Three football players (Bill Dawes as Paul Hornung, Robert Christopher Riley as Dave Robinson and Chris Sullivan as Jim Taylor) help illustrate Lombardi's approach to work, life, people and the period.
Tony Award nominee Thomas Kail (In the Heights) directs the production, which had a quiet tryout July 22-28 at the Mahaiwe Performing Arts Center in Great Barrington, MA.
Lombardi's Broadway opening night is Oct. 21. Producers Tony Ponturo and Fran Kirmser have the National Football League as a special producing partner, marking the organization's first brush on Broadway.
Lauria, a stage and film actor with the doughy but leathery look — and genuine gap-tooth — of Brooklyn's Lombardi, said he knew "quite a lot" about the hisotry of the Green Bay Packers coach. "I played ball on Long Island — Lindenhurst," Lauria told Playbill.com. "It was all Catholics, all Irish or Italian, and Coach Lombardi was with the Giants then. So we knew him before he went to Green Bay, and of course, after he became the legend that he is, I read all the books. I even read David's book the second it came out, so now [research-wise] it's more about re-reading them. But we actually learned a little bit more from [meeting] the actual players… Half the stories we can't tell you."
Lauria doesn't narrate the 90-minute play as Lombardi, but he does address the audience. He said, "I refer to the audience as if they're in a locker room, so my locker room speeches are as if the audience was the players. But Keith Nobbs plays a young reporter, and he talks directly to the audience and fills in the history of Lombardi. I think you'll learn a lot about the working of the man, but let's face it, you could do a 90-minute play just on Lombardi's effect on the black players and what he did for them. You could do 90 minutes on how the obsession of winning affected his family. You could do 90 minutes on his negotiation with the New Players' Association, the unions…." Reporter Michael McCormick is the only fictional character in the play. Nobbs explained, "He's an amalgamation, basically, of W.C. Heinz, who's a sportswriter of the day; David Maraniss, who wrote the book 'When Pride Still Mattered,' which the play is based on; and then there are echoes of Vincent, Jr., Vince's son, whom he kind of had this difficult relationship with. You can imagine having Vince Lombardi as a father. …So we kind of have this surrogate father-son relationship where we trigger each other and push each other outside our comfort zones a little bit."
The creative team includes David Korins (set), Paul Tazewell (costumes), Howell Binkley (lighting), Acme Sound Partners/Nevin Steinberg (sound) and Zach Borovay (projections).
Playwright Simonson is an ensemble member of the renowned Steppenwolf Theatre Company, a post he maintains while working as a writer and director for film, television, theatre and opera. Most recently he completed a documentary for HBO called "Studs Terkel: Listening to America." His documentary "A Note of Triumph: The Golden Age of Norman Corwin" won the 2006 Oscar for Documentary Short. He was also nominated for an Oscar for his documentary "On Tiptoe: Gentle Steps to Freedom" in 2001. Other films include "Hamlet" (co-directed with Campbell Scott) for Hallmark Entertainment, and an independent feature, "Topa Topa Bluffs." His directing and writing credits in theatre include work at Steppenwolf Theatre, The Huntington Theatre, Milwaukee Rep, Kansas City Rep, The Kennedy Center, Pasadena Playhouse, Seattle Rep, Milwaukee Rep, Arizona theatre, San Jose Rep and Court Theatre in Chicago. His work at Steppenwolf includes premieres of his plays Carter's Way, Honest and Fake; and Nomathemba (co-written with Ntozake Shange and Joseph Shabalala), and The Song of Jacob Zulu, which was invited to the Perth International Arts Festival, ran on Broadway, and received six Tony nominations including Best Director.
His several plays include published works Bang the Drum Slowly and Work Song (co-written with Jeffrey Hatcher) and the adaptation of Kurt Vonnegut's Slaughterhouse-Five, all of which have been produced at theatres across the country.
Tickets can be purchased online at www.telecharge.com, by phone at (212) 239-6200, or in person at the box office (50th Street, west of Broadway). Visit www.lombardibroadway.com.