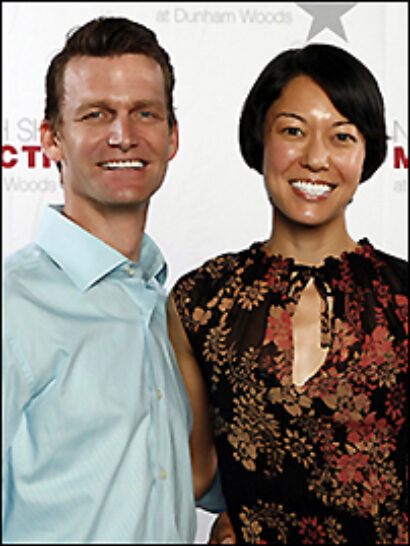 Directed and choreographed by Tomé Cousin, Contact will play the Beverly, MA, theatre through June 29. The official opening night is scheduled for June 12.
In addition to Emick and Wiley, the cast also features Sally Mae Dunn as Wife and Steve Luker as Husband. The ensemble comprises Noah Aberlin, Sean Ewing (Servant), Jake Pfarr (Aristocrat), Matt Rivera, Ariel Shepley (The Girl on the Swing), Monica Alicia Coates, Ivy Fox, Jeremy McQueen, Marcos Santana, Leeanna S. Smith, Mary Lynn Tiep and Francis Toumbakaris with swings Wesley Edwards and Hallie Metcalf.



photo by Paul Lyden
Contact
features a book by John Weidman and Susan Stroman and music by various artists, including Robert Palmer's "Simply Irresistible," Dean Martin's "You're Nobody Till Somebody Loves You," Dion"s "Runaround Sue," the Beach Boys' "Do You Want to Dance?" and "Sing Sing Sing" from Benny Goodman and his Orchestra. After a successful run at the Mizti Newhouse Theater,
Contact
opened on Broadway at Lincoln Center's Vivian Beaumont Theater March 30, 2000, where it played 1,010 performances before closing Sept. 1, 2002. In addition to its Tony for Best Musical, the production also picked up awards for Boyd Gaines (Best Featured Actor in a Musical), Karen Ziemba (Best Featured Actress in a Musical) and Susan Stroman (Best Choreographer).
Contact
is divided into three parts: the first set in eighteenth century France, the second in a 1950's New York restaurant patronized by the Mafia, and the third in modern-day New York where a successful but lonely advertising executive makes contact with his emotions when he falls for a girl in a yellow dress at a dance club.
In a recent statement North Shore artistic director and executive producer Barry Ivan said, "This season pays tribute to the legendary Tony Award-winning director and choreographer Susan Stroman and we felt that Contact would be a great way to honor her and be an entertaining departure from the standard definition of a musical. The show is wonderfully unique in that it tells three separate stories of romance and escapism primarily through Stroman's clever and witty choreography. This will be a rare treat for NSMT audiences." The North Shore creative team also includes Howard C. Jones (scenic designer), Andrew Ostrowski (lighting designer), John A. Stone (sound designer), Gerard Kelly (wig and hair designer) and Jason Quinn (production stage manager).
Tickets, priced $40-$77, are available by calling (978) 232-7200 or by visiting www.nsmt.org.
The North Shore Music Theatre is located at 62 Dunham Road in Beverly, MA. North Shore is recommending Contact for "theatregoers 16 and over."