Since 1988 three northeastern U.S. theatres owned by Ralph Miller have burned to the ground. He has been accused, but never convicted, of arson and fraud, according to a report in the Cape Cod Times.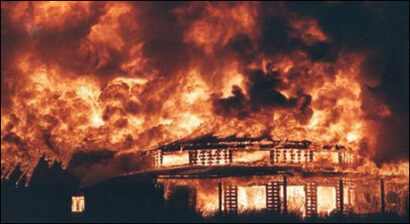 But now, Miller is facing up to 30 years in prison after being convicted of filing fraudulent insurance claims connected with a 2006 flood that damaged the Bucks County Playhouse in Pennsylvania—but apparently not as much as Miller said.
Three of Miller's other theatres that suffered an even worse fate. He also owned the Woodstock Playhouse in New York, which burned down in 1988, as did his Falmouth Playhouse in Massachusetts, which burned in 1994. And the Pocono Playhouse, also in Pennsylvania, which burned down in 2009. Miller reportedly denied involvement in any of the fires.
According to the Woodstock Playhouse website, "Though arson was suspected, no charges were ever brought in the destruction of one of Woodstock's most venerable landmarks." A new playhouse was built on the site. Prior to these, a warehouse Miller owned in Bucks County, PA, burned down in 1984.
The Philadelphia Inquirer quoted Assistant U.S. Attorney K.T. Newton about details of his successful prosecution. Miller "was found guilty by a federal jury for claiming more than $200,000 in fraudulent insurance payments" after the flood.
The Cape Cod Times, which has been covering Miller since the Falmouth Playhouse fire, reported that Miller had filed insurance claims with Selective Insurance Co. of America, saying that 56 lights used for the Bucks County Playhouse were damaged in the flood--a loss worth more than $200,000.
The Times reported, "Selective paid Miller a total of $905,000 for all the damages to the playhouse, including $183,690.90 toward the cost of the damaged lighting.... However, investigators found that the lighting had not been damaged, and on his claims, Miller had at times listed some of the lighting more than once, according to court records."
Miller filed for bankruptcy in late 2009.