Directed by Dexter Bullard (Tracy Letts' Bug), the cast will include stage and screen star Paul Rudd, Academy Award nominee Michael Shannon, Kate Arrington and seven-time Emmy winner Edward Asner.
Opening night is set for Oct. 4.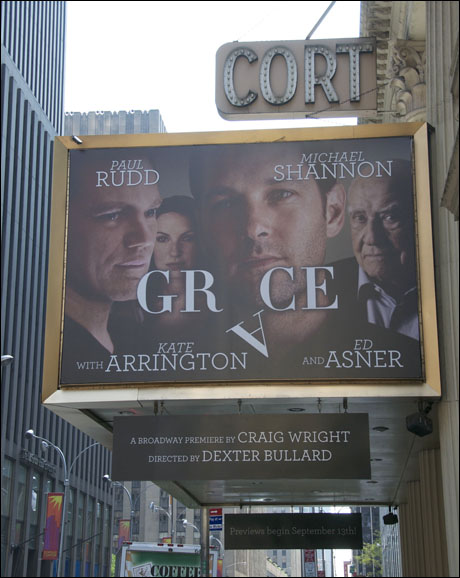 photo by Monica Simoes
The play, according to press notes, asks, "Are we in control of our lives or is there something else at work? With a grippingly innovative dramatic structure, Grace follows a wide-eyed young couple (Rudd & Arrington) as they start a new life in sunny, promise-filled Florida, with big plans to open a chain of Gospel motels. An agitated neighbor (Shannon) and a caustic exterminator (Asner) complete the eclectic foursome as destinies collide in this intensely entertaining and suspenseful journey to the edge of your seat."
Grace premiered to critical acclaim at The Woolly Mammoth Theatre in Washington, DC, in 2004, and was subsequently seen in a celebrated production at Northlight Theater in Chicago, and at the Pasadena Playhouse in Los Angeles (where it received three LA Drama Critics Circle Awards including Best Play).
The creative team includes scenic designer Beowulf Boritt, lighting designer David Weiner and costume designer Tif Bullard. Paul Rudd made his Broadway debut in the Tony Award-winning The Last Night of Ballyhoo in 1997 and has since starred in Twelfth Night (1998), Three Days of Rain (2006) and Off-Broadway in The Shape of Things (2001), among many other stage productions. Kate Arrington, who is currently appearing at the Goodman Theatre in Iceman Cometh opposite Nathan Lane and Brian Dennehy, is a Steppenwolf Theatre ensemble member, whose productions there include The Hot L Baltimore, The Well-Appointed Room, The Pain and the Itch and The Violet Hour. Edward Asner last appeared on Broadway in 1989, opposite Madeline Kahn in Born Yesterday.
This production marks the Broadway debuts of playwright Wright, director Bullard and actor Shannon, who have a 15-plus year history of collaboration in the theatre on works including, most recently, Mistakes Were Made.
Producers are Debbie Bisno, Fox Theatricals, Jed Bernstein and Paula Wagner.
Visit graceonbroadway.com.