TV's "Smash" has been off the air since May 2013, but love for the series still burns bright; a recent Actors Fund benefit concert staging of Bombshell — the original stage musical at the center of much of the TV show — sold out within minutes of tickets going on sale.
We may not be able to bring the show back, but we can engage in wild and baseless speculation as to what would have happened to the characters had the show continued, in this installment of Where Are They Now.
Ivy Lynn (as played by Megan Hilty)
After a long battle, Ivy Lynn finally won the role of Marilyn in Bombshell, and she even walked away with a Tony Award for Best Leading Actress in a Musical. Of course, she didn't get to stay with the production too long, because she had to leave to give birth to her first child Jeannie (named after Norma Jean, of course). After taking some time off to be a mom, Ivy used her success on Broadway to start a career in Hollywood. She recently completed the first season of a moderately successful series for Netflix. Broadway will always be her first love, so she returns to the stage when she's on hiatus. As a wink to the role that made her famous, she starred in a revival of Sugar (based on "Some Like It Hot") in the title role.
Karen Cartwright (as played by Katharine McPhee)
Karen may have lost out on Marilyn, but she got to make her Broadway debut in Hit List, the edgy and exciting hit of the season. Eileen and Tom definitely offered her the chance to replace Ivy when she left the show, but Karen turned them down — her star was too on the rise to be a replacement in a big commercial Broadway show. She stayed with Hit List on Broadway for a year and a half. She's been doing some readings of new shows, and even a workshop — but she can't talk publicly about that yet. She just recently made her solo cabaret debut at 54 Below and has been invited to bring her act to several concert venues around the country. In the act, she debuts a brand new song by Jimmy Collins. She's been seen sporting what looks like an engagement ring, but she's keeping mum about that too.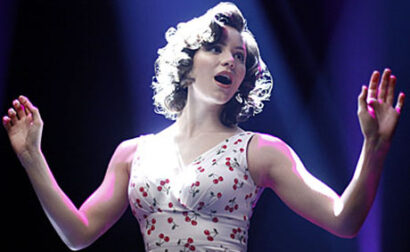 Jimmy Collins (as played by Jeremy Jordan)
Jimmy was let out of jail after only 10 months thanks to his good behavior. Getting his career up and running was a bit of a challenge, even with a hit show on Broadway; he had a prison record and no collaborator. He's written a few songs with new collaborators that have been popular on the cabaret scene, but he's been trying his hand at writing lyrics himself as well. He's got a few ideas for "the next one," the most of exciting of which is a musical in which he tells the story of his friend and collaborator Kyle Bishop on stage. It's still in the demo stage, but he hopes to have it moving along soon.
Kyle Bishop (as played by Andy Mientus)
It's PROBABLY pretty safe to assume he's still dead, though with "Smash" you can never quite tell.
Tom Levitt (as played by Christian Borle)
While enjoying the success of Bombshell on Broadway, Tom has been hard at work on a new movie musical with Julia. Though they toyed with bringing one of their stage hits to the screen, they ultimately settled on another historical figure: Princess Diana. Tom and Julia have been having lots of fun playing Charles and Diana while working on the material, and it's nearing a state where they could start some developmental readings and preliminary casting (Tom confidentially told Karen to brush up on her British accent). Tom's romantic life has been pretty empty lately, but luckily he's been too busy to mind all that much.
Julia Houston (as played by Debra Messing)
Julia has been working on the Princess Diana movie-musical with Tom, but she's also been working on her relationship with Michael Swift. The dissolution of her marriage was heartbreaking, but ultimately she realized that her divorce was about more than just the affair. In a shock to everyone around them, Julia and Michael's relationship continues to be successful, but they're understandably taking things pretty slow. Perhaps most importantly of all however, her scarves made a comeback. She was tired of suppressing her true self and sense of style.
Derek Wills (as played by Jack Davenport)
Derek's huge year — two successful shows on Broadway — has made him even more in demand than he used to be. He's working on several new developing musicals, one of which played Off-Broadway last season to great acclaim. He's also spending a fair amount of time being a father to Jeannie. Ultimately, the baby and Ivy's sudden career success made their romantic relationship more unclear, but they both know that something is there. Only time will tell when and if that will get more official, though.
Eileen Rand (as played by Anjelica Huston)
Eileen is doing fantastic after the finalization of her divorce. The great success of Bombshell has allowed her to extend her producing prospects. After the stress of developing a brand-new show, she decided to produce a revival of My Fair Lady starring Laura Benanti, which was a big hit as well. Her relationship with Nick has only strengthened over the last two years. He pushed her to take a chance on Jimmy Collins, knowing he was having trouble finding backers due to his prison record, an issue Nick is familiar with. She has been working with him on his Kyle tribute musical, and is very excited for its potential. Ellis Boyd (as played by Jaime Cepero)
Ellis provided information to Eileen's ex-husband Jerry about her current boyfriend's illicit activities, and in exchange Jerry funded Ellis' next venture, a theatrical gossip site called The Ellis Report. He continued his weaseling around important theatre figures to out-do even Michael Riedel. Unfortunately, he didn't turn out to be a very nice boss; he was unable to retain any sort of support staff. He also was told and reported on what turned out to be some bad information, that Eileen was feuding with Laura Benanti during pre-production on My Fair Lady. The false report led to several backers withdrawing support for the production, which in turn caused a year-long delay in getting the musical going. Eileen successfully sued Ellis for slander, which was the end of The Ellis Report. Sources say he's now working as a bar-back in Hell's Kitchen.
If all of this makes you even sadder that we'll [probably] never get a third season of "Smash," re-live the magic a little longer by flipping through our prospective Playbill for the Broadway run of Bombshell or read our play-by-play from the recent real-life Bombshell benefit concert—We've also got full photo and video coverage of that concert. Playbill will always be here to let your "Smash" love live on.
(Logan Culwell is a musical theatre historian, Playbill's manager of research and curator of Playbill Vault. Please visit LoganCulwell.com.)