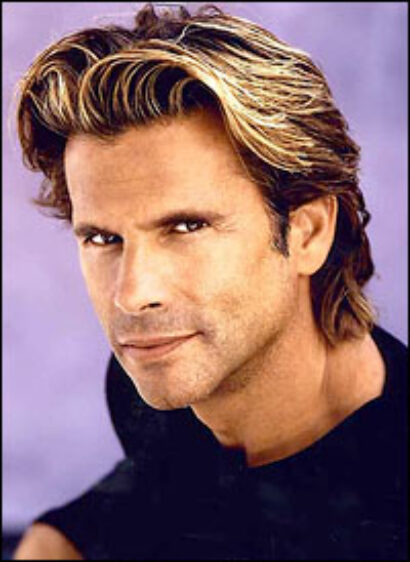 Lamas, who created his program with Michael Feinstein, has titled his show "Lorenzo Sings About Love." Cabaretgoers can expect to hear such standards as "Night and Day," "Embraceable You" and "Teach Me Tonight" as well as more contemporary fare by kd Lang, including "Don't Let the Stars Get in Your Eyes" and "Calling All Angels"; the latter will pay tribute to America's overseas troops.
Lamas is the son of Arlene Dahl and the late Fernando Lamas, who both appeared on Broadway—she in Applause and Mr. Strauss Goes to Boston and he in the Ethel Merman vehicle Happy Hunting. When asked whether he would like to play Broadway, Lamas says, "I'm keeping all my options open regarding a singing career. I am still under contract to 'The Bold and The Beautiful,' so they have first dibs on my schedule."
As for his upcoming cabaret engagement, the actor who boasts a black belt in Tae Kwon Do, says, "It has been incredibly thrilling to embark on a new artistic journey at this stage in my career. And, of course, working with such an extraordinary talent as Michael Feinstein has been the opportunity of a lifetime." He says the chance to sing at the posh nightclub came from singer-pianist-nightclub owner Feinstein himself. "I was at a dinner party last year at his house," Lamas explains. "My mother was there, as was Michele Lee, Lorna Luft, Doris Roberts. After dinner . . . Michael started an impromptu musical concert. He played, then Michele sang, then Lorna, my mom.
"I had performed at a benefit for the S.T.A.G.E. charity the week before, and I figured it was an opportunity to sing for a few professionals, so I asked Michael if he knew 'The More I See You.' He started to play the intro, and I dove in. After the song, he said I had a good voice and asked if I had any professional experience. I said no, to which he replied that I should continue to work at it because you never know where opportunities may come from. Six months later, I got a call from Starleigh, who is Michael's assistant, regarding my availability for November."
Lamas says when he was a child, music was always playing in his family's home — and outside as well. In fact, his dad "would sing arias from Italian operas while driving me home from school in his very Italian Ferrari." As a tribute to his father, Lamas will perform Rafael Hernandez's "El Cumban Chero" during his two-week Feinstein's engagement. Lamas' own musical background dates back to the high school glee club. He also performed the song "Fools Like Me" in the film "Body Rock" and recorded a few demos for the Scotti Bros. His Feinstein's program, directed by Stuart Ross, will feature Jeff Colella on piano and Don DeMarco on guitar; Mary Eckler is the musical director.
Lamas concludes, "I look at this great opportunity to perform at Feinstein's as a chance to hone my craft as a singer-performer and garner incredible experience in the process."
Lamas will play Feinstein's at the Regency Oct. 31-Nov. 11. There is a $60 cover charge and a $40 food/drink minimum; call (212) 339-4095 for reservations.