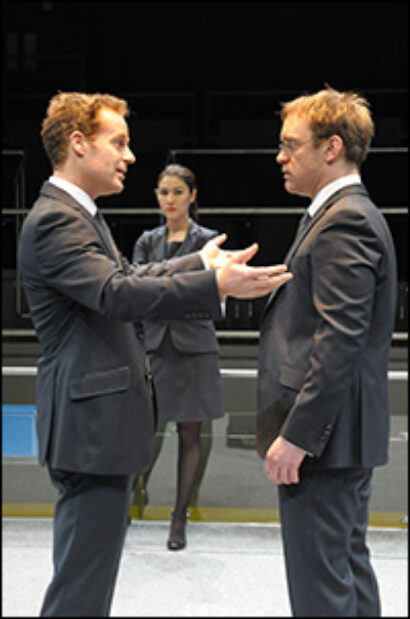 Bull, directed by Clare Lizzimore, recently concluded a run at the Crucible Studio, Sheffield. It officially opens May 2 for a limited run through June 2 at 59E59 Theaters.
The cast features Adam James (Don't Dress for Dinner, The Pride), Eleanor Matsuura (Danton's Death, Enron), Neil Stuke (Blue/Orange) and Sam Troughton (Romeo & Juliet).
Here's how it's billed: "Two jobs. Three candidates. This would be a really bad time to have a stain on your shirt… Bull is a razor-sharp play about office politics; or playground bullying – depending which side you're on."
The design team includes Soutra Gilmour (set design), Peter Mumford (lighting design) and Christopher Shutt (sound). The choreographer is Alistair David. The fight director is Christian Thompson.
Read more about the previously announced Brits Off-Broadway line-up for 2013.
Bartlett's plays also include Earthquakes in London, Love Love Love, Artefacts, Contradictions and My Child.
Tickets to Brits Off Broadway are available by calling Ticket Central at (212) 279-4200 or online at 59e59.org.
For more information on Brits Off Broadway, visit britsoffbroadway.com.
*
59E59 Theaters, a collection of intimate spaces on East 59th Street near Madison Avenue, is run by artistic director Elysabeth Kleinhans and executive producer Peter Tear.