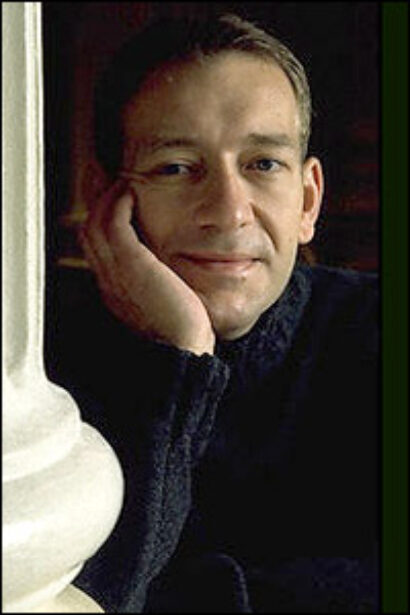 Programming also includes an evening of short plays inspired by the work of Tennessee Williams. Contributing playwrights include John Guare and Beth Henley. Michael Wilson will direct.
Here's a look at the mainstage season:
The Unbuilt City
July 1-12
By Keith Bunin
Directed by Sean Mathias
"On a cold afternoon in February, Jonah knocks on the door of a townhouse in Brooklyn Heights. He's come to persuade Claudia to sell her famously secret art collection to a university archive. Instead she turns the tables and reveals to him a series of mysteries about the nature of love, legacy and the untold history of the city."
The Light Years
July 23-Aug. 2
Written by Hannah Bos and Paul Thureen
Developed and Directed by Oliver Butler
Made by The Debate Society
"The award-winning play-making company The Debate Society crafts a haunted love story spanning 40 years. Set at the Chicago World's Fairs of 1893 and 1933, The Light Years revolves around Steele MacKaye, a forgotten visionary theatrical impresario commissioned to design and build the Spectatorium, a 12,000 seat theater at the 1893 fair. His audacious vision – and its life-changing consequences – paint a spectacularly vivid world of forgotten futures and the indomitable spirit of invention."
Musical Workshops: Rain
July 10-12
Book by Sybille Pearson
Music and Lyrics by Michael John LaChiusa
Based on the short story by Somerset Maugham
Directed by Barry Edelstein
"1924. Two married couples find themselves quarantined on a small island in the South Pacific during a torrential storm. Enter Sadie Thompson, a woman with a dark past and a bottle of good whiskey. Secrets are revealed and sexual tensions ignite and explode in this new musical adaptation of the classic Somerset Maugham story."
Lovinv V. Virginia
July 17–19
Book and lyrics by Marcus Gardley
Music composition by Justin Ellington
Direction and additional lyrics by Patricia McGregor
Conceived by Patricia McGregor
"A soulful, period musical set in the early days of the civil rights movement. In 1958, Mildred and Richard Loving, a black woman and white man, married in Central Point, Virginia, violating their state's laws against miscegenation. Their Romeo and Juliet love story ignited a firestorm in their communities, and sparked a landmark Supreme Court case. Their love -- and their fight – paved the way for future generations to seek equality."
Noir
Music by Duncan Sheik
Book by Kyle Jarrow
Lyrics by Kyle Jarrow and Duncan Sheik
Directed by Rachel Chavkin
"A heartbroken man never leaves his apartment, consoled only by the music on the radio. Through the thin walls, he hears almost every word of the couple next door—and before long, his eavesdropping becomes an obsession. Soon he finds himself drawn into a web of lust, lies, deceit and danger."
Play workshops:
Desire
Six New Plays Based On Stories By Tennessee Williams
July 2-5
By Elizabeth Egloff, Marcus Gardley, Rebecca Gilman, David Grimm, John Guare and Beth Henley
Directed by Michael Wilson
"Six of our best contemporary playwrights collaborate in a unique evening of short plays, inspired by a master American storyteller. Many of Williams's stories were early sketches for his celebrated plays, and capture the same roiling emotions of people at life's turning points, clinging to love to salve their lost innocence or their shadowy loneliness."
The Last Match
July 17-19
Written by Anna Ziegler
Directed by Gaye Taylor Upchurch
"The semifinals of the U.S. Open are underway. Sergei Sergeyev, an up-and-coming Russian phenom, and Tim Porter, a great American superstar in the twilight of his career, do battle under the lights on center court. As the intense, back-and-forth action unfolds, Anna Ziegler and Gaye Taylor Upchurch take us inside the minds of these two extraordinary players to contemplate athleticism, masculinity and marriage. And by match point, much more has been won and lost than a game of tennis."
Reading Festival #1
June 26-28
Junk by Ayad Akhtar, directed by Doug Hughes
a boy put this girl in a cage with a dog and the dog killed the girl by Clare Barron
The Dizzy Little Dance Of Russell DiFinaldi by Stephen Belber
The Profane by Zayd Dohrn
15 Minutes Book by Rick Elice, Music and Lyrics by Stephen Trask & Peter Yanowitz, directed by Trip Cullman
Reading Festival #2
July 31-Aug. 2
The Brother(s) by Colman Domingo
Open Road Music and lyrics by Paul Scott Goodman, Book by Paul Scott Goodman & Joseph Hendel
Talk To Me Of Love by Meghan Kennedy
White Noise, White Light by Nicky Silver
Casting for the productions will be announced at a later date. Subscriptions for the season go on sale May 12 with individual tickets on sale May 26. Visit powerhouse.vassar.edu.