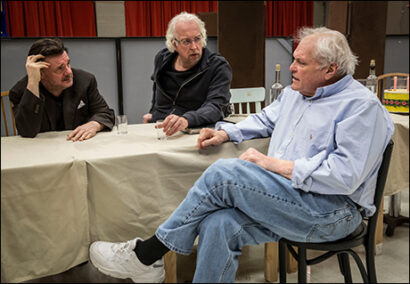 The official announcement from the Goodman and BAM confirms plans for a New York bow of the Eugene O'Neill play, which will run Feb. 5-March 15, 2015, at the Harvey Theatre. Lane and fellow cast members have spoken of the anticipated BAM engagement in recent interviews.
Director Robert Falls (Long Day's Journey Into Night, Desire Under the Elms) helms the five-hour drama that sold out its Chicago run in 2012. The original Chicago cast and creative team will reunite for the BAM engagement, which is presented in association with producer Scott Rudin, who holds Broadway rights to the play.
"It's a wonderful opportunity to revisit Eugene O'Neill's masterwork with Nathan, Brian, and our brilliant company. Our production in Chicago was one of the highlights of my tenure at the Goodman, and we're thrilled to share it with New York audiences," Falls said in a statement.
Lane (The Nance, The Producers, The Addams Family, …Forum, Butley) stars as Theodore Hickman with Dennehy (Long Day's Journey Into Night and Death of a Salesman) as Larry Slade, Stephen Ouimette (Broadway's La Bete, TV's "Slings & Arrows") as Harry Hope; Larry Neumann, Jr. as Ed Mosher, Hope's brother-in-law and one-time circus man; Salvatore Inzerillo as Rocky Pioggi, night bartender; Marc Grapey as Chuck Morello, day bartender; John Judd as Piet Wetjoen ("The General"), one-time leader of a Boer Commando; John Reeger as Cecil Lewis ("The Captain"), one-time captain of a British Infantry; James Harms as James Cameron ("Jimmy Tomorrow"), one-time Boer War Correspondent; John Douglas Thompson (Public Theater's King Lear, Irish Rep's Emperor Jones) as Joe Mott, one-time proprietor of a gambling house; Lee Wilkof (the original Seymour in Little Shop of Horrors) as Hugo Kalmar, one-time editor of anarchist periodicals; John Hoogenakker as Willie Oban, Harvard Law School alumnus; Patrick Andrews as Don Parritt; Tara Sissom as Pearl; Lee Stark as Margie; and Kate Arrington as Cora. The Iceman Cometh features set design by Kevin Depinet, lighting by Natasha Katz and costumes by Merrily Murray-Walsh.
Visit BAM.org.