"No, it wasn't anything I ever imagined I'd be asked to do," admitted Streep in an upcoming interview with Playbill magazine, "so when it came about, I was beside myself. And, I really worked hard to bring my voice back, so that was kind of fun, too — to revive a lost thing."
Although Streep is known for reinventing singular stage roles for the big screen — Hannah Pitt in Angels in America, Sister Aloysius Beauvier in Doubt and Violet Weston in August: Osage County — her last dip in the musical pond was in 2008, when she played eccentric mother Donna Sheridan in the film adaptation of Mamma Mia!. Taking on Sondheim, she said, was "terrifying."
"I had met him years and years and years ago, when I was a student at Yale because he wrote music for a show called The Frogs, which was performed at the Yale pool. The swim team, I think, was the chorus. It was a pretty wild production," said Streep with a laugh. "He wrote all the music, and so I remember working with him then, and he was really fun. Burt Shevelove directed it… Even though he is a formidable presence, I know — and you know from the work — that he's got some enormous humanity.
"But I was still terrified because we were going to go to London and get off the plane and go into a recording studio and start singing and laying down the tracks, and I was first up! And, I was first up on a song no one had ever heard, which was one that was written for the [film, 'She'll Be Back,' which was later cut]. So it was terrifying and ultimately thrilling — really thrilling — because he was very pleased with what I was doing, and I was pleased that he was pleased."
She confided that during the process of laying down tracks, Sondheim — who will receive the Presidential Medal of Freedom alongside Streep Nov. 24 — left the control room (probably "going to the men's room or something," she said), and when he walked past the orchestra, they all stood and applauded him.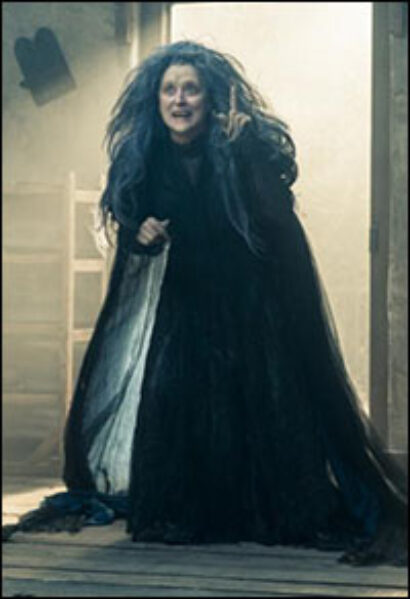 "He has to deal with that reverence," Steep added, "and I think he's pretty good at deflecting it and just doing the work, and that's what it always comes down to — it always boils down to that — and that's what we did. It was thrilling. It was one of the great, great afternoons of my life — working with him."
Now, after years of admittedly being a "huge Sondheim fan," Streep will stand alongside the legendary Woods composer to be presented with the nation's highest civilian honor by President Barack Obama.
When asked about receiving the Medal of Freedom, Streep took a deep breath and explained, "Well, I thought he deserved it! It's a pretty amazing thing. I sort of can't quite figure it out myself — for myself — but [I'm] very, very honored and sort of gobsmacked by the whole thing. We'll fly down together next Sunday night, so that will be fun."
As for Sondheim's score, "He's never heard this score played by this size orchestra," she explained. "That's really wonderful, and he oversaw all of the [music] — from the beginning to the end — so whatever you think of it, this is Sondheim's sound."
Streep is passionate about the project, about the theatre and seeing the Woods in a new light. "That's the joy of the theatre — you'll see many, many different productions of things. A great piece sort of expands to the sensibility of the people that come together to make it, and it's never going to be the same," she said. "Into the Woods will have many other productions of it. It's like a great opera. There are always the people who sit on the first one they saw and think that's the definitive one, but it's a living, breathing organism, and that's what's so cool about it. A lot of movies you can't remake, but things that have a life that came from the theatre can morph and change and live and breathe in different configurations of people. That's what's exciting." Look for more from Streep and the stars of "Into the Woods" in an upcoming issue of Playbill magazine.
(Playbill.com staff writer Michael Gioia's work appears in the news, feature and video sections of Playbill.com as well as in the pages of Playbill magazine. Follow him on Twitter at @PlaybillMichael.)
Watch the Playbill Video exclusive clip of Streep's performance of "Stay With Me":