The year is 1964. President Lyndon B. Johnson is finishing up the year that would have been the final year of John F. Kennedy's first term. Mickey Mantle and Roger Maris are leading the New York Yankees to another World Series — where they would be edged out by the St. Louis Cardinals. The first World's Fair since 1939 is being held in New York. And a little British band by the name of the Beatles that appeared on the Ed Sullivan Show is now invading the charts.
On Broadway, new works abound: Jerome Robbins directs Arthur Kopit's Oh Dad, Poor Dad, Mama's Hung You in the Closet and I'm Feeling So Sad, Mike Nichols helms Neil Simon's Barefoot in the Park, Christopher Plummer stars in Arturo Ui and Kirk Douglas stars in One Flew Over the Cuckoo's Nest. As for musicals, Jerry Herman and Michael Stewart adapt Thorton Wilder's "The Matchmaker" into Hello, Dolly! for the stage. Star Carol Channing plays the title role of Mrs. Dolly Gallagher Levi. Meanwhile, a new Jule Styne work opens on Broadway at the Winter Garden.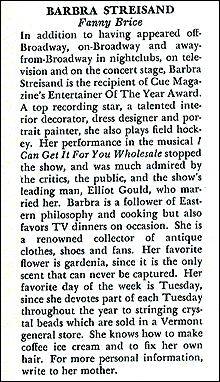 Barbra Streisand's "Who's Who."
Songstress Barbra Streisand — whose bio in the signature "Who's Who in the Cast" mentions her leading man-husband Elliot Gould, her love for TV dinners, antique clothes, Tuesdays and field hockey — and Sydney Chaplin boast above-the-title status. Composer Styne, with the help of lyricist Bob Merrill and librettist Isobel Lennart, creates the musical about the life of comedienne Fanny Brice that produces memorable songs like "People" and "Don't Rain on My Parade." Garson Kanin directs the production supervised by Jerome Robbins.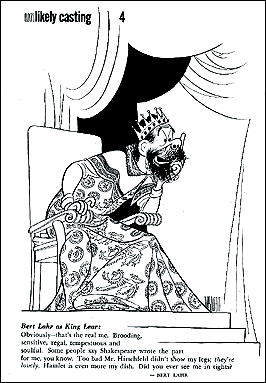 The title page in the Funny Girl Playbill.
In the Playbill, among advertisements for cars (the "sleek new Buick Skylark," the "roomy" Oldsmobile Vista-Cruiser and the "Jet-smooth luxury" of Chevrolet Impala), perfumes, cigarettes and plenty of alcohol, are full-pagers for original cast albums (of Channing in
Hello, Dolly!
and Carol Burnett in
Fade Out Fade In
) as well as three Streisand records — vinyl, that is.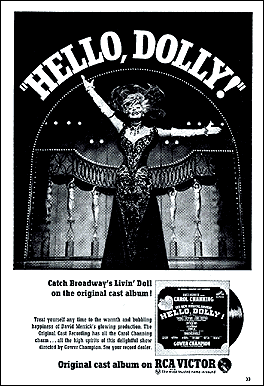 An ad for the cast album of Hello, Dolly!
Editorial featured in the Playbill include a season round-up, a John Houseman penned article about theatre in California, the signature theatre quiz, an Al Hirschfeld "unLikely Casting" caricature of Bert Lahr as the "brooding" King Lear (accompanied by the comic actor's reaction "Obviously — that's the real me...") and a "Stars of the Future" feature in which directors Herbert Machiz, Gower Champion, N. Richard Nash and Jose Ferrer predict big things for actors Sheila Sullivan, Mary Jo Catlett, Scooter Teague and Alix Elias, respectively.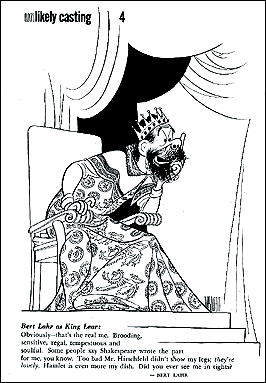 Al Hirschfeld's "unLikely Casting" of Bert Lahr as King Lear.
According to theatre historian and Playbill archivist Louis Botto, Streisand won her role in
Funny Girl
because of her performance — and only other Broadway credit — in
I Can Get It for You Wholesale.
"She stopped the show with that one song, 'Miss Marmelstein,'" Botto recalls. "I was a senior editor at [the magazine] Look at the time and they sent me backstage to the Winter Garden to interview Barbra right after the show opened. The interview was interesting because fans used to wait for her at the stage door with paintings and sketches of her that they did and she had her dressing room all decorated with these marvelous [works of art.] But, all the while I was there, she kept writing and finally I said, 'May I ask you what you're writing?' She had just come off the stage at the final curtain. 'Oh,' she said, 'every night I give notes to the cast and tell them what they did wrong.' It was a big hit, of course, and I went back many times to see it. She was absolutely marvelous in it."
Streisand and the musical itself lost the Tony Award to Carol Channing and Hello, Dolly! — which won an unprecedented 10 awards. Perhaps, the actress would find solace years later when cast as the lead in the film versions of both productions.
This is the first edition of a new Playbill On-Line feature called "Playbill Archives." It will offer a periodic look back at Broadway and Playbill history, timed to accompany a new production or concert reading of a show from theatre's past. The Actors' Fund of America will present an all-star concert reading of Funny Girl in New York City on Sept. 23.