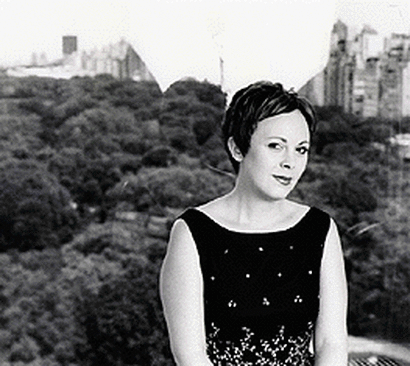 Cabaret singer Amy Schmidt continues to sing the work of emerging musical theatre writers, plus tunes from Broadway's upcoming Time and Again, in Something Else, an evening of new songs written by members of the BMI-Lehman Engel Musical Theatre Workshop.
Lennie Watts directs the cabaret performance Oct. 14, 18 and 25 at Judy's in Chelsea, 169 Eighth Avenue, between 18th and 19th Streets. Songwriter Elaine Chelton, principal soloist for New York City Ballet, is music director. Songwriter-singer David Cornue will join Schmidt in duets.
The first of four performances was presented Oct. 7.
The BMI-Lehman Engel Musical Theatre Workshop is the nonprofit crucible of craft where Alan Menken, Stephen Flaherty, Carol Hall, Lynn Ahrens, Richard Engquist, Skip Kennon, Maury Yeston and countless others have honed their theatrical songwriting skills over the years.
Kennon is artistic coordinator and first-year moderator of the workshop. Something Else will focus on new writers (plus two songs from veteran Walter Edgar "Skip" Kennon's Time and Again), with music and/or lyrics of Chelton, Cornue, Sam Davis, Sam Holtzapple, Jerome Hughes, Donna Kaz, Solbong Kim, Ken Lai, Loretta Novick, John Thomas Oaks, Schmidt, Nancy Stark and Gerald Stockstill.
Schmidt was last seen as a singer-lyricist at Don't Tell Mama in I Can't Sleep Now and We're Not in Kansas Anymore, both with collaborator C. Lynne Shankel. Her lyrics have been heard in Miss Coco Peru's Liquid Universe at the Westbeth Theatre and in MAC Award nominee Watts' show, Standing Outside the Fire.
Recently, she was a featured singer in the Northeastern Theatre's salute to lyricist Susan Birkenhead.
All shows are at 8:30 PM. Tickets are $12 plus $10 minimum. MAC and BMI workshop members pay $8 cover.
Reservations are strongly recommended. Call (212) 929-5410.
-- By Kenneth Jones