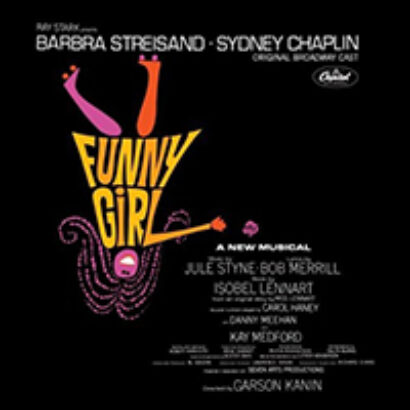 *
Fifty years ago, the Jule Styne-Bob Merrill Funny Girl opened on Broadway. Fifty years ago, Jerry Herman's Hello, Dolly! and Bock and Harnick's Fiddler on the Roof also came to town, as did Stephen Sondheim's Anyone Can Whistle; but none of the latter three has been celebrated with a digitally remastered 50th Anniversary Deluxe Edition boxed set retailing for well over one hundred dollars. But then, it's not the score of Funny Girl that's the attraction. It's the funny girl.
The "People" musical and Barbra Streisand are intrinsically linked, of course; the thought of one without the other has made the prospect of a big-time revival problematic, and not without reason.
The Funny Girl story starts with an aspiring film producer called Ray Stark, whose first major movie was "The World of Suzie Wong" in 1960. Two years earlier, his production company — Seven Arts Productions — had served as associate producer of the hit Broadway version of Suzie Wong, produced by David Merrick. (Most likely this means either that that Seven Arts funded the Merrick production in exchange for the film rights, or that Seven Arts already had an option on the underlying novel when Merrick came along.) Just after the play opened, Merrick went into production with a musical biography of Gypsy Rose Lee.
Stark apparently watched with close interest; his mother-in-law, Fanny Brice, had been a considerably bigger star than Gypsy. When the prospect of a Fanny Brice musical came along — Mary Martin was announced to star, in 1960 — Stark invited Merrick to co-produce the show. (They called their joint venture "The F B Company.") Merrick brought in Gypsy songwriters Styne and Sondheim, and Gypsy director/choreographer Jerome Robbins. Sondheim quickly withdrew; he didn't much want to write lyrics to someone else's music, anyway. The new lyricist was Bob Merrill, who had written Take Me Along and Carnival for Merrick. When Robbins withdrew, they eventually wound up with Garson Kanin, who had directed The Good Soup and Do Re Mi for Merrick. The stars, too, came from Merrick musicals: Streisand from I Can Get It for You Wholesale and Sydney Chaplin from Subways Are For Sleeping. So this was something of an all-Merrick production.
Funny Girl was delayed and delayed, finally going into production in December 1963. At the end of the first week of rehearsal, Merrick — foreseeing severe battles between the director and the star, fed up with Stark, and watching Dolly! build into a major hit during its Washington tryout — allowed himself to be bought out. Merrick didn't mind backstage turmoil, not in the least, but he was used to himself being the center of the turmoil. Here, Stark — as husband of Fanny Brice and Nicky Arnstein's daughter Frances — had control.
Funny Girl endured a difficult path to Broadway, with the six-week tryout being extended by a month as they tried to fix the show. Along the way, book doctor John Patrick was hired and fired, after which Kanin himself was fired and replaced by Jerome Robbins. Kanin retained contractual billing as director, with Robbins deemed "production supervisor." Choreographer Carol Haney — who danced "Steam Heat" for Robbins in The Pajama Game in 1954 — was fired, too.



Photo by Henry Grossman
(In 1980 Kanin wrote the novel "Smash," about a troubled Broadway biomusical of vaudeville star
Nora Bayes
. In the course of which the director was fired during the tryout and replaced by a "production supervisor." Although in "Smash," Kanin has the original director brought back at the last minute to save the show.) As for Robbins turning
Funny Girl
into a hit, the key was Streisand. If something didn't work — and a fair amount of the show didn't work — the solution, again and again, was to throw it out and write something new for the star. The fact that Streisand was so good — and possessed of super-human strength, stage-wise — allowed them to just keep expanding the role. In the finished version, there are two old-fashioned songs for Fanny's mother (the duet "Who Taught Her Everything" and the trio "Find Yourself a Man") and one negligible chorus number ("Henry Street"). Streisand participates in everything else. (Fanny doesn't sing in the opening number, "If a Girl Isn't Pretty," but she has dialogue throughout the song.) Chaplin, who started out as full co-star, wound up with only two songs — and Streisand joined him on both. "You Are Woman, I Am Man" wasn't working on the road, so they added a comedy counterpoint for Streisand — HE: "A bit of paté?" SHE: "I drink it all day" — and it became an instant highpoint.
This wasn't Streisand grabbing the spotlight; it was everyone using Streisand as a life preserver. All of this made Funny Girl a hit, but it is also the bane of Funny Girl: You need someone as good as Barbra Streisand to pull it off, and how many people have come along over the last 50 years as good as Barbra Streisand?
All of this, it seems to me, is kind of interesting. The liner note for the 50th Anniversary Deluxe Edition boxed set, by Jay Landers, is long, involved and handsomely designed, with 48 pages including numerous interesting photos of the show. It does not, however, tell us much of anything about Funny Girl. It talks about the star — not unreasonably, I suppose — and discusses her recording career (including the Funny Girl cast album) at length.
This leads us to the newly-released Deluxe Edition, which comes in a 12" square box (i.e. the size of a 33 1/3 record). Included along with the aforementioned booklet are a newly remastered CD of the original cast album — with no added tracks, in a colorful 12" square cardboard record sleeve — and a vinyl LP that is apparently remastered as well. (I don't have a turntable available upon which to play it). The LP is contained in an exact reproduction of the original gatefold cover, complete with the synopsis by Stanley Green accompanied by poorly reproduced black-and-white photos. Note that they use the original back cover of the LP and not the later printing, which removed Chaplin's photograph once he fell out of favor.
Streisand completists will presumably need to add this to their complete collections. For those who simply want the newly remastered CD of Funny Girl, though, it seems like a rather steep choice at the present tariff. (Steven Suskin is author of "Show Tunes," "The Sound of Broadway Music: A Book of Orchestrators and Orchestrations," "Second Act Trouble," the "Opening Night on Broadway" books, and "The Book of Mormon: The Testament of a Broadway Musical." He also writes the Aisle View blog at The Huffington Post. He can be reached at [email protected].)