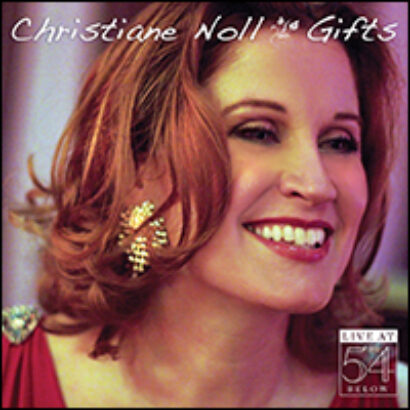 *
Christiane Noll: Gifts [Broadway Records]
What break is more coveted for a budding young performer looking to succeed in the professional musical theatre than to win a major role in a new Broadway musical? Not necessarily a hit, but one that runs long enough to be seen by people in the business and amass a core of devoted fans. While this will not necessarily make you a star, your name instantly becomes familiar among theatergoers and all those cast album collectors.
It can be a two-edged sword, though. Your name will be forever linked to the aforesaid role, unless and until you manage to get a better role in a better musical. If the musical that made you famous is unloved or even jeered at, it might possibly stick to you. That is, your name — and an assumed perception of your abilities — can be unfairly lassoed to your debut role.
Such was the case with the 1997 musical Jekyll & Hyde. A fair amount of people loved it, revisited it enthusiastically (in some cases obsessively?), and allowed it to run 1,543 performances at the Plymouth (now the Schoenfeld). Jekyll & Hyde closed with a substantial financial deficit, although income from subsequent productions here and around the world eventually wiped out the loss. There's a new production soon to arrive at the Marquis, too.
But when it originally opened on Broadway, let's simply say that I didn't enjoy the thing. The three leading players have remained tied to the show, in my memory. While I have subsequently seen each of them on various occasions in various shows, they always seem to remind me of that unfortunate evening in 1997. Which brings us to Christiane Noll, who played Emma in the musical that will henceforth go unnamed. All I remember of that performance was an unending jumble of a show. Noll was the good doctor's girlfriend and she got to sing a lot of Frank Wildhorn songs, but everyone was so frantic within that synthetically souped-up atmosphere that I found little of interest there, cast included. Noll has worked steadily ever since, giving an especially strong performance as the Mother in the 2009 revival of Ragtime and winning over this viewer as another, less fortunate mother in this season's mess of a musical known as Chaplin.
But I still thought of her, mostly, as that girl from Jekyll & Hyde. So much so that I didn't go out of my way to catch her nightclub act, Gifts, last October at 54 Below. Now Gifts comes to us on CD, and I have to say — I like her. So much so that I regret having missed her act.
Visit PlaybillStore.com to view theatre-related recordings for sale.
It is the story she tells — interspersed between the many songs, in different styles — that wins you over. Noll was a backstage kid of the concert hall variety, her father being a conductor and her mother a soprano. But Christiane grew up singing and memorizing show tunes, performing them in the kitchen for her assembled stuffed animals. She had unrestricted access to every cast album in captivity —her father's day job was as a music executive at CBS — and she took full advantage. She still does, it seems; her act includes snippets from "The Golden Ram" and "The Black Swan." "The Golden Ram" is a sub-mediocre song from the Richard Rodgers-
Martin Charnin
Two by Two
, which Noll borrows to give us a wild lampoon of the song's original singer,
Madeline Kahn
. "The Black Swan" is the grand and haunted aria from
Gian-Carlo Menotti
's
The Medium
. Atypical nightclub fare. Anyone who walks into a nightclub before paying customers and is brave enough to sing either or both of these is okay in my book. Ross Patterson is the musical director, the act was directed by Bill Castellino. Through the course of
Gifts,
we get to meet and appreciate Ms. Noll, who earned a Tony nomination in
Ragtime
— she was really very good, remember? — and who also managed to hold her own in the shambles of
Chaplin
. As you see, I need no longer associate her with that other musical.
(Steven Suskin is author of "Show Tunes," "The Sound of Broadway Music: A Book of Orchestrators and Orchestrations," "Second Act Trouble," the "Broadway Yearbook" series and the "Opening Night on Broadway" books. He also pens Playbill.com's Book Shelf and DVD Shelf columns. He can be reached at [email protected])
Visit PlaybillStore.com to view theatre-related recordings for sale.