I'm very, very excited because Disaster is moving Off-Broadway! Here's the backstory. Years ago I was doing Forever Plaid with Drew Geraci and we talked about writing a jukebox musical based on 1970's disaster movies. Mind you, this was 1993, way before the term "jukebox musical" was coined. Essentially it was when people still used jukeboxes. Anyhoo, I thought it would be hilarious to have the "disaster" be the New York City blackout from 1977. It seemed like such a minute disaster compared to all the horrible things that are featured in those films. Since the blackout took place in the '70's, I loved the idea of coupling it with 70's songs that would somehow advance the plot.
Drew and I thought the blackout should be caused by some villain... maybe a politician running for office who insists on having his name in an enormous amount of lights that blows the power grid. We then began to think of what songs we could use. I couldn't research it on the Internet, mainly because it didn't exist. Instead, I went to the Lincoln Center Public Library and began researching 70's songs. I got a bunch of them and put them in a file called Blackout '77. And that's where they stayed for more than 15 years.
Then, in 2011, Pam Pariseau, who was working with Dena Hammerstein and her charity organization called "Only Make Believe" (bringing theatre to hospitalized children) called me and asked if I'd do a benefit for them. I'd always performed in their yearly fundraisers (with people like Ian McKellen and Jude Law!) and I did Deconstructing Broadway for them and it sold out. So, Pam asked me if I'd do a new show. Dare I try to haul up Disaster?
I knew having a deadline would be a perfect way for a person like me (with ADD) to finish something he'd been "working on" for 15 years. I thought about the blackout idea and realized it would be difficult to light the whole show if it took place in the dark. Then I reminisced about all the various disasters that were featured in those '70's films and thought it would be amazing if they could all could be in the show! Forget a blackout — what about an earthquake, inferno, tidal wave, killer bees, sharks etc...?!
Drew wound up being super busy, so I wrote most of the script with my friend Jack Plotnick. But first he forced me to begin. For weeks, Drew and I had been tossing ideas back and forth but pen had never been put to paper, or more specifically, finger had never been put to keyboard. Then, in the middle of February 2011, I saw Jack at a charity event I was doing in Palm Desert for Desert AIDS. I told him all the ideas for the script. He loved them and asked me when the show was going to happen. I muttered that it was in two months. He had a momentary breakdown and then literally opened my computer and typed, "Act One, Scene One." Seeing it on the screen made me think, "OMG! This is really going to be a show." I cast the show a la Charles Busch when he did Vampire Lesbians of Sodom, meaning I called my friends and offered them roles. I asked Denis Jones (who had done an amazing job on They're Playing Our Song when I starred in it with Sutton Foster, Watch!) to direct/choreograph and my friend Steve Marzullo signed on as music director. Steve and I go way back. He first hired me to sub for him on piano at Grease. Then I did Seussical and Mamma Mia! for him as well. Anyhoo, after a few days of rehearsal with everyone, we realized we couldn't be off book in such a short amount of time, so we decided to use our scripts for the performance. Regardless, it was still thrilling to put the show on its feet and see what worked.
Dena's son owns the downtown club called "The Box" and he gave us a deal to do the show there. I was excited to be in a new space, but I didn't realize The Box is a modern-day burlesque house. What do I mean? Well, when we first got there to rehearse, let's just say we were "surprised" by what we saw. The downstairs bathrooms are very... interesting. For instance, one toilet has stirrups (!) next to it and a mirror on the ceiling. Think about it. Nonetheless, we performed the whole show, it sold out and the audience went crazy. A big-time Broadway producer was in the audience and decided to do a workshop of the show. We quickly hauled it up again for two performances and had an amazing time. Then... nothing. We didn't know if were supposed to wait for an offer from him, wait for an offer from a regional house or what. A few months passed and my not-yet husband James and I were sitting at Aroma on 72nd Street and trying to figure out where to do Disaster. Should we pitch it to an out-of-town theatre? I was not into it, because I'd have to leave town for weeks. Suddenly James pointed across the street and said, "Why not put it up yourself at the Triad?" After a lot of me saying it wouldn't work because the stage is too small, we decided it was a great idea. Most of the cast/creative team were still available and we decided to do the show on Sundays. Joe Trentacosta from Springer Associates signed on as our publicist and sent out reviewer invitations, but I assumed they would wait a while to come. Our first performance went very well, but it was really difficult doing the show with so many days in between performances. Our backstage was always filled with everyone hunched over their scripts, seeing what the next scene was. And people were constantly running lines to themselves because it was hard to remember anything after six days off. On the third performance it was worse than ever.
I play Dr. Ted Scheider, the disaster expert, and at one point I was supposed to run onstage, make an announcement, have someone tell me to be quiet and then yell, "Let me speak." Well, I started speaking and no one told me to be quiet. Wonderful. I guess I could have improv'd something, but instead I bizarrely became a total purist and stuck to the script. In other words after an awkward silence waiting for the line telling me to stop talking, I suddenly said for no reason, "Let me speak!" The audience was like, "No one isn't letting you speak. What's happening?" That was just one of the many mishaps of the night. I was actually sitting backstage with my head in my hands because I couldn't believe how many things were going wrong. Well, as luck would have it, it was the night that Joe Trentacosta sent the New York Times to review us! Luckily, I didn't find out until our leading man, Zak Resnick, texted me with, "Um…I think we just got an amazing New York Times review," and I went to the link. Regardless of my trauma, the review had quotes like "triumph," "irresistible" and the last sentence was, "You'll be tickled and, despite your best judgment, probably singing along." Wowza! It just goes to show that one's perception onstage is not the same as from the audience.
The remaining shows sold amazingly well, but we couldn't sustain a run because only having one performance a week can't generate enough money to pay all the other aspects of a show. After we closed, I didn't know what to do with the show. Go regional? Oy, I couldn't leave town. We decided to do it in New York, but where? Then James got his show Unbroken Circle produced at the Theatre at St. Luke's and we wondered if Disaster could run there, too. All the musicals that play at St. Luke's only have a few people in them and Disaster has a big, fat 14! Would it sound horrific? Well, we brought in a great sound designer who told us that a big musical could indeed work there (if we rented some equipment) and soon we raised the money to make the show happen!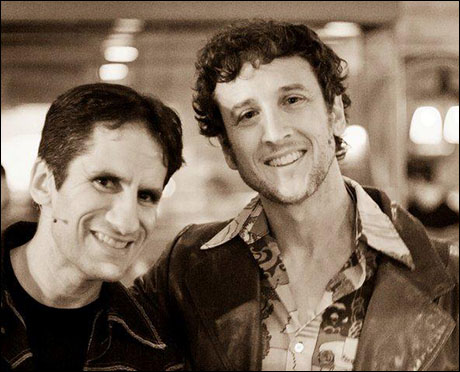 I've spent the last two weeks in auditions (most of the original Disaster cast have other jobs) and we're almost totally cast. I'm so happy with the leads we've announced so far: Michele Ragusa is playing the nightclub singer who has terrible taste in men, Jennifer Simard is the nun with the gambling addiction and Mary Testa is Shirley, the older Jewish woman with a terrible secret. Right after the press release went, out Donna Lynn Champlin wrote me on Facebook, saying, "Congrats on the funniest cast of character women EVER." I agree! We're having more auditions this week for the remaining roles and begin previews Oct. 14. Here's the video Jack and I made with B-roll from the last production. Watch! And then, go buy tix. Last week, James and I went to see Emily Skinner at 54 Below. She is so brilliant. Such an phenomenal actress... both dramatic and comedic. She introduced her Sondheim song saying that she had a request to sing it and first said, "I'm too young! That song is sung by a middle aged woman. (pause) Uh-oh." Then she did such an incredibly well-acted version of the song. She talked about being an out-of-control child who almost failed kindergarten. Seriously! However, before she had to go to summer school, her teacher told her that she could have 15 minutes per day to entertain the class. Whatever she wanted to do! But after that, she had to sit and be quiet. Emily was thrilled! She did comedy, lip-synching to Jackson 5 albums and tap dances without actual tap shoes, and it saved her academic career. I, however, was not afforded such an opportunity. Instead, in 10th grade I was so disruptive to the class that I forced to sit in my own row. And that's why my major in college was "piano."
This Thursday at Unbroken Circle is LGBT night! Go to www.BroadwayOffers.com, put in the code UCLGBT35 and you'll get $35 tix and a free drink after the show at Southern Hospitality. I'll be at the show with my date, Emily Skinner! For reals. AND next Sunday and Monday I'll be performing with the comedy genius, Varla Jean Merman, at 54 Below. Tix here: http://54below.com. If you've never seen Varla perform, watch this. Hilarious. Until then, peace out!
(Seth Rudetsky is the afternoon Broadway host on SiriusXM. He has played piano for over 15 Broadway shows, was Grammy-nominated for his concert CD of Hair and Emmy-nominated for being a comedy writer on "The Rosie O'Donnell Show." He has written two novels, "Broadway Nights" and "My Awesome/Awful Popularity Plan," which are also available at Audible.com. He recently launched SethTV.com, where you can contact him and view all of his videos and his sassy new reality show.)