*
This week featured my debut in the Wall Street Journal! I've never been mentioned in that paper before, probably due to my standing on Wall Street itself. (I'm a horrific credit risk.) Nonetheless, one of Disaster!'s investors, Alec Stais, is a reader of Ralph Gardner's columns and invited him to the show. Ralph came and then told us he wanted to write a feature about Disaster! So exciting! We did a long phone interview, and then he asked to meet us for a live interview. Well, here's where the problems began. We met around 6 PM and I was nervous that we'd talk for a while and I'd barely make half-hour call for the show, so I got decided to get into some of my costume early... the white t-shirt I wear underneath my maroon turtleneck and tweed blazer.
I don't know why I thought having that one item of clothing would radically speed up the process of getting into costume later on, but nonetheless I put on my t-shirt right after the Judy Gold put-in rehearsal and then met Alec and Ralph at Obao, a nearby restaurant. When I walked in, they introduced me to the photographer who would be taking pictures for the article. Photographer? I was not dressed for photos! If I took off my coat, the photo would have me in a Hanes t-shirt that made me look like a vaguely out-of-shape Stanley Kowalski.
The photog asked us to sit at the bar while he took photos, so I decided to cover up my A Streetcar Named Desire look and keep my winter coat on. But since it's bizarre to be sitting casually at the bar in a high-necked winter coat, I unbuttoned it. But I also kept my scarf wrapped around me, hopefully covering my t-shirt's Loni Anderson plunging neckline. I finally saw the photo when the article came out, and let's just say that my blouse is the least of my worries. Remember the Madonna song where she rapped, "Bette Davis gave good face?" Well, I give "mugging Jew face." Alec looks fantastic, and I look like someone who could co-star in Side Show opposite Fran Lebowitz. I sent the photo of me to Andrea Martin and told her that it highlights by gradual transformation into Fran Lebowitz. She wrote back "I wouldn't say gradual. Full blown." True 'dat. Here's the article.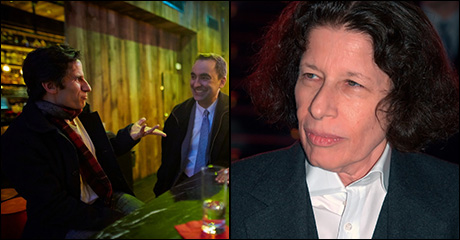 My SiriusXM show, "Seth Speaks," had a fun combination of people. Right now, James and I are suddenly very into doing cardio because we watch TV on our phones at the gym and Hulu PLUS now carries all the "Amazing Race" seasons. OMG! We're obsessed! I had Tom and Terry, a team from Season 10 that I met when Rosie O'Donnell invited them to come on the Family Cruise years ago. We never saw their season until recently and I had to chat with them! They told us that when you're chosen for the race, you can only tell three people, maximum! You sign a contract that if you tell anyone else or if you give anyone information about the race, you're liable for millions of dollars. So, everyone at their jobs didn't know why they were missing for three weeks. Tom's co-workers thought he was adopting a baby and Terry's co-workers thought he was having surgery. What kind of surgery? A sex change. Isn't that everyone's first guess when they think of a medical procedure? Anyhoo, their season is so fantastic. And so hard! Turns out, the seaons before featured the "Family Edition," which was a big dud. Because there were little kids on that show, the challenges were only difficult if you were a toddler. So the producers decided that the next season would be more like Survivor and have incredibly difficult challenges... but they didn't tell the participants! So Tom and Terry showed up ready to do typical "Amazing Race" challenges that are usually more on the tedious side rather than physically challenging, and instead they had to start the first episode by climbing the Great Wall Of China! Literally! It was a nachtmare!
Plus, Tom and Terry told me there are "Amazing Race" stalkers who run around the world trying to track down the teams in different countries, so the producers get actors who look like the teams to show up on episodes after a team has been eliminated to throw the stalkers off track. That way no one can figure out how long certain teams last in the show. So, after Tom and Terry were eliminated, there was a fake Tom and Terry lookalike team sent to the next city (Kuwait)! Tom's brother read a stalker blog that talked about Tom and Terry being in in the city after Vietnam so his family wasn't nervous watching the Vietnam episode. As a matter of fact, his Mom was so secure that her son would triumph in that episode that she scheduled a big, fat dinner party so she could watch it with all of her friends. Well, instead of Tom and Terry continuing with the race, the entire dinner party watched in horror as they were the last team to arrive. "Dessert?" Silence.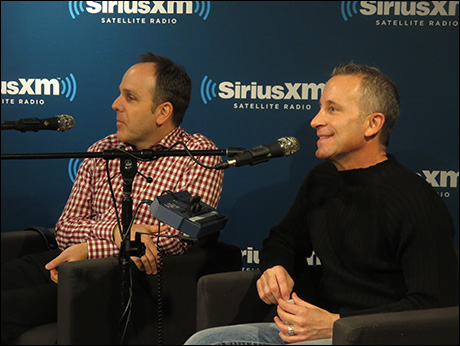 photo by Robb Johnston
Randy Graff

Photo by Robb Johnston
I also had Randy Graff on "Seth Speaks" because she's doing her own show at 54 Below. She revealed that her first Broadway gig was the infamous Sarava! Infamous not only because of the ubiquitous TV commercial that ended in a close-up of Tovah Feldshuh sassily saying "Sarava!" but also because the show refused to open! The buzz was the that the show would probably get bad reviews but it was actually doing good business based on word-of-mouth so the writer/producer Mitch Leigh (who wrote Man of La Mancha) decided to simply never open. Yes, the show was running eight times a week, but it never "opened," meaning critics were never invited to review it! Finally, according to conductor David Friedman, the critics "stormed the show" and printed their scathing reviews... causing the show to close. But before that happened, Mitch Leigh kept the previews going for six months!
Randy then went from regional theatre to regional theatre until she had an audition to play Fantine in Les Miserables. Of course, now it's in its second revival, but this was the original Broadway production that boasted a running time of three hours and fifteen minutes. Randy did great at her first audtion, but began have anxiety about her call back. Her voice teacher gave her a relaxation tip: Drink a half glass of white wine before going in. (Red wine would dry her out.) Randy went in, started singing "I Dreamed a Dream" and cracked on every high note. Finally, the director stepped forward and assured her that he knew she could sing. He told her what he wanted to see during the song was her having a nervous breakdown. That wasn't difficult she he was basically having one anyway, and she would up getting the gig!
I asked her about any onstage mishaps, and she remembers singing "I Dreamed a Dream" one night and seeing the entire balcony start filing out. Suddenly an announcement was made to clear the theatre because of a fire! She said the sidewalk looked bizarre outside the Broadway Theatre because it was filled with audience members mixed amongst actors in full costumes and wigs. She also remembered the time that Colm Wilkinson forgot to enter during their duet. She sang the beginning of "Fantine's Death" ("Cosette, it's turned so cold…"), and when the song got to the moment when Colm enters and sings "Oh, Fantine, you're time is running out…" he didn't enter. Silence. Randy said, "I dragged my dead body back to bed" and she covered by humming weird song phrases. Finally, Colm ran onstage and as he sang phrases like "Your child will want for nothing" he would then whisper "Randy! I'm so sorry!" throughout the song.
Right after Randy's interview, I had Terrence Mann and Charlotte d'Amboise on Thursday's "Chatterbox," and I asked Terry if he remembered Colm's missed entrance. Well, not only did he remember; he admitted that he was the reason it happened! He told us that he, Colm and Leo Burmester (who played Thenardier) would hang out offstage before Fantine's death scene and then again after the death scene. After the death scene, Colm would change his outfit to prepare for a scene later in Act One. Well, Terry, Leo and Colm were talking about Irish whiskey, and Colm had lots of opinions. He was distracted as he was talking and therfore started taking off his costume to get ready for the scene after Fantine's death even though it hadn't happened yet. Leo started to say something but Terry quietly stopped him. Terry and Leo watched Colm talk and undress and suddenly they all heard Randy humming those weird song phrases. Colm yelled, "You bastards!" and frantically started getting dressed. Sadly, he had to put on the kind of pants that have ten buttons in a square around the top so it took extra long. I guess Les Misérables was three hours and twenty minutes that night.
Terry and Charlotte reminisced how people on Broadway in the '80s used to always pull pranks on each other, and in next week's column, I'll tell you some more! Randy did a hilarious Playbill "Obsessed" video with me where she gives her theory about why belting on Broadway is so crazily high these days. Watch! Next week I'm beginning my week-long celebration of my birthday (Feb. 28) and we'll have prizes for the audience at every Disaster! performance. And Feb. 27 at 7 PM, we're having Gay and Lesbian night! Come to the show, see gay and lesbians onstage (me and Judy Gold!) as well as in the audience. (Jonathan Groff is coming that night!) Then afterwards, hang out with cast members and get a free drink at nearby and fabulous Southern Hospitality! Go to BroadwayOffers.com and put in the code DILGBT for the deal! And on that note, peace out!
(Seth Rudetsky is the afternoon Broadway host on SiriusXM. He has played piano for over 15 Broadway shows, was Grammy-nominated for his concert CD of Hair and Emmy-nominated for being a comedy writer on "The Rosie O'Donnell Show." He has written two novels, "Broadway Nights" and "My Awesome/Awful Popularity Plan," which are also available at Audible.com. He recently launched SethTV.com, where you can contact him and view all of his videos and his sassy new reality show.)