Greetings from beautiful Provincetown. I'm gearing up to play Classical Varla Tuesday night, which is a fundraiser for the AIDS Support Group of Cape Cod.
If you don't know, Varla Jean Merman is a character created by Jeff Roberson, and I must say that he's one of the most talented people I've ever met. If you've never seen Varla, get info about her at www.varlaonline.com and watch this hi-larious video. It's a video to the song "Dark Lady" by Cher. http://sethrudetsky.com/blog/. If you're in P-town, come see my show, [AUDIO-LEFT]Deconstructing Broadway, on Wednesday night at the Art House, and here's a video of the great Christine Pedi who's spending the summer out here doing her own show at the Post Office Cabaret. PS, the audience freaked out when she did Angela Lansbury as Mama Morton in Chicago. http://sethrudetsky.com/blog/.
Last week was chock full of Broadway. On Monday, I hosted and music directed the yearly fundraiser for the New York Civil Liberties Union called Broadway Stands Up For Freedom. Liz Callaway asked me a week ago if I wanted to see her music before we had tech rehearsal, and I tersely informed her I was a piano major at Oberlin Conservatory and was therefore an excellent sight-reader. Of course, she showed up with an impossible-to-play Sondheim piece. I immediately tried to contact Madeleine L'Engle to see if I could travel back in time so I'd be able to practice it in advance ("A Wrinkle In Time"? Anybody?). Lacking Madeleine's current contact information, I instead asked Liz if I could have five minutes to work on it. As I was clanking my way through, Liz threatened to record it and put it up on YouTube to get me back for all of my sassy deconstructions. Rude! If I didn't completely deserve her sass, I'd take this Liz Callaway lauding off my website: http://sethrudetsky.com/blog/2010/05/03/deconstructing-liz-callaway-in-baby/.
Anyhoo, the most bizarre/interesting/hilarious intro to a song came that night from Nellie McKay, who sang "Caribbean Time," one her new original songs. She told the audience that the song was appropriate for an NYCLU event because it was inspired by an event that had to do with freedom. She asked people if they ever went on vacation and forgot something, but then didn't want to buy it because they had so many at home. Well, she went to the Caribbean and forgot her sanitary napkins! She didn't want to buy new ones because she had so many at her apartment plus "they're bad for the environment." So, she pulled a Swiss Family Robinson and made her own. She put leaves and other natural things together and used it while she was away. She told everyone that it worked but was crazily lumpy. Well, while she was coming back into the country and going through the airport, she got stopped at airport security because they felt a lump during a random pat-down. She kept muttering that it was her homemade pad, but no one heard/understood so she finally had to loudly intone in the airport, "It's my time and that's my pad!!!!" I still didn't quite know what that had to do with the song, until she said that the original title was "Caribbean Time Of The Month." Brava? On Wednesday I had Hunter Ryan Herdlicka at my Sirius/XM Live on Broadway show. He told us that he auditioned for A Little Night Music before he graduated Carnegie-Mellon, and he felt no nervousness because he figured he'd never get it. He did, however, go into a panic once they asked him to come back to sing for all the creative staff and Stephen Sondheim, whom he worships. Cut to the day of the call back, he gets on the elevator to go up to the audition room. Who gets on with him? Stephen Sondheim. They are the only people on the elevator. Finally, Hunter feels he has to acknowledge reality, so he said, "Hi, I'm Hunter. I'm here to sing for you." And, Sondheim said, "Hi, I'm Stephen. I'm here to listen to you." Simple, direct…awkward. Regardless, he got the gig, and I just saw it again with the new leads on Thursday. James and I were exhausted when we got to the theatre but immediately said it was worth it just to hear Elaine Stritch's opening scene. She really was amazing. Her comedy and acting is impeccable. And, Bernadette Peters is perfectly cast as Desiree. Of course, I always obsess about the weirdest aspects: For instance, I loved seeing Bernadette dance in the very opening waltz (even though she's hidden all the way in the back). Brava triple threat! I loved that at one point she hums along with something, and she does it in full soprano (most Desirees are smoky baritones), and I loved that her bustle dress made her look like Dot in Sunday in the Park. Brava call-back to her 80's Sondheim career! And, I must say again, Erin Davie was brilliant as Charlotte. She's so wry and full of self-hatred and unwilling/unable to change her life. It's an amazing performance, and I'm irritated she's not called out more for being fantastic in the show.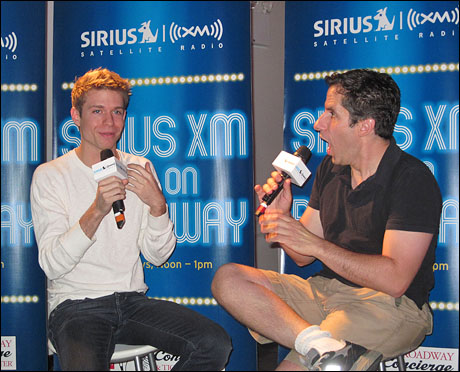 At the Wednesday show, I also interviewed Wesley Taylor and Krysta Rodriguez, who play the young couple The Addams Family. I asked them about the audiences, and apparently they recently saw someone who A. not only showed up in the audience with a blanket, but B. snuggled into said blanket and then promptly fell asleep. It's one thing to fall asleep during a show because you can't help yourself, but if you actually bring a blanket, it seems like you might have an inkling of what's going to happen. Why not just stay home? Isn't it uncomfortable? Unless… maybe theatres should make their seats more like First Class on Virgin Airways and have them lean all the way back into a bed. Ah. A $150 dollar two-act nap. I then asked him what Rock of Ages was like Off-Broadway and specifically, how annoying/drunk the audiences were. He said that the show begins with non-stop music and after around ten minutes, the first scene happens and he was one of the three actors in it. As soon as the music stopped and the scene began, someone in the audience yelled out "BORING!" It's actually a more succinct version of what my friend Jason Little heard at Sunday in the Park With George back in the 80's. During the second act, some woman in the balcony kept repeating, "You're boring me! You're boring me!" It actually reminded me of when I was doing Forever Plaid Off-Broadway in the 90's and a drunk woman in the audience kept talking during all the scenes saying, "Why does this have to be so boring? It was nice while they were singing, but now it's BORING!" Finally, we hoped it was over because poor Drew Geraci had to deliver the poignant speech at the end of the show that convinces the Plaids to give their final performance. He describes the great feeling they all get from singing harmony together and what it will be like when they hit their ending chord. After he describes it, all the Plaids are supposed to take in how gorgeous it will sound. The speech ends like this:
FRANKIE: …and then…we cut off.
Silence. The Plaids are completely quiet, thinking how beautiful the moment could be and replicating that stillness that happens after music ends.
The night of the "Boring!"-screaming woman, this is what happened. She was quiet throughout the whole speech, Drew got to the end and-
DREW: …and then…we cut off.
Silence. The Plaids are completely quiet-
CRAZY LADY: Boring!
Again — simple, direct, awkward.
On Thursday I interviewed Jason Marks, who just won the Staybridge Suites Big Broadway Break Contest. He not only won $5,000 in living expenses for New York City, but he also won a six-month stay at the fabulous new Staybridge Suites here in Times Square! How can I enter that contest? I decided to feature some other people who need a Broadway break, so I called up Anne Steele, whom I always work with on the rFamily Vacations. She told a (devastating) story that had happened a few years ago: She sang at an event in front of Stephen Schwartz, and he loved her so much, he got her an audition with his son Scott, who was directing a national tour of Hair that was Broadway-bound. She got the tour and right before it left town, the whole thing was cancelled. That's always a fun thing to have happen especially when it's your first big break. I asked her to sing "Gravity" because I so loved how she did it when we were at Club Med. Watch http://sethrudetsky.com/blog/. Then I brought up Carrie Manolakos to the stage. She sang at the NYCLU benefit, and I think she is crazily talented. Such a gorgeous voice that reminds me of the great Eva Cassidy. And she has the nerve to write her own songs as well. Here's a song she wrote and played for herself (!) at the Gypsy of the Year competition. http://sethrudetsky.com/blog/.
I am finishing this column on my lovely deck outside my P-town apartment. I meant to write some of this out here, but didn't mean to spend quite as much time in the heat. That's right, as I closed the door behind me, it locked. I'm sitting here waiting for the real estate woman to let me back in so I can finally take a shower. Speaking of which, this morning I went to buy some shampoo. I walked into a hair salon, and when they asked me what kind of hair I had, I said, (jokingly) "Thick and falling out." The hairdresser recommended a shampoo that could help, and I noticed that they were divided into different numbers. I picked up one that was number eight, and the label said it was for hair that wasn't as full as it used to be. The cashier asked the hairdresser which number I should use. He ran his hands through my hair and yelled out, "Number two." Okay… first of all, number two is six numbers lower than eight and secondly, when I looked at the bottle, the label simply said "Thinning." Yet again — simple, direct… devastating. Peace out!
Seth Rudetsky has played piano in the pits of many Broadway shows including Ragtime, Grease and The Phantom of the Opera. He was the artistic producer/conductor for the first five Actors Fund concerts including Dreamgirls and Hair, which were both recorded. As a performer, he appeared on Broadway in The Ritz and on TV in "All My Children," "Law and Order C.I." and on MTV's "Made" and "Legally Blonde: The Search for the Next Elle Woods." He has written the books "The Q Guide to Broadway" and "Broadway Nights," which was recorded as an audio book on Audible.com. He is currently the afternoon Broadway host on Sirius/XM radio and tours the country doing his comedy show, "Deconstructing Broadway." He can be contacted at his website SethRudetsky.com, where he has posted many video deconstructions.