Hello from Norway! And goodbye to James! Wah. The good news is Unbroken Circle (the play he wrote) is going strong Off-Broadway. The bad news is, James got on the cruise Sunday afternoon and left Tuesday morning. He has to get back for the Wednesday matinee, which is especially important because it's Jennifer Simard's first performance playing his sister, Edna. If you've never seen Jennifer's brilliance, watch this Obsessed video I did with her. And come see the show Wednesday, Thursday or Sunday! UnbrokenCircleThePlay.com.
This is the third country I've been to since starting the "Broadway On The High Seas 3" AKA the Playbill Cruise. First, James, Juli and James' mom Elizabeth and I flew to Stockholm, Sweden. Not only is it the home to Peter Joback (the current Phantom) and ABBA, but it's also a really gay-friendly country! First, the flight attendants told us that SAS Airlines has been giving domestic partner benefits since the '80's! They also told us that this weekend was the gay pride festival in Stockholm. We assumed it meant that gay people in Stockholm would be celebrating.
Turns out, it meant that Stockholm would be celebrating! Everybody was part of the celebration. There were tons of families and kids carrying rainbow flags and there were flags flying in front of theatres and on the trams and buses. It was amazing! At one point, a bus went by that had the word "Sofia" above the driver's window because it was the final destination, but James and I decided that in honor of gay pride, every bus driver put the name of his favorite "Golden Girls" character in their front window. I was holding out for the Blanche bus.
The good news about Stockholm was that we stayed at a beautiful hotel called Nobis. The bad news was that we got there at 9 AM after flying all night and they told us our room wouldn't be ready until at least noon. James' mom's rom happened to be available so I told him to go sleep there since he hadn't slept at all on the plane (I fell asleep for two hours). Juli was wide awake and wanted to stay up so she was fine, and I decided I'd take a nap in the inner hotel lounge. There was hardly anyone there and there were tons of chairs, including a couch that was as big as a bed. I went to the couch and laid across it, but within five minutes someone walked over and told me that napping wasn't allowed. I guess the hotel has a strict "no nap" policy. So, I stayed up til noon. No room. 12:30. No room. Finally, 1:15 my room was ready. I went up, got settled in and then remembered that all the Playbill entertainers were scheduled for lunch at 2 PM. Suffice it to say that by the time I went to bed, I'd been awake for enough hours to have seen Nicholas Nickleby, both parts of Angels In America and the original Les Miserables featuring all four "Little People" verses.
The next day we went to "Grona Lund" which is a Swedish Amusement Park. It was very old school...in the sense that no one seemed to care if people fell and killed themselves. There was a fun house that you entered by climbing a ladder that had separate rungs for each foot. Each rung continuously moved up and down, separately. So, if you didn't lift your foot off in time, you wound up being forced into a crazy split. I haven't stretched since 1991 and was on the verge of falling off many times. I looked down and noticed there wasn't a safety net, but there was a concrete sidewalk. No one seemed to freak out, though! I saw one mother climb it one-handed because she was holding her toddler under the other arm. The father, meanwhile, was climbing it with their baby strapped to his front. As ABBA sang, Mamma Mia!
James, Juli and I went through the entire funhouse, which really was fun. It had so many different areas, including a wall of mirrors, a bridge you crossed where the walls moved in a circle around you to make you feel like you were starring in "Vertigo" and it finally ended with a "magic carpet ride." You were supposed to sit on an actual carpet and then a trap door would open and you'd slide down a super fast sliding pond with two hills. That was it for me. I remembered that on the way to that area, there was a door that had Swedish writing I couldn't translate literally, but it looked like an emergency exit. I decided to make a beeline to it and had to push my way backwards through the entire line that was waiting. Of course, everyone I passed knew I was pushing through them because I was too scared to go on the magic carpet ride that toddlers were on. How do you say "mortifying" in Swedish?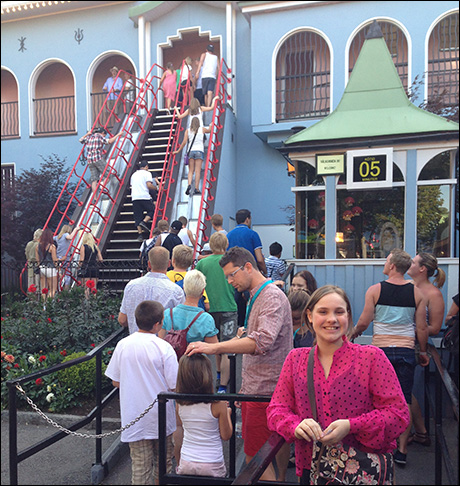 The next day we got on the ship (the Seven Seas Voyager) and those of us who grew up in the late 70-80's almost passed out because our cruise director is named Willie — as in Willie Ames, from "Eight is Enough" and "Charles in Charge"! He's been a cruise director for a few years and he's such a great guy. Since he started his career in the '70's, we got to talking about Disaster! which is the musical I co-wrote based on 1970's disaster movies (opening Off-Broadway this October!). Turns out, Willie was working at the same studio that "The Poseidon Adventure" was being filmed in! He told us that he used to come visit the set every day and say hi to Irwin Allen, who would always be dressed monochromatically: One day, brown shirt, pants, socks, shoes; next day, green shirt, pants socks, shoes.
After a while, Irwin began to avoid Willie on the set and turn away from him. Willie didn't know why and he finally asked someone. He was then told that his daily handshake was too strong and were actually hurting Irwin Allen! First I laughed, then I remembered that when I first met Willie and he shook my hand, I grabbed it away and said, "Ow! I'm a pianist!" Turns out, Irwin Allen could have made a disaster movie about the havoc wreaked by Willie's handshakes throughout the years. Note to self: Check if Betty Buckley still has full use of both hands.
On the way to the ship, all the performers were telling mortifying theatre stories, and Norm Lewis remembered doing a gig where food was being served all night. There was no stage, so he and the woman he was singing with were on the same level as the guests and the waitstaff. Norm remembered singing a sweet, romantic duet with his leading lady standing around 2 feet away. There wasn't much space between them, but apparently there was just enough for a busboy to cross directly between them!
Rory O'Malley


Photo by Joseph Marzullo/WENN
Speaking of clunky theatre experiences, I had Rory O'Malley (Tony nominee for Book of Mormon and currently starring in Nobody Loves You) on my "Chatterbox" last week and he was telling us about a gig he did a few years ago. It was him and few other Broadway folk and they were all cast in a reading of a musical (that shall go unnamed). They showed up and were told by the man who wrote the show that, even though they were cast, they still had to audition to see what part they were right for. He didn't want them to hear each other, so they all went into a room with him separately. The composer told Rory that he didn't know how to write down music, so Rory would have to learn the song as he sang it to him. As the man sang and Rory sang it back, Rory couldn't believe how bad it was. Soon, he began to seriously look for cameras. He was sure he was being "punk'd". Rory couldn't decide whether to admit he knew it was a joke or go along with it because then the final version would be hilarious. Rory decided to learn the whole awful song but eventually started to laugh. He knew that laughter would ruin the "Punk'd" episode so he forced himself to hold it in. It took such effort, that he began crying. Well, turns out, it wasn't a "Punk'd" episode; it was simply a terrible musical. And because Rory started crying, the composer thought he was an amazing actor who could really tap into his emotions. Rory got the lead.
My other guest was the hilarious Julie Halston, who's about to start her encore engagement at Birdland doing Classical Julie, where she plays various classic dramatic roles, yet keeps her signature Long Island attitude/accent. Julie is good friends with Andrew Rannells and went to see a workshop of The Book of Mormon. After the show, she was crying because she was so happy for Andrew. She told the director that this show would be life changing for Andrew and he mentioned that it could easily lead to a role on "Glee." Julie's sobbing dried up completely so she could yell "F*ck 'Glee'!" That was followed by her saying Andrew could get his own TV show — which, of course, he did!
Rory started working on Mormon from the very first reading, and he remembers a big casting director telling him how hilarious he thought the show was. That was followed by the same casting director saying, "Of course, it will never get produced." A lot of people thought that the subject matter/language would never be successful on Broadway. Cut to, one of the biggest money makers ever. I love that kind of story!
Julie piped in and said, "You can always defy expectation." Her example happened a few years ago. She was talking to her great friend Charles Busch and told him that she was sick of being a downtown diva and she wanted to do Broadway. He immediately said, "But Julie...you have no skills!" Even though Charles was being funny, Julie knew it was true. She had never really sang or danced before. Instead of giving up, though, she got a vocal coach and started taking dance/aerobics/movement classes. A few years later, she's now been in six Broadway shows! You can watch the whole interview (plus Rory's amazing song from Nobody Loves You) on SethTV.com.
OK, I'm signing off from Helsinki. Tomorrow, St. Petersburg! Peace out! (Seth Rudetsky is the afternoon Broadway host on SiriusXM. He has played piano for over 15 Broadway shows, was Grammy-nominated for his concert CD of Hair and Emmy-nominated for being a comedy writer on "The Rosie O'Donnell Show." He has written two novels, "Broadway Nights" and "My Awesome/Awful Popularity Plan," which are also available at Audible.com. He recently launched SethTV.com, where you can contact him and view all of his videos and his sassy new reality show.)