Hello from up in the air! I'm on a Jet Blue flight to New Orleans, sitting next to Jane Krakowski. She's the first person performing in the Broadway @ NOCCA series, and we're sitting next to each other on the flight. Let me say for the record, it's not fun sitting next to someone with such an amazing figure. I never felt fatter as I ordered two (2) snacks and then heard Jane simply ask for water. I kept staring at her, waiting for her to eat something, and finally, two hours into the flight she had one (1) piece of sugarless gum.
Regardless, we were going over our past experiences together and remembered that we both worked on the Rosie O'Donnell TV show. We weren't focusing on the talk show (which I was a comedy writer for from 1998-2000). No, we were both part of the variety show called Rosie Live — the one that got some of the worst reviews I've ever read! If you were busy that night, you might not remember that Jane did a song and dance telling the audience what the prizes were in their goodie bags. Jane told me that critics wrote her performance was a career low. We were laughin, remembering it all, and after she told me about that comment, she shook her head and said, "Career low? I was like, 'Oh, honey, have you seen some of the other stuff I've done?'" Hi-lar.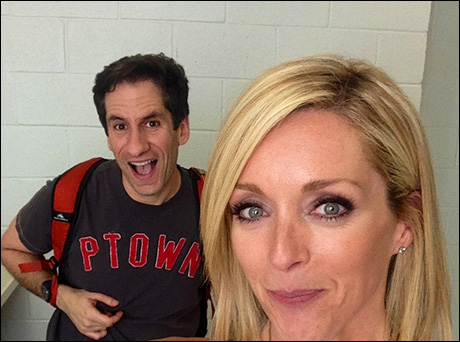 Before the flight, I rushed to get to JFK from Disaster! rehearsal. We finished our first week and next Monday, Oct. 14, is the first preview! One of the most thrilling things that happened this week concerned our logo. When we first did the show last year, we had an artist make a logo that consisted of the word "Disaster" crumbling with flames around it. For this production, we wanted something else added to the logo to indicate that the entire score was hit songs from the 1970's and that it was a comedy, so a disco ball was put above it the flaming letters.
The producers and I "signed off" on it, but we all thought it still wasn't exactly what we wanted. The background was dark, which made it too serious, and it didn't seem comedic. Finally, Jack Plotnick (my co-writer) and his friend Tom Lenk (from "Buffy the Vampire Slayer" and Rock of Ages) were talking, and Tom told Jack in no uncertain terms that we had to get a new logo. Jack asked me to make a list of what we wanted. I wrote that it should indicate that it's a disaster movie, but it's a musical, it takes place in the 70's, with all 70's songs and it's really funny. Jack recently directed a film with Matt Bomer, Liv Tyler and Patrick Wilson and he told me that Reagan Marshall, who designed the poster, was brilliant. Jack sent me the guy's resume and I saw he had a ton of Hollywood films like "The Descendants," "The Kids Are All Right" and "The American."
Yowza! I assumed he was too big to do an Off-Broadway show but Jack asked him if he would do our poster and do it quickly and he said yes! We were thrilled... but because I'm not an artist and know nothing about poster design, I couldn't imagine what he'd be able to do that would get all the elements across. On Saturday night I was walking my dog when Jack called me and said, "Well, he's done it again. The design is perfect!" I finished Scooby's walk, took off her leash and nervously checked my email. Jack was right! I was so crazily happy! It made me appreciate artists so much. With one image, Regan was able capture the essence of the show in such a funny, joyous way. Brava!
Norbert Leo Butz

Photo by Paul Kolnik
On Friday night I went to see Big Fish with Jack, James and Andrea Martin. During intermission a woman walked over to Andrea and asked for her autograph. Then she asked, "Do people approaching you bother you? Because I recently saw (insert famous TV star) at a Broadway show and he spent all of intermission with his head completely blocked by his hands." Andrea smiled understandingly and said, "I'm sure that's because he's recognized by everyone wherever he goes. You're the first person to recognize me in 2013."
Big Fish has a score by Andrew Lippa and there's no CD yet, but I deconstructed his Wild Party, which I'm totally obsessed with. Watch! After the show, we all couldn't stop talking about Norbert Leo Butz. I thought of Patti LuPone and how she's often told me that she wanted to be a rock and roll singer but she knew she was "born to the boards." That's what I thought while I was watching Norbert do everything he does in the show (and it's a lot). He is born to the boards. He's such a fantastic actor and singer and simply belongs onstage in front of people. I deconstructed him singing The Last Five Years here.
Speaking of Andrea Martin, Jack and I asked her to do one of our celebrity videos to promote Disaster. We went to her apartment to film it and, of course, wound up chatting instead. I then realized I was late to pick up Juli from a Girl Scout trip so we filmed it in about 10 minutes. We put Andrea against a wall in her bedroom and turned on one (1) light. Turns out, it came out soooo funny and after Andrea watched it, she emailed Jack later that night and wrote she'd never had better lighting in her life.
Jane and I doing our show at an arts high school called NOCCA and Jane did a Q & A session with the kids before our tech. It was so great! She talked about taking dance class starting when she was 3 and going in to audition for something called the Milliken Breakfast Show when she was 9. If you don't know, the Milliken Breakfast Show was a big industrial, written by Broadway greats like Larry Gelbart and directed for many years by Michael Bennett. Jane wound up getting cast (as a so-called Millikiddie) and the first year she did it, she performed with the entire original company of A Chorus Line! There were ten "legends" every year so Jane wound up doing a tap dance with Donald O'Connor and a bathtub scene with Gloria Swanson! She was the most impressed with Ginger Rogers, who would come in two hours before the show (which began at 8 AM) to do a full barre.
When Jane auditioned, it was a big open call and her number was in the 250's. There was a girl who was next to her on line and they auditioned together and wound up getting the gig. Jane's mom snuck into the theatre and took a photo of Jane auditioning which also had the other girl in the shot. Twenty years later, Jane was on Broadway and gave the photo to the other girl who was now her leading lady: None other than Sarah Jessica Parker!
Jane mentioned that when she was younger, she had a really low, raspy voice. Years after the Milliken Breakfast Show, she was chatting with Graciela Daniele (who was the choreographer) and she told Jane that when everyone heard her Bea-Arthur-at-12-years-old voice, they knew they had to cast her. However, while Jane was doing Starlight Express she kept losing her voice and went to the doctor. Turns out, she had a crazy low voice because she had a polyp! Jane had to go to Joan Lader, the voice therapist, who told her it wasn't because of the way she sang, it was because of the way she spoke! Joan advised her to do voice lessons and for a year, Jane had show up every week and read a paragraph from a book to learn how to speak in a non-damaging way. She said it was "horrific" but the polyp went away. And, after reading a paragraph a week for a year, she finally got through "War and Peace." First of all, that last weak joke isn't true; when I asked Jane what book she read, she had no memory. Secondly, that joke was a product of my childhood: for some reason, back in the '70's, when you wanted to reference a really long book, it was always "War and Peace." Does anybody remember? Was that the only long book written back then?
Jane also told the NOCCA kids about a lesson she learned when she was around their age. One time her mom was driving her to rehearsal for the Milliken Show, and there was traffic coming in from New Jersey. They finally got to rehearsal but Jane was five minutes late. She said that a man named "Tiny" (whom Jane said was HUGE) reprimanded her in no uncertain terms and told her that she should never, ever be late for anything. Jane said it was so effective (and traumatizing) that she is always on time for rehearsals, half hour, etc. I shall refrain from commenting on my own amazing reputation which involves many frantic text messages from people asking "Are you almost here!?!?!"
Right after Jane and I did our tech rehearsal, we filmed a promo for Disaster!. I sent Jane the Andrea Martin video and she came up with the concept for this one. So funny! It's most hilarious if you watch the Andrea Martin one first. Watch!
This week we start tech for Disaster!, but I'll still be able to do my "Chatterbox" on Thursday at 5 at Don't Tell Mama. The adorable Bobby Steggert from Big Fish is my guest and, speaking of Thursday, Unbroken Circle has a show that night at 7 PM! The final performance is Oct. 27 so get thee! Here's the page that has all the amazing review quotes and video clips.
Go enjoy the cool weather and peace out!
(Seth Rudetsky is the afternoon Broadway host on SiriusXM. He has played piano for over 15 Broadway shows, was Grammy-nominated for his concert CD of Hair and Emmy-nominated for being a comedy writer on "The Rosie O'Donnell Show." He has written two novels, "Broadway Nights" and "My Awesome/Awful Popularity Plan," which are also available at Audible.com. He recently launched SethTV.com, where you can contact him and view all of his videos and his sassy new reality show.)